Educators Learn How to Teach Holocaust History at Summer Seminar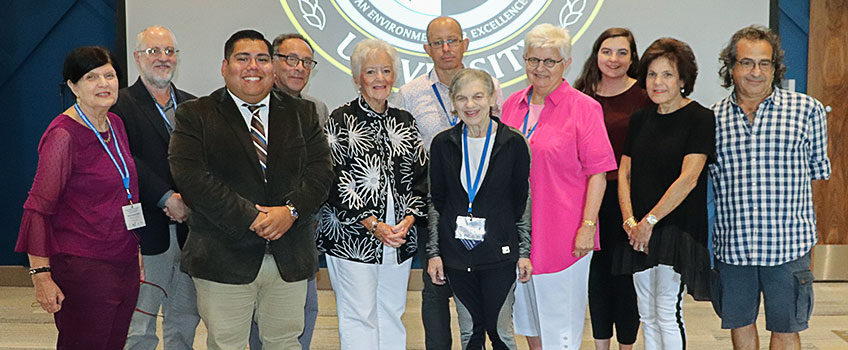 Galloway, N.J. – The Holocaust must be taught with sensitivity and thoughtfulness, educators and family members of survivors told more than 60 teachers from around New Jersey at the second bi-annual Wally and Lutz Hammerschlag Summer Educator Seminar held at Stockton University Atlantic City July 30 and 31.
This year's seminar's theme was "Teaching About and from the Ho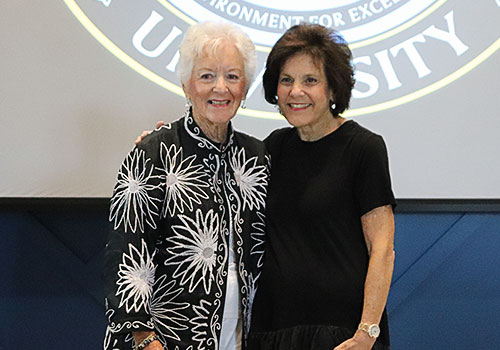 locaust: Relevance for Today in the Classroom." The two-day event is dedicated to helping educators learn how to address the sometimes uncomfortable topics of the Holocaust.
"Confusion is a very productive and educational tool," said Stockton Director of the Master of Arts in Holocaust and Genocide Studies (MAHG) Raz Segal. "We want students to be confused. Confusion can make you look at things you thought you once knew in new ways. Confused students ask questions, and that's what we want ... for them to ask questions."
Distinguished Professor Emerita of Holocaust and Genocide Studies Carol Rittner agreed, and shared websites and books that provide information and stimulate thought. She also gave background on Christianity, Judaism, and Nazism and their relationships to the Holocaust.
"Nothing is black and white, but as teachers, we must find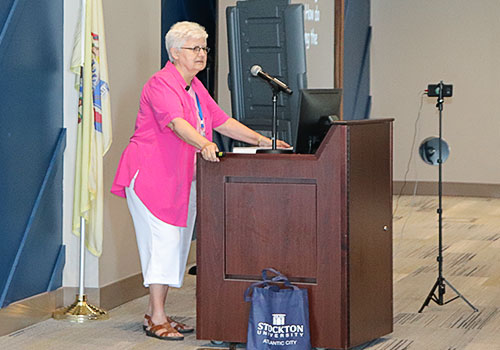 ways to deal with that in a kind and sensitive manner," she said.
Yad Vashem International School for Holocaust Studies Senior Historian Robert Rozett discussed why the Holocaust is still relevant today. He opened his presentation by reading a letter written by a woman during the Holocaust. There was audible surprise from the audience as he read lines including "They [Nazis] shaved our heads and made us wear wooden clogs with no socks … we were naked as cattle."
"What you get from history are insights," said Rozett. "We learn from the past. We learn where to start when you want to do something, and where to go from there."
Facing History and Ourselves Senior Historian Mary Johnson further explored the idea of using the past to make present choices. She discussed the notion of "othering," – the idea of an "us" entity looking at a "them" entity, how this led to the Holocaust, and how this process can be dangerous in modern society. She also discussed the "bystander phenomenon" – the idea that people are less likely to offer assistance to someone if there are other bystanders present.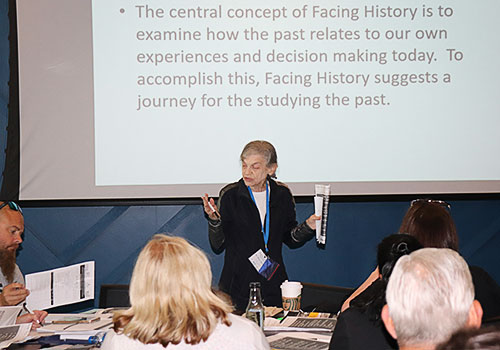 "How do you go from just caring to actually doing something about it?" she asked the crowd. "You unify with others already in motion, and you step out of your comfort zone and make the choice to make a change."
After the lessons, seminar participants were introduced to a Holocaust survivor and children of individuals affected by the Holocaust. Participants were also given copies of their memoirs, courtesy of the "Adopt a Classroom" program funded by event sponsors Harvey and Maddie Rovinsky.
Betty Grebenschikoff told her Holocaust story, from the time she viewed Kristallnacht – a 1938 event where Nazis attacked Jewish families and their properties, which resulted in broken glass scattered all over the streets.
"Now, every time I step on glass, my mind takes me back to that time," she said. "The memory will never go away; it's forever ingrained in my head. That was the first time in my life that I had found out what hate and prejudice was about."
Lennard Hammerschlag, event sponsor and son of survivor Wally Hammerschlag, read from his mother's story about Kristallnacht and her childhood in Frankfurt, Germany under Adolf Hitler. Hammerschlag condemned Hitler and the Nazis, but he also condemned modern faith-based terrorists.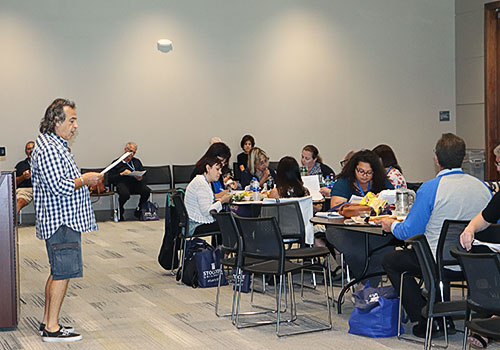 "Complacency is the biggest evil," he said. "We have to be more active. If we do nothing when we see lunatics, then the lunatics can soon become a problem that is too big for us to handle."
Victor Borden, a child of Holocaust survivors who had extended family members die in the Holocaust, told his own unique story.
"I am a '2G,' born that way, at first not understanding what it meant, but now living and dying proudly as that," he said. "Would I want my life to have been different if it meant my extended family would not have undergone the horrors they did? Absolutely, but life doesn't provide anyone but a movie actor to go back into the past and change things. I honor both my survivor parents and my family that perished, and most importantly, I will never forget."
During the event, attendees also heard from Stockton's Steven Marcus about the university's Holocaust and Genocide Studies-focused opportunities, particularly the related dual credit program for high schoolers, of which he is the coordinator. This program offers four Stockton credits to high schoolers in participating high schools at a discounted rate of $400.
Participants said the seminar was beneficial.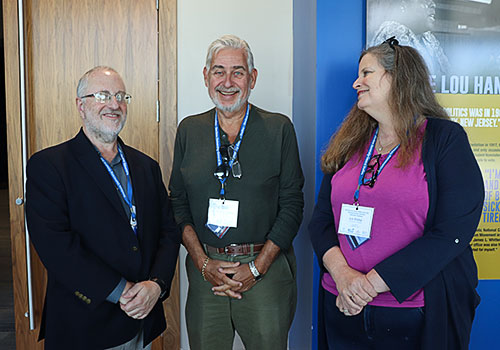 "I have learned so many ways of how to bring this topic into the classroom," said Elmwood Park sixth-twelfth grade teacher Carolyn Stefanou. "Facing history is always important. Students can find connections and make new connections; it makes them think."
Gail Rosenthal, director of Stockton's Sara and Sam Schoffer Holocaust Resource Center, agreed, stressing the importance of keeping students positive about difficult topics.
"Never end a lecture on despair," she said. "We are role models to our students, and we must be hopeful and helpful for their sake."
The event's sponsors were: The Wally and Lutz Hammerschlag Summer Educator Seminar Endowed Fund, the Yad Vashem International School for Holocaust Studies, Echoes and Reflections, Facing History and Ourselves, The Sara and Sam Schoffer Holocaust Resource Center at Stockton University, and Maddie and Harvey Rovinsky – "Adopt a Classroom."
View a gallery of photos from the event on Flickr.
Reported by Kat Wentzell.
# # #
Contact:
Diane D'Amico
Director of News and Media Relations
Stockton University
Galloway, N.J. 08205
Diane.DAmico@stockton.edu
609-652-4593
609-412-8069
stockton.edu/media