Ed.D. in Organizational Leadership Graduates First Class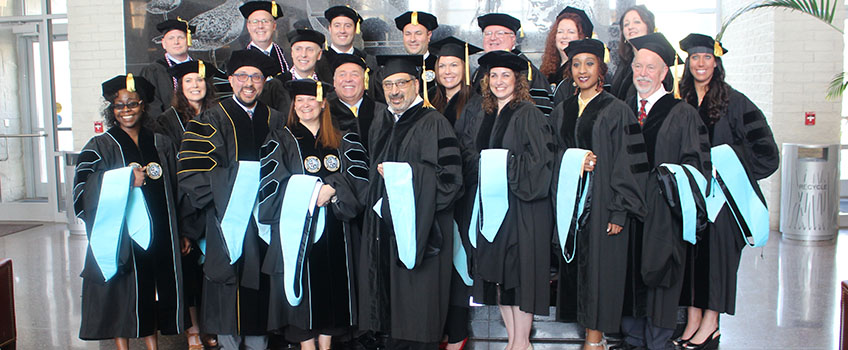 Galloway, N.J. - In marriage, a couple vows to work together. Mays Landing couple Jerry and Nicole Nelson took their vows a little further ... to doctoral degrees in Organizational Leadership from Stockton University.
Nicole Nelson is a Hamilton Township police officer, and Jerry Nelson works in technology. Both had been seeking an interdisciplinary, face-to-face doctoral program they could complete together.
In 2016, Stockton launched a brand new doctoral degree in Organizational Leadership. The first cohort of 21 graduates received their degrees at the Graduate Commencement on May 7.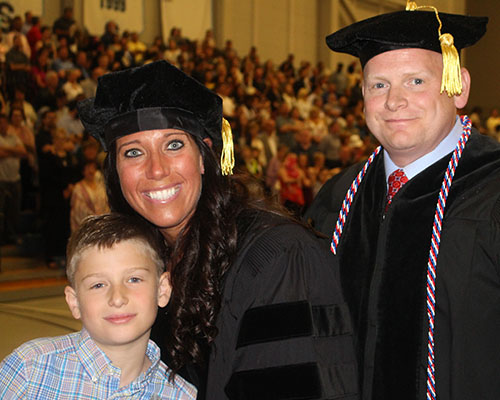 The primary goal of the program is to help leaders improve so that they, in turn, will help their respective organizations improve. It is interdisciplinary, specifically designed for working professionals in different fields, with classes held online, in the evening, and on Saturdays at the new Stockton University Atlantic City Academic Center.
For the Nelsons, Stockton's degree was a perfect fit.
"(Jerry and I) both have different strengths and weaknesses, and knew that we would need each other to effectively get through a program at this level," said Nicole Nelson. "The interdisciplinary aspect of (Stockton's) program gave us that opportunity, and it's exciting to think that even though we work in two completely different fields, we were able to work in the same doctorate program."
Teaching individuals from different professions how to work together was the exact intent of the program.
"This degree took six years to put together," said George Sharp, a coordinating faculty member from the School of Education. "The goal was to create an educational leadership doctoral degree that was different, unique, and stuck with Stockton's mantra of 'distinctive' education. We wanted to create a degree that put leaders of all types – government, health care, faith-based, and so on – in a room together in communicative situations to emphasize the importance of having strong leadership and communication skills."
The Nelsons said the program helped both their careers and their marriage.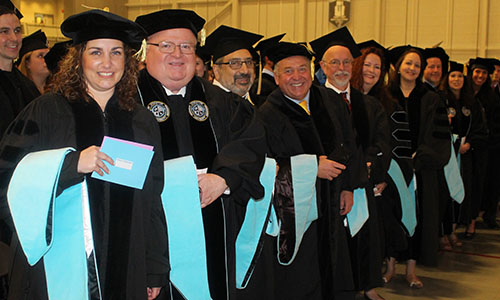 "We seem to be discussing the leadership aspects of our organizations much more with each other," Nicole said. "I have also found that we seem to be more open to discussing our communication with regards to our parenting styles. I have noticed that while our personalities haven't changed, our ability to communicate effectively with each other has certainly increased."
Jerry Nelson agreed.
"Throughout the program, we each had our ups and downs, but together, we balanced each other out," he said. "We would always compete on who would get the better grade or turn in their project first, but in the end, the only way I was able to complete this was with her help. She pushed me the last mile, motivating me to make the milestones and propped me up at the finish line."
William Perkins, the Superintendent of the 177th Fighter Wing Headquarters Staff in the New Jersey Air National Guard, was the very first applicant and interviewee to gain admission.
"The program had been dubbed by its designers and developers as 'a development program within a doctoral program,' and I believe that to be very accurate," he said. "I didn't just broaden my leadership competencies via learning, as I would have with any other educational programs. This program cultivated a mindset of vertical development, meaning it enhanced my habits, mindsets, and capacities to optimize those competencies."
Karl Guilian, a professor at Atlantic Cape Community College, said he gained friendships as well as organizational skills.
"The program help me to enhance my way of thinking about people, as well as about my various organizations," he said. "The classwork, competencies and dissertation have taught me to better understand myself so that I can be better prepared to be a leader. I now feel much more confident and motivated to be a change agent, as I now have the knowledge and credential to be successful. As a member of Cohort One, I have met a group of people [to which] I truly feel a deep and emotional connection. I will forever have their friendships, which is a reward in itself."
Sharp said he, too, made long-lasting friendships with his students.
"I would really like to thank them for taking the risk of deciding to accept admission into this very new, very different type of program," he said. "Our purpose was to improve one leader at a time, and this cohort now consists of many strong leaders."
Members of Cohort One highly recommend the Organizational Leadership program, especially the Nelsons.
"The faculty was outstanding," said Nicole Nelson. "They became a second family. They were always open, honest, and gave so much of their time and effort to help us achieve our goals. They exemplify the meaning of true leadership, and I know that I have made not only mentors, but friends for life."
Doctor of Education in Organizational Leadership candidates are: Tina Bridda, Daniel Douglas, John Froonjian Jr., Karl Giulian, Robert Heinrich, Paul Herron, Jeannine Ingenito, Kate Juliani, Walter Kappeler, Brian McBride, Kathleen McDonald, Nicole Nelson, Warren Nelson, Dana Palma, William Perkins, Charlotte Phillip-Clarke, Charles Powell V, Sharon Rementer, Kathryn Suk, Daniel Tomé, and Kristina Ward.
Applications for the next cohort of the Organizational Leadership doctoral program applications are due May 17. More information about the Ed.D. in Organizational Leadership is online at stockton.edu/graduate.
Reported by Kat H. Wentzell.
# # #
Contact:
Diane D'Amico
Director of News and Media Relations
Stockton University
Galloway, N.J. 08205
Diane.DAmico@stockton.edu
609-652-4593
609-412-8069
stockton.edu/media