Freehold High School Students Sweep Computer Programming Competition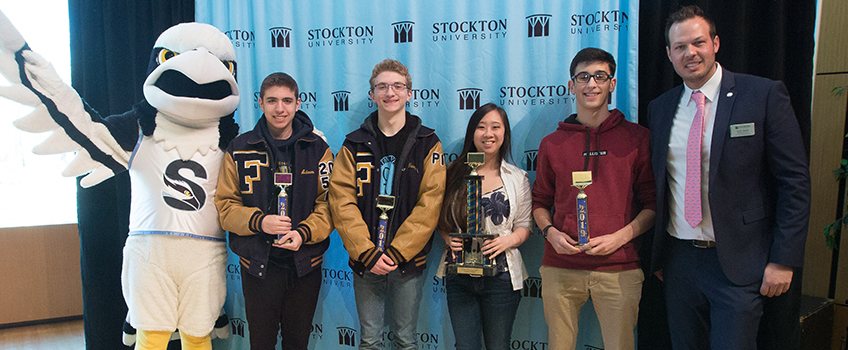 Galloway, N.J. – An estimated 200 students from 18 New Jersey high schools engaged in a battle of the keyboards March 26 at the 4th Annual Computer Science Programming Competition at Stockton University hosted by the Computer Science Teachers Association of South Jersey (CSTASJ).
After several hours of intense programming, three teams from Freehold High School emerged victorious. This is the second year in a row that Freehold students have won the top prize.
The teams of students worked in Stockton computer labs, where they were required to complete numerous test questions in the Java computer language as quickly and accurately as they could. As the students were working, proctors in the room kept track of their progress from their own computer screens.
While students were neck deep in code, their teachers and chaperones engaged in a presentation in the Unified Science Center on how to implement modern technologies like augmented and virtual reality into class lessons to improve student attention, interest, and information retention.
A half dozen teams completed eight problems, and final results were calculated on the amount of time it took them to finish.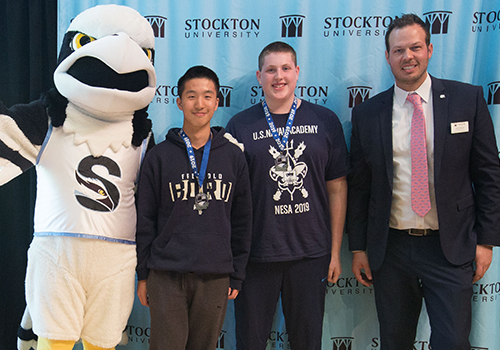 The winning teams, all from Freehold High School, were:
First Place: Adam Goldstein, Cacey Ostic, and Max Breslauer-Friedman from "Team Scorpion." Their teacher is Ashley Chiu.
Second Place: Xun Xu and Drew Isaacson from "Team Viper."
Third Place: Harry Allex, Connor Lum, and Noah Lee from "Team Alligator."
The event was a positive experience for the students, and inspired many to study and practice their craft further.
"This experience was really fulfilling," said Toms River South senior Jacob Roessler. "I was able to see what aspects of coding I was not so good at. Now I know what I need to practice to get better."
"This event taught me just how little Java I actually know," said West Depford junior Audrey Bathurst. "I'll definitely be going back and learning more."
The Computer Science Programming Competition at Stockton is currently the largest programming competition in New Jersey. Stockton First Lady Lynne Kesselman spearheaded the event years ago to cater to the area's large computer science community.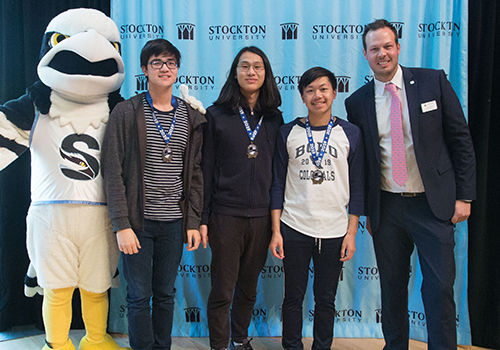 "I am so proud of what this event has become," she said. "I am proud of the number of schools and students that participated in this competition. I am proud of the increased female representation. This event has become something so special, and I hope that students continue to pursue their interests and become successful members of the computer science field someday."
All participating students received gift bags with USB bracelets and Stockton memorabilia. Stockton Chief Enrollment Management Officer Robert Heinrich said he hoped they might consider Stockton as they plan their futures.
"Stockton is an extraordinary campus, sitting on 1,600 acres of the National Pinelands Reserve," he said. "Enjoy your experience today and remember Stockton when you are looking to pursue higher education."
Participating high schools were: Absegami High School, Barnegat High School, Bordentown Regional High School, Brick Memorial High School, Brick Township High School, Burlington Township High School, Egg Harbor Township High School, Freehold High School, James Caldwell High School, Mainland Regional High School, Ocean City High School, Ranney High School, Raritan High School, Red Bank Regional High School, Toms River High School East, Toms River High School North, Toms River High School South, and West Deptford High School.
Reported by Kat H. Wentzell
# # #
Contact:
Diane D'Amico
Director of News and Media Relations
Stockton University
Galloway, N.J. 08205
Diane.DAmico@stockton.edu
609-652-4593
609-412-8069
stockton.edu/media