Computer Science Programming Competition for High School Students
The health and safety of the CSNJ community is a top priority for our chapter. We regret to announce that the Fifth Annual CSTASNJ Programing competition, hosted by CSTASNJ and Stockton University, is indefinitely postponed. We understand how disappointing this will be to your competing students and did not make this decision lightly. We sincerely apologize for any inconvenience this may cause and assure you that your team will still retain their spot when we are ready to proceed with the competition. We look forward to when we are able to reschedule and will initiate contact when we are ready to do so.
2020 CS Competition!
Teams will compete to create real-world Java-based Computer Science programs as per competition parameters. Each participating school can send 5 teams of three students each until we reach capacity.
(Suitable for Intro and AP Computer Science high school students.)
Winning Teams of the 2019 Programming Competition:
1st Place-Freehold High School -Team Scorpion
Max Breslauer-Friedman
Cacey Ostic
Adam Goldstein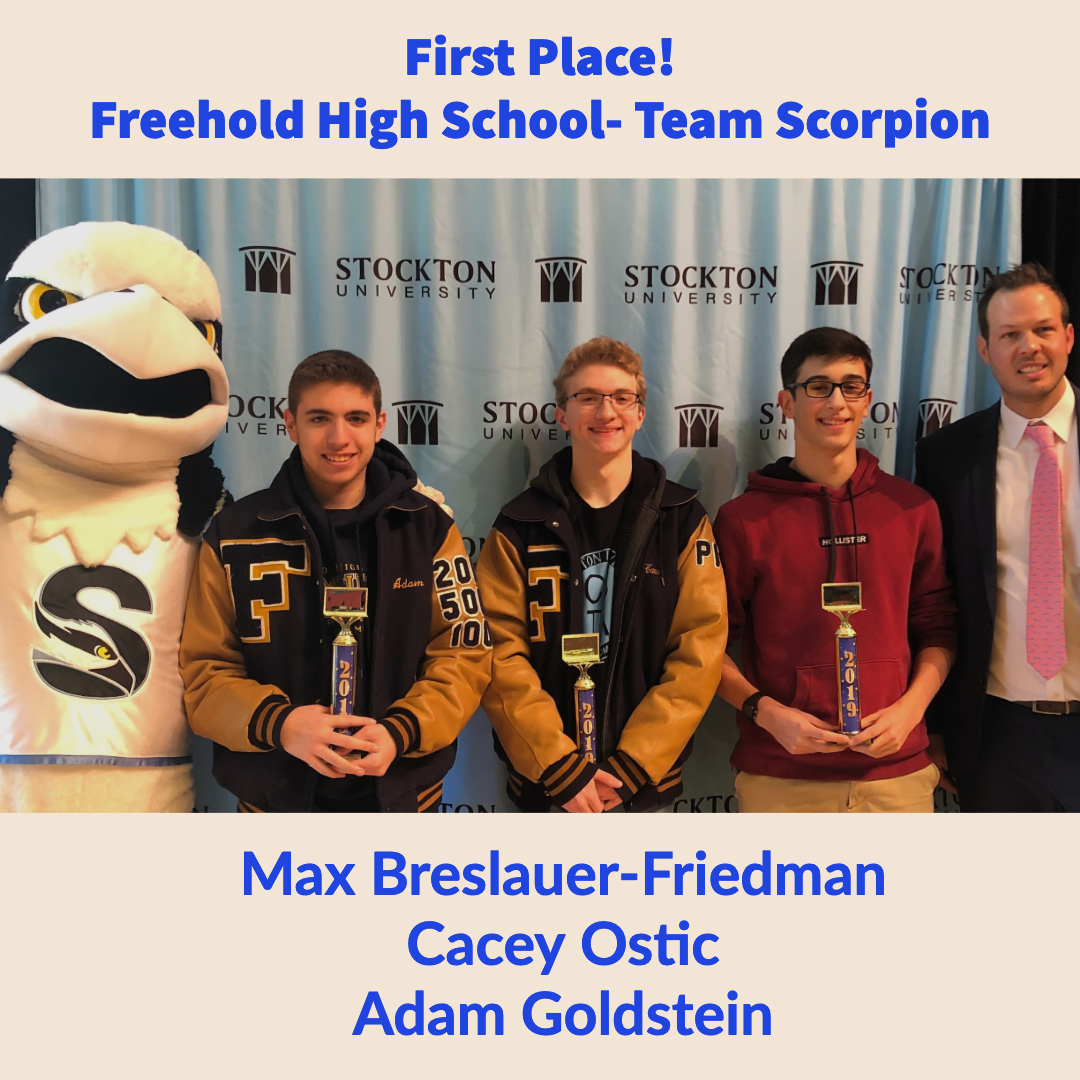 2nd Place-Freehold High School -Team Viper
Drew Isaacson
Xun Xu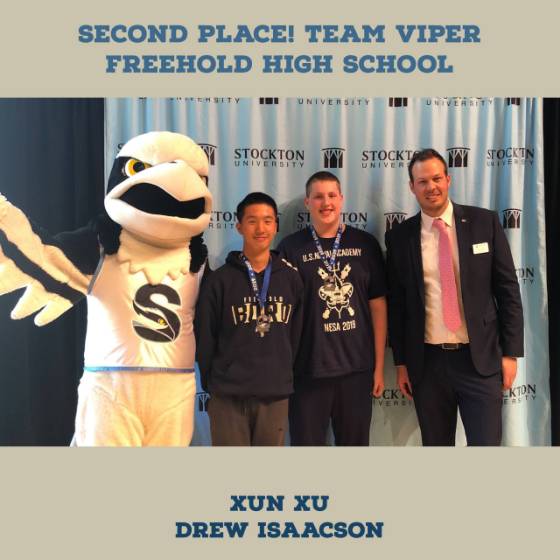 3rd Place-Freehold High School -Team Alligator
Connor Lum
Noah Lee
Harry Allex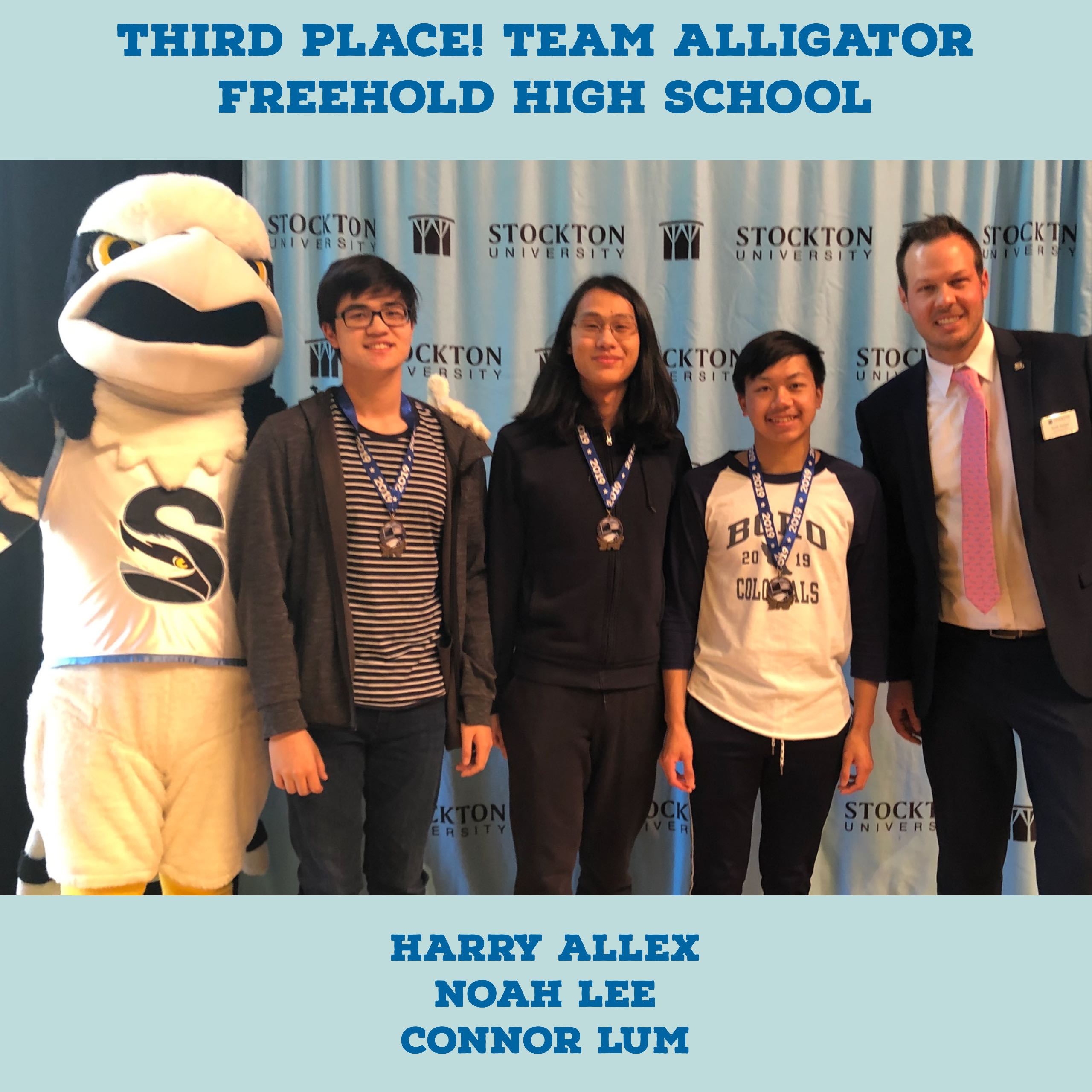 Honorable Mention:
Toms River North High School
Bordentown Regional High School
James Caldwell High School
---
CSTA-SNJ CS Competition
Wednesday, April 8th, 2020
9am
101 Vera King Farris Drive
Galloway, NJ
More information
Sponsored by Stockton University & CSTASNJ
#StocktonCSI
#CSTASNJ

---
Donate to this event
Team Awards & Awesome SWAG!
Compete! Can you beat the other teams?
Sponsored by Stockton University
---
9:00-9:20 - Arrival/Registration/Check In

9:20 Welcome Remarks in CC Main Event Room

9:30-9:45 Teacher Chaperones will accompany students as they move to labs and watch intro video

9:45-Noon – Real Time Java-Based Competition for students (Stockton University Computer Labs)

10:00-11:45 – Activities for Teachers/Chaperones

Noon-12:30 – Lunch space will be provided in C/D Atrium. Schools must bring their own lunches.

12:30-12:45 - Talk in Alton Auditorium

12:45-1:15 – Awards, Door Prizes, certificate distribution for students and chaperones (Alton Auditorium)

1:15 - Busses leave.


Awards ceremony starts 12:45 PM
Winning Teams of 2018 Competition

CONTEST RULES
Be on site and signed in by 9am on Wednesday, April 8th, 2020
No laptops, mobile devices, books or other materials may be used, this is a closed competition.
Competing in Teams of Three
Java-based- should be familiar with array, array list, random, scanner.
All chaperones will start out with their students in the labs for the video introduction to the competition.
All students needing to use bathroom facilites will sign out and sign back in with competition room monitor.
Schools are required to bring their own lunches- Teachers should ensure that every student has brought their own bagged lunch. Stockton will provide some light snacks.
We are CSTA Southern New Jersey
Computer Science Teachers Association (CSTA) works at many levels to support computing education.
Elementary and Middle school-

(Problem solving & computational thinking)
High school-

(Computing & computer science)
College/university-

(Enrollment & transition)
Industry-
(Engagement & preparation)