Club Connect: Meet the ... Theatre Club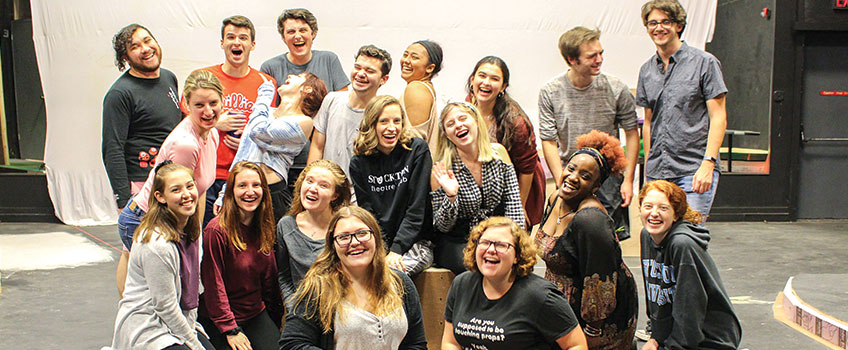 Galloway, N.J. – Calling all actors! The Stockton Theatre Club is seeking talented performers interested in joining the limelight!
The Stockton Theatre Club is an organization that meets every Thursday at 4:30 p.m. in the Experimental Theatre, located below the Performing Arts Center (PAC). The only prerequisite to join is an enthusiasm for performance arts.
This semester, the club will host numerous "Whose Line is it Anyway?" improv shows, a "Night of Sex," and other funny bone-tickling programs.
Each semester, the club also produces at least one play. The Stockton Theatre Club will premiere its first production of this school year – a lively adaptation of the critically-acclaimed play "Almost, Maine" in collaboration with Stockton's Arts and Humanities department – from Oct. 16-20 in the Experimental Theater.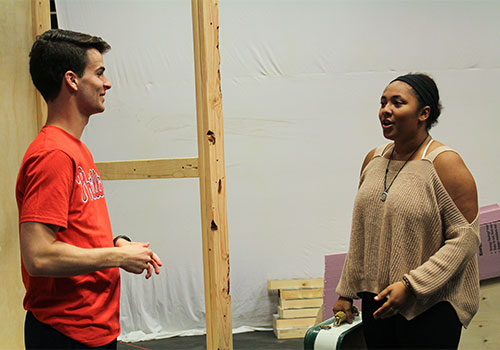 "Almost, Maine" will show every night at 7:30 p.m. from Oct. 16-19. There will also be two matinee showings on Oct. 19 and 20, both of which will begin at 2 p.m.
Propelled by the mystical energy of the aurora borealis, "Almost, Maine" is a comedic drama comprised of nine short plays, or "vignettes," that explores different notions of love: love loss, love gain and everything in between.
"We are teaching about love through our portrayals of it," said actor David Ciolorito. "If someone is able to learn what love is from our play, then we did our jobs well."
This version of "Almost, Maine" is directed by senior Celine Fleenor and junior Alexandra Varga. Both directors hope that audience members gain a deeper understanding from their production, and that they potentially see themselves within the plot.
"Theater is catharsis," said Fleenor. "When you relate to a character, it can feel like a release. I hope at least one of the vignettes offers a release to at least one person watching."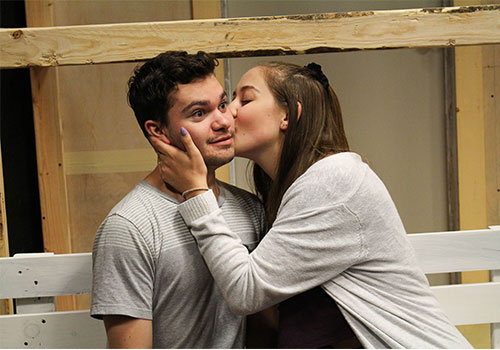 Tickets for "Almost, Maine" will cost $12 for general admission and $10 for seniors and students with valid I.D. Purchase them online or by calling the box office at (609) 652-9000.
Contact the PAC at pac@stockton.edu with any questions.
View more cast photos from a recent rehearsal on Flickr.
After "Almost, Maine," the club will host a Haunted Walk in collaboration with the Stockton Horror Society at 7:30 p.m. Oct. 24. The walk will begin in front of N-wing; check out the event on Ospreyhub for more information.
Anyone interested in joining the Theatre Club can do so by emailing stktheatreclub@gmail.com or attending a meeting.
Ready to join? – Break a leg!
Reported by Kat H. Wentzell.
# # #
Contact:
Diane D'Amico
Director of News and Media Relations
Stockton University
Galloway, N.J. 08205
Diane.DAmico@stockton.edu
609-652-4593
609-412-8069
stockton.edu/media