Campus Connect: Meet the ... Stockton Horror Society
Galloway, N.J. _ A product of four friends' collective infatuation with all things creepy and crawly, the Stockton Horror Society is a campus organization dedicated to providing a place where students can meet to satiate their similar obsessions with the horror genre through film, TV, art, music, literature, manga, and any other outlet of interest.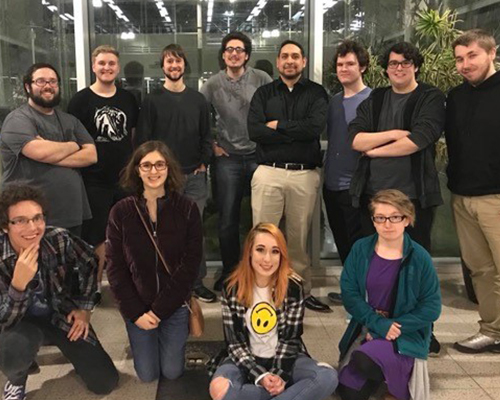 The Society is fairly new at Stockton, now going on its third semester of activity. The club is ran by a killer E-Board of horror aficionados: President and Co-Founder Andrew Anderson, Vice President and Co-Founder Jonathan Wallentine, PR Consultant/Social Media Manager and Co-Founder Kat Wentzell, Secretary Mike Grana, and Treasurer Yahely Diaz.
Every Tuesday, in almost Hitchcockian fashion, the Society flocks to room C136 at 6 p.m. Meetings generally run until 8 p.m.
"Our meetings are so much fun," said Wentzell. "One night, we'll watch a terrible 80s B-movie, and then another night, we'll play horror trivia for prizes. Every meeting we do something new and exciting."
The club currently has over 100 registered members, and has hosted so many interactive campus events that Jigsaw himself would be jealous.
In the spirit of the season, the Horror Society also has numerous events planned for this semester.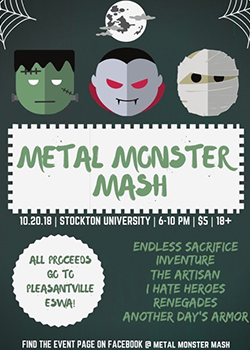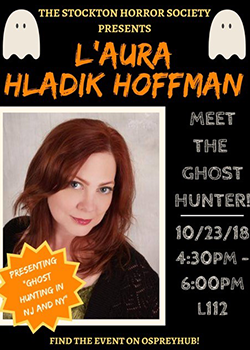 On Oct. 20, in the Campus Center Event Room, the Society will host its first-ever charity rock show, ghoulishly titled the "Metal Monster Mash." The concert will run from 6 p.m. until 10 p.m., and all proceeds will go to the Pleasantville Eastern Service Workers Association (ESWA), a local non-government funded organization that assists impoverished and/or struggling individuals and families. There will be finger foods and nonalcoholic beverages served (no boos allowed on campus!), and the admission price is $5. This event is open to the public. Tickets can be bought at Stockton's front desk or at the show itself, but only individuals 18 and older will be allowed in. Costumes are not required for admission, but are strongly encouraged!
On Oct. 23, the Society will be hosting another 'spooktacular' event: a presentation by popular South Jersey ghost hunter and President of the NJ Ghost Hunters Society L'Aura Hladik Hoffman. She will also be doing a Q&A, as well as signing copies of her books. The event will be held in room L112 from 4:30 p.m. until 6 p.m. The event is free and open to Stockton students can attend.
"Come out and ask her all of your questions about ghosts!" said Wallentine.
The Society will also be co-hosting a few events this semester. On Oct. 24, the Stockton Horror Society and the Stockton Gaming Club will present "Monster Smash,"at Lakeside Lodge from 8 p.m. until midnight. The event that will include video and board game tournaments, as well as a costume contest for prizes. The admission price for this event will be $5, and all proceeds will go to the "'Ween Dream" charity, a nonprofit organization that gives free Halloween costumes to children in need across America.
After Halloween, the Society has no plans to slow down. A "Board Game Night" is set for 6 p.m. Nov. 27 in the C/D Atrium.
"The game night is going to be a blast; they always are," said Anderson. "We have so many fun things coming up that we're heavily advertising. If you didn't know of the Society before, then after this semester, you will!"
Anyone interested in joining the Stockton Horror Society can sign up on Osprey Hub or can reach out to Anderson at ander199@go.stockton.edu or Wentzell at wentzelk@go.stockton.edu. The Society can be found on Facebook by searching "Stockton Horror Society" and on Instagram with the handle @stocktonhorrorsociety.
Come play with us!
- Reported by Kat H. Wentzell
# # #
Contact:
Diane D'Amico
Director of News and Media Relations
Galloway, N.J. 08205
Diane.DAmico@stockton.edu
609-652-4593
609-412-8069
stockton.edu/media