African-American Dance Class a Stockton Tradition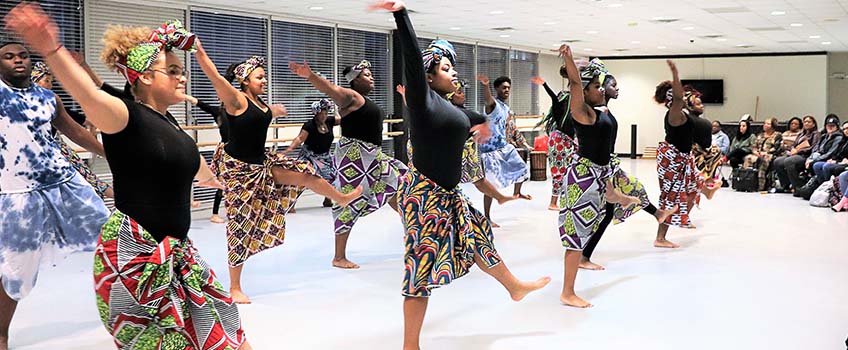 Galloway, N.J. – Before this semester, junior health sciences major Stephanie Pierce had never taken a dance class. She enrolled in Distinguished Professor of Social Work and Africana Studies Patricia Reid-Merritt's African-American Dance class because she needed a general studies course and it sounded interesting.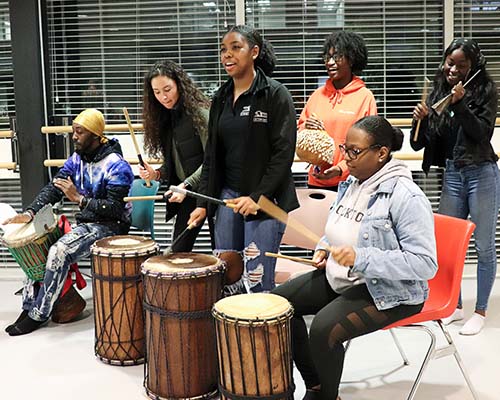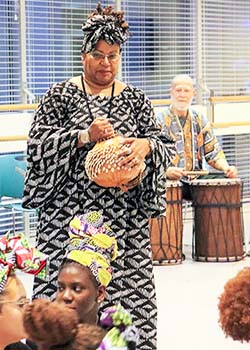 "I figured it wouldn't hurt to try something new," she said, "and I ended up learning so much."
Students showcased their skills at the African American Dance Demonstration on Dec. 10 in the H-wing dance studio. The students performed different styles of dance, from traditional African welcome dancing to 1920s "black bottom" dancing.
Reid-Merritt has been teaching the class since the fall of 1976. While she was hired in the Social Work program, she also had a background and history in African dance.
"For more than four decades, I've been passing my knowledge of dance and the culture on to Stockton students," Reid-Merritt said. "Most students have never danced before. But I promise them if they give me 15 weeks, I'll have them moving in rhythm from the right to the left."
The class is included in Stockton's new major in Africana Studies, but is also available as a general studies elective to students in other majors.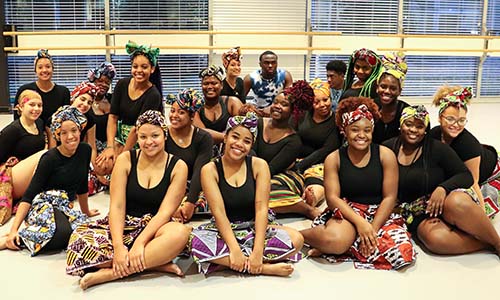 The class is physically challenging. Reid-Merritt uses the Dunham technique, and students learn how to isolate and control numerous body movements.
"There's some resistance, but eventually they develop a level of confidence," Reid-Merritt said. "I think they leave with a sense of 'I can do this!'"
Many students share Pierce's excitement for the class.
"I took this class because I wanted to get physically active, and man, it's no joke," said Jada Johnson, a senior social work major. "We move and sweat, but it's so fun. This has been a great hands-on opportunity to do something I have never done before."
In class, students also learn the history of the African American experience and the African culture through dance.
"Required readings on dance and African American culture are not what most expect when enrolling in a dance class," Reid-Merritt said. "But as they exit the course, one of the most frequent comments is 'I learned so much!'"
Sophomore criminal justice major Kelsey Lindo agreed.
"I wish this class went the whole year," she said.
For more information, visit the Africana Studies web site.
View a video of one of the event's dances on Youtube.
View a gallery of photos on flickr.
Reported by Kat H. Wentzell.
###
Contact:
Diane D'Amico
Director of News and Media Relations
Stockton University
Galloway, N.J. 08205
Diane.DAmico@stockton.edu
609-652-4593
609-412-8069
stockton.edu/media