Stockton Celebrates Week of Veterans Programs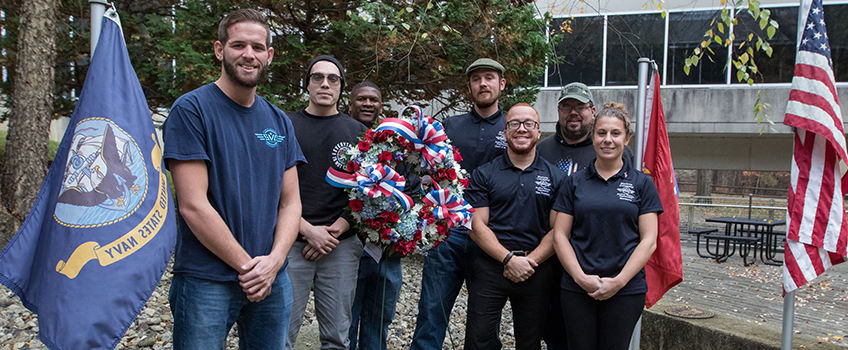 Galloway, N.J._ Stockton University honored its student veterans and all who have served at a ceremony in the Campus Center on Nov. 9. The event was part of a week of veteran-related activities on the campus.
Provost Lori Vermeulen noted that Stockton opened during the Vietnam War and many of the first students were veterans.
"We welcomed veterans and began that tradition," she said, adding that the life that exists for Americans today is because of the sacrifice of members of the military.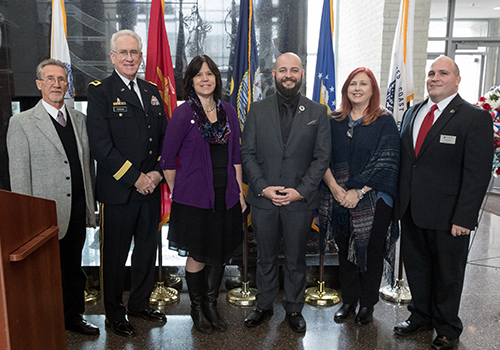 Ryan Luurtsema, president of the Student Veterans Organization said a veteran may hang up their uniform, but their sense of service is never done. His two siblings are also in the military, and his mother, Bobbi Milne, attended the ceremony.
Luurtsema recalled leaving the service and wondering what his next purpose would be. When he was invited to speak at a middle school, and talked to the students, he realized that a sense of service can be many things, from helping someone with their homework to just holding open a door.
He said when he became president of the SVO he began looking at what more could be done for veterans at Stockton to help them adjust and succeed, including housing and career services, and also how they can connect with other students.
"We, as a whole, are the Stockton community," he said.
He said as we pass people on the street we may not know if they served, but that all citizens should be treated honorably.
"Show how much you love your country by respecting each other," he said.
Navy veteran Rick Springsteen, who now works with Volunteers of America, outlined the 23 military conflicts American armed services have participated in. He said the Department of Veterans Affairs estimates almost 42 million people have served their country in the military.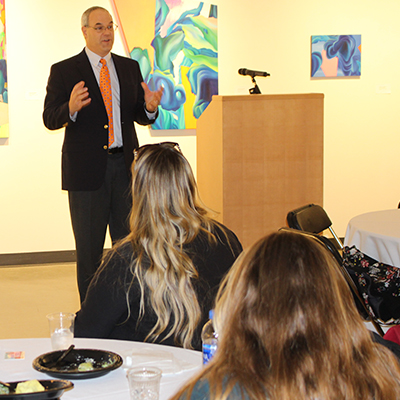 He said he has worked with veterans who are now homeless or need medical care, and America must continue to support its veterans.
Retired Brigadier General and Cape May County Freeholder Jeffrey Pierson talked about the role the N.J. National Guard has played in both military and disaster services. He said their first overseas deployment was during World War I.
"They served during 9/11 monitoring tunnels, bridges and airports, and during Hurricane Sandy," he said.
Stockton counselor Karen Matsinger, who works with veterans, spoke about their strengths and their challenges.
"I listen to their stories of tragedy, survival, strength and regret," she said. "They are beautiful and they are a reflection of who we are as a people."
Jason Babin, director of the Office of Military and Veteran Services, said Stockton is one of the few colleges with a counselor dedicated to veterans.
The ceremony included the traditional laying of the wreath in Stockton's Veterans Park.
Other events during the week included:
A special project, Targeting Stigma, featured 21 personal monolgues by Stockton student-veterans, read by faculty, staff and students. The stories, some humorous, some tragic, can be viewed on the Office of Military and Veteran Services web site.
Retired Air Force Tech Sgt. George Linen talked about the history of African-American Service in the United States,
David Frey, professor/director of the Center for Holocaust and Genocide Studies at West Point talked about "Teaching the Military to Prevent Atrocity." During a luncheon he spoke about the importance of education as well as training for the military and the challenges of preparing soldiers to kill someone as an enemy while not identifying everyone who might look like that person as an enemy.
On Saturday Stockton University Atlantic City coordinated with the city's celebration of the 100th anniversary of Armistice Day.
The Bay Atlantic Symphony performed a free Veterans Day Concert at the Performing Arts Center Saturday night. Stockton graduate and veteran Marine Corps Sgt. Caleb Taylor was a guest conductor. The event also featured music by veteran and African American composer Kimo Williams.
# # #
Contact:
Diane D'Amico
Director of News and Media Relations
Stockton University
Galloway, N.J. 08205
Diane.DAmico@stockton.edu
609-652-4593
609-412-8069
stockton.edu/media
-