Learning and Growing on Stockton's Sustainable Farm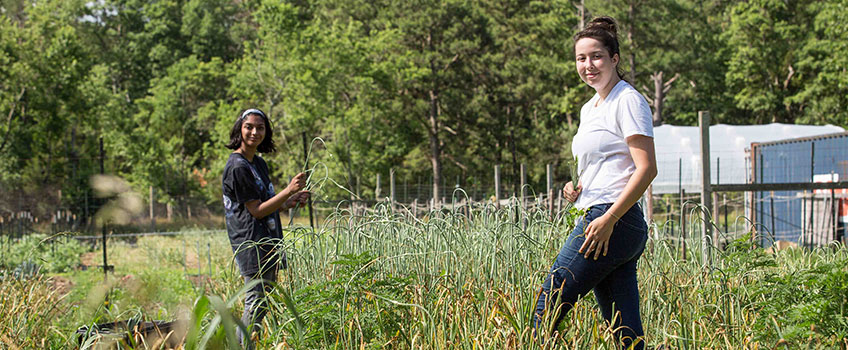 GALLOWAY, NJ - One of the rules in beekeeping is not to eat bananas before tending to the hives. Jacqueline Hall learned this during a beekeeping certification course she completed through the Stockton Action Volunteers for the Environment.
A banana's sweet fragrance mimics the smell of a bee's alarm pheromone, and smoke quiets the alarm response in the hive.
Hall tends to four hives located on Stockton's sustainable farm, and she hopes to discover the specific ingredient responsible for masking the bees' alarm response. Using scientific instruments, she'll be able to separate some of the compounds in the smoke and conduct an experiment that tests bee responses to each component until she identifies the component responsible for quieting the alarm response.
Hall doesn't have a fear of the bees. "They are gentle and mellow. You have to listen to them. When they're aggravated it's for a reason," she explained.
An encroaching storm, dark-colored clothing and the smell of bananas can upset a colony, but Hall knows this and prepares accordingly.
Stockton's 1.5-acre, off-grid sustainable farm is a laboratory for students of all majors offering hands-on opportunities in agriculture, beekeeping and alternative energy research. Ron Hutchinson, associate professor of Biology, oversees the student interns, who help keep the farm running throughout the semester.
An Agroecology and Conservation concentration was created for students with an interest in food security, sustainability and natural resource policy and planning.
This summer, students are selling the harvest at the Galloway Green Market on Thursdays in June, the last three Thursdays in August and the first two Thursdays in September at the Municipal Complex, located on Jimmie Leeds Road. Proceeds fund the farm's operation.
In the fall, the farm will participate in Stockton's first-ever Fall Farmer's Market on the Galloway campus on Thursdays, Sept. 13 through Nov. 1. Interested farmers and artisan food producers can apply to participate through an online application.
Part of Stockton's farm operates as a 10-section market garden that rotates crops in one direction each year to keep pests down. For example, a tomato pest will expect tomatoes as its food source in year two, but when it finds lettuce instead, the pest population will plummet. We are managing a diverse system with pest populations building and crashing, but never reaching high levels, helping to build a resilient farm, explained Hutchinson.
Every crop selection, soil choice, compost mix and weed management tactic is a lesson. Inside a rolling greenhouse named after the late Linda Smith, a former Biology professor who taught agriculture courses, are tomato plants sprouting out of a white tarp. The tarp is a water saving tactic that keeps moisture in the soil and slows evaporation. The light color allows for temperature regulation and passive cooling.
The farm uses compost from a farm in Kennett Square, Pa., the mushroom capital of the world, and recycles juicing pulp from Greens and Grains, a local restaurant, into nutrient-rich soil.
The native pinelands soil is sandy, dry and acidic. To increase soil fertility and decrease acidity, students are adding greensand, a finely ground basalt rock, to the soil and monitoring how it affects crop growth.
Another area of research looks at alternatives to traditional tilling, which can deplete nutrients in the soil. Recycled banner signage is laid over growing plots to retain the organic matter from previous crops to supply key nutrients for the next crop.
A shipping container serves as a barn for storage and will get an artistic makeover by an intern in the upcoming months.
Robert McKeage, a Biology and Photography graduate, is the farm manager. Outside of Stockton, he owns and operates his own farm, Potatoe Homestead, with his wife. Small-scale, sustainable agriculture and the concept of eating farm-to-table foods instead of purchasing monoculture crops are what drew him to farming.
Students don't shy away from the hard work required to keep the farm successful. Tahreen Rhaput, a junior Biology and Theater major, has family in Pakistan who operate a farm specializing in rice and mangos. She missed gardening until she began working on the Stockton farm, which she describes as "one of the best things I've done."
"It's a great experience and a great thing to do in the summer," she explained, noting that it keeps her active.
__Story and photos by Susan Allen