Manahawkin Expansion Welcomes Students, Simulators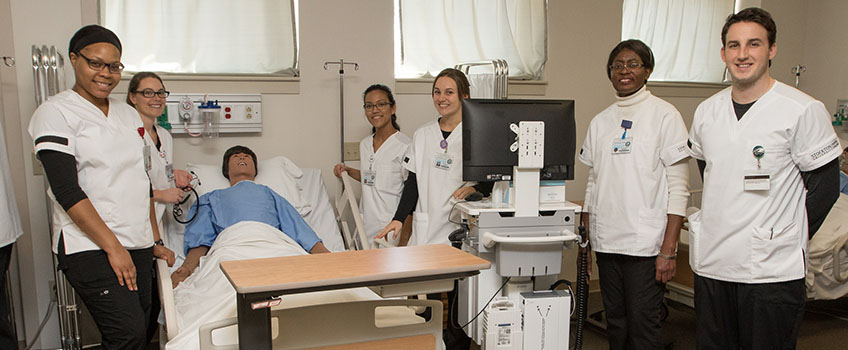 Manahawkin, N.J. _ A nursing student who needs to practice injections is not likely to find many willing volunteers.
But the JUNO patient simulators at Stockton University's new Manahawkin Expansion won't complain, no matter how many times they are jabbed.
One of them might say "that hurts," but only if an instructor programs it to respond.
Stockton officials formally dedicated the new 7,915 square-foot expansion to its Bay Avenue location on March 8.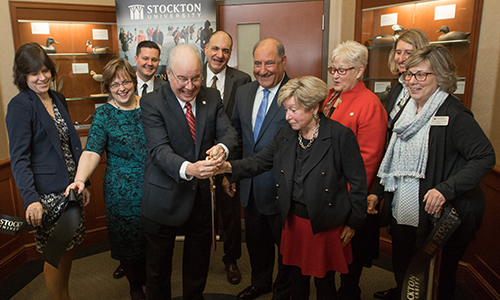 Formerly Rothman Institute Orthopaedics, the expanded location will serve Stockton's nursing students. It includes a six-bed Foundations of Nursing lab, complete with simulated patients, and seven physical assessment examining rooms, one of which includes the talking simulator.
"We understand the need for this critically important profession," Stockton President Harvey Kesselman said, adding that the expansion is just the next step in Stockton's commitment to providing programs in Ocean County.
"This is an opportunity for all of our students and this wonderful community," he said.
Speaking in the central lobby and student lounge area, Kesselman said a survey of students using the site had included a comment from one student that if they added a lounge area, the site would be perfect.
"So we did," he said.
Beach Haven Mayor and Stockton trustee Nancy Davis, a professor emerita of pathology at Stockton, said the university's growing presence in the county will enrich the lives of residents.
"I know students will be dazzled by this center," she said. "We want to keep our talented young people in the area."
Interim Dean of Health Services Dr. Elizabeth Calamidas thanked personnel from all of the Stockton departments involved in creating the state-of-the-art center, including health sciences, facilities and information technology.
BSN graduate Daniel Paganelli of Forked River said the Manahawkin site is not just a campus, but a second home for students in the TRANSCEL Nursing program, a 15-month accelerated program which provides students who already have a bachelor's degree the opportunity to become an RN with a BSN. Students also do clinical rotations in area medical facilities.
Paganelli said students receive personalized attention in the demanding nursing program and make connections at medical facilities with future job potential.
"We worked hard, and the professors did the same thing," he said. "This is a friendly and welcoming space."
AtlantiCare CEO Lori Herndon attended the event as did State Sen. Chris Connors and Assemblywoman DiAnne Gove, both R-Ocean. Connors, a 1978 graduate of Stockton, said it has been fun to watch the young state college grow to the university it is today.
Connor also admired the art work and duck decoys from the Noyes Museum of Art at Stockton that are displayed at the site.
"I'm an old bayman," Connors said. "I look at the decoys and it shows how Stockton points to the future but also respects the past. It is a cultural and economic boon to the area."
After the ribbon cutting guests toured the facility and students demonstrated their work on the simulators.
"With a simulator, you can take your time and repeat something until you learn it," Matt Ciarello of Egg Harbor Township said. "With a real patient that would be awkward."
"This is what Stockton is all about," Provost Lori Vermeulen said. "We are expanding to serve students and we are very proud of that."
The location also offers general education courses, and currently about 250 students currently take classes in Manahawkin. The location will also offer 10 summer classes including Science of Forecasting Waves, Baseball History and Literature, Beaches, and Car Culture in America.
More information is online at stockton.edu/manahawkin.
More information about all undergraduate and graduate nursing and health science programs at Stockton is at stockton.edu/health-sciences.
# # #
Contact:
Diane D'Amico
Director of News and Media Relations
Galloway, N.J. 08205
Diane.D'Amico@stockton.edu
609-652-4593
stockton.edu/media