School of Health Sciences Hosts Networking Event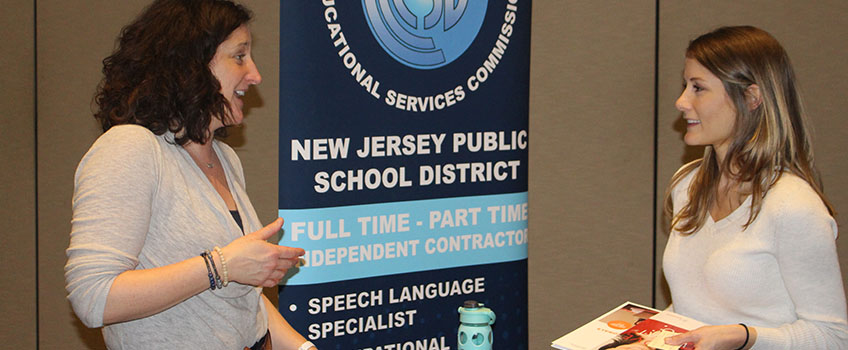 Galloway, NJ - Mary Harstell, program manager for the Camden County Educational Services Commission, came to the Health Sciences Professional Networking Event hosted by the Stockton University School of Health Sciences to let students know that they have job openings.
"We want people to know about us," Hartsell said. "Our therapists love Stockton graduates because they have had good training."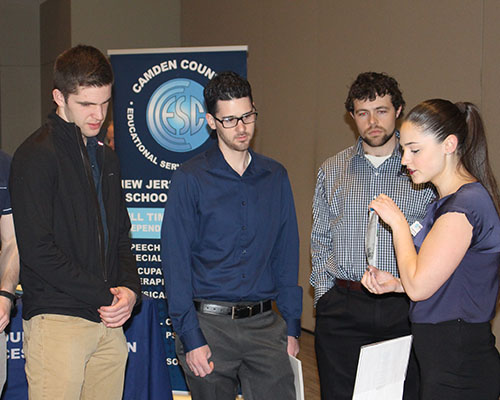 That was good news to Sabrina Walter of Haddon Township, who won't graduate from the Master of Science in Occupational Therapy program until December, but is already looking for job prospects.
The March 6 event was the second networking event hosted by the School of Health Sciences. Its purpose was both to thank agencies that have hosted Stockton students for clinical training, and to introduce students to potential employers.
"The clinical opportunities you provide for our students is a key foundational component of their education here at Stockton," Edward Walton, interim associate dean of the School of Health Sciences said in his welcoming remarks.
Almost 40 agencies registered for the event held in the Campus Center Event Room.
Austills Educational Therapy Services in Exton, Pa. works with school districts in Pennsylvania. Director of contract administration Lynn Lopez came to Stockton University to see if occupational therapists and physical therapists studying in New Jersey might be interested in working across state lines. She said the fact that all participants would be in the health sciences fields was an incentive to attend.
"We are looking for occupational therapists and physical therapists and Stockton has both of those programs," Lopez said.
Encore Rehabilitation Services Regional Director of Recruiting Karen Copetas came to the event ready to recruit new graduates to one of the Michigan-based company's 40 facilities in the New Jersey area.
"It helps to have a special event like this," she said. The company needs occupational, physical and speech therapists.
That was good news to Mia Marchisello of Blackwood, who is graduating from the communication disorders program and looking for a job as speech language pathologist.
"So far this seems like a good event," she said. "Everyone here is health related."
More information on undergraduate and graduate health science programs at Stockton is available at School of Health Sciences.
# # #
Contact:
Diane D'Amico
Director of News and Media Relations
Galloway, N.J. 08205
Diane.D'Amico@stockton.edu
609-652-4593
stockton.edu/media