Lt. Gov. Sheila Oliver to Speak at Fannie Lou Hamer Symposium
Galloway, N.J. – N.J. Lt. Governor Sheila Y. Oliver will be the featured speaker at the 15th Annual Fannie Lou Hamer Human and Civil Rights Symposium at 2:30 p.m. Oct. 9 in the Stockton University Performing Arts Center.
The theme of this year's event is "Having Our Say: Women of Color in the 2018 Election." It is free and open to the public and will also be livestreamed in the Fannie Lou Hamer Event Room in the Academic Center at Stockton University Atlantic City.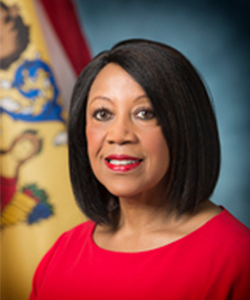 Oliver, a Newark native, made history by becoming New Jersey's first woman of color to serve in a statewide elected office. She began her career in public service as Director of the Office of Youth Services and Special Projects in Newark and also served in the state Assembly, becoming Speaker in 2010. Oliver has served on countless boards for equal opportunity committees and non-profit organizations.
Fannie Lou Hamer fought for African Americans' voting rights during the Civil Rights movement. She made history in 1964 by giving testimony at the Democratic National Convention in Atlantic City in opposition to the seating of an all-white Mississippi delegation.
Stockton honors Fannie Lou Hamer by inviting influential keynote speakers every year to inspire and inform students. Past speakers include Shaun King, Donna Murch, Bonnie Watson Coleman, Carmen Berkley and Cornell West.
The event will also include a panel discussion by Atlantic City Councilman Kaleem Shabazz, Director at the Center for American Women and Politics, Christabel Cruz, Distinguished Professor of Social Work and Africana Studies Patricia Reid-Merritt, and Assistant Professor of Atlantic History, Kameika Murphy.
The Afro-One dance group will perform will the Gospel Choir with Professor of Music, Beverly Vaughn. United Black Students Society President, Haashim Smith-Johnson and Stockton President, Harvey Kesselman will speak.
Stockton will also host a Humanitarian Fair from 9 a.m. to 4 p.m. Oct. 9 at the Campus Center. Various social service groups will share information about their mission including United Way, La Casa Dominicana, Atlantic City Rescue Mission, Volunteers of America, Jewish Family Services of Atlantic and Cape May County, Healing Wounds, Avanzar, Hope for Liberia, Amnesty International, Coalition Against Rape and Abuse, and student organizations from Stockton. There will also be speakers and a Skype conversation with students from Stoneman Douglas High School. Travis Love will lead a Story Slam from 5:30-7 p.m. at the Campus Center Coffeehouse.
- Reported by Chelsea Doherty
# # #
Contact:
Diane D'Amico
Director of News and Media Relations
Galloway, N.J. 08205
Diane.D'Amico@stockton.edu
609-652-4593
609-412-8069
stockton.edu/media