Faculty and Staff Honored at Annual Dinner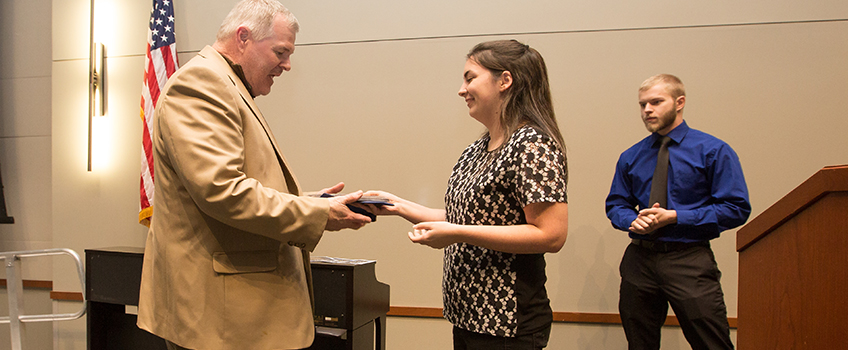 Galloway, N.J. – The 34th Annual Student, Faculty and Staff Dinner brought some 350 members of the Stockton community to the Campus Center Event Room to celebrate the support they receive both on and off campus.
"This is a dinner about supporting each other and holding each other up," said Pastor Jeff Conley of Trinity Alliance Church. "You were invited here because you have made a difference."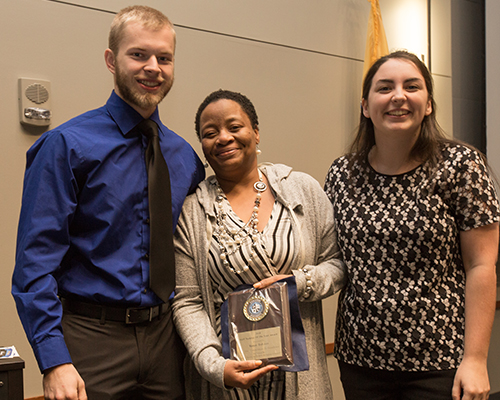 Awards for faculty and staff were presented by Student Senate President Katie Coburn and Joseph Skala, President of the Campus Religious Council. Recipients are nominated by students and co-workers.
George Sharp, instructor of educational leadership, was honored as Faculty Member of the Year. Nominees said he is passionate about everything he teaches and is someone who inspires, encourages, and challenges growth.
Renee Tolliver, a program assistant in the Office of Student Development was named Staff Member of the Year. Nominees said she has touched the hearts of many, and is always willing to help. They noted there are students who come to the resource center just to see her. One said: "everyone needs a Renee in their life."
President Harvey Kesselman presented the Community Impact award to Assistant Vice President and Dean of Students for Inclusion aad Wellness, Stephen Davis. Kesselman said Davis has been a mentor to students in the Sankofa and CARE programs and coaches youth sports.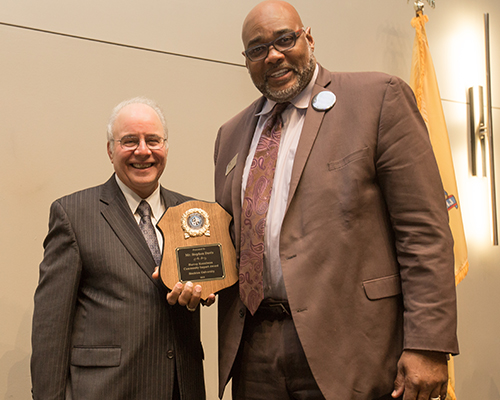 "The only thing bigger than his stature is his heart," Kesselman said of the former Penn State football player.
Distinguished Professor of Physics Yitzhak Sharon asked for a moment of silence of the victims of the California fires. He praised the students for nominating those who are teaching them and said he hopes they take their lessons into the future.
"We are a diverse community," he said. "Eventually you will graduate and I hope will become leaders and take the Stockton message to the world, which sometimes needs it."
Students Elijah Barnes and Allana Harrell provided musical performances.The annual event is sponsored by the Student Senate, Hillel, Campus Religious Council and Office of Student Development.
View a gallery of photos from the event.
# # #
Contact:
Diane D'Amico
Director of News and Media Relations
Stockton University
Galloway, N.J. 08205
Diane.DAmico@stockton.edu
609-652-4593
609-412-8069
stockton.edu/media