Learn by the Numbers in Data Science Masters Program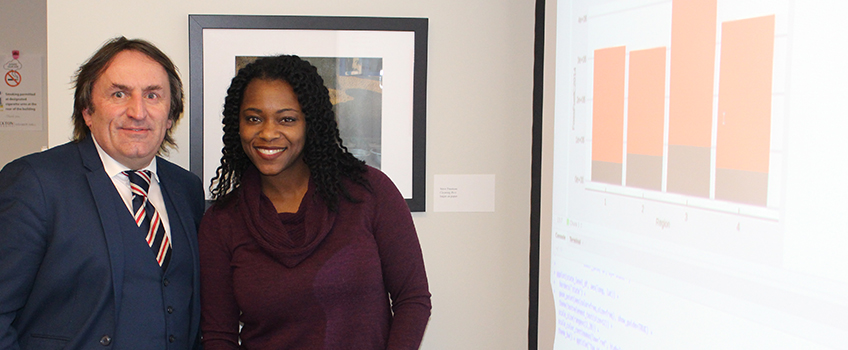 Hammonton, N.J. – Every Tuesday Keiana Dunn makes the drive from Union in North Jersey to Hammonton as part of a cohort of students in Stockton's new Master of Science in Data Science and Strategic Analytics (DSSA) program.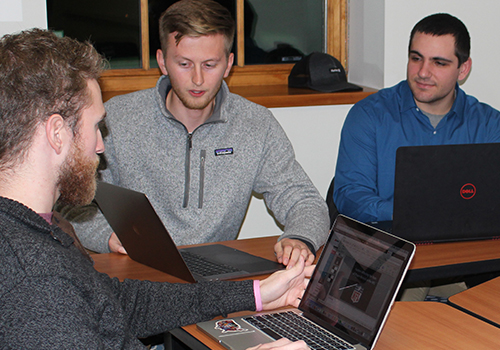 "I shadowed other schools and this one just felt right," she said as she prepared to make a presentation about her research at the program's recent Open House. "There is camaraderie and a willingness to share and the professors are encouraging and available. I like actually coming in person."
Stockton's DSSA program was developed with professionals in mind. The accelerated program can be completed in one calendar year, including summer. Classes are a hybrid, scheduled so that in addition to online work, all classes meet the same night each week at Kramer Hall in Hammonton.
"Once a week is doable for the students, and we find they like the chance to meet in person, talk and get help" said Professor of Physics J. Russell Manson, director of the DSSA program.
There are 28 students in the current cohort. Since its inception students have traveled from the Philadelphia and North Jersey area to participate. The degree program consists of 30 credit hours (10 graduate courses) that can be completed full-time in one calendar year, or taken part-time.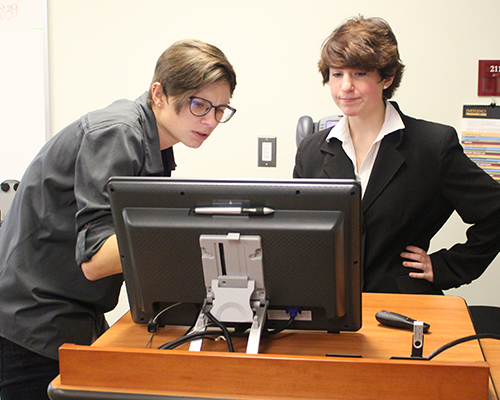 The current cohort meets from 6-9 p.m. on Tuesdays. Manson said the Kramer Hall classes operate in a studio type environment with all three professors, using a combination of lectures, hands-on work, and five minute student "(en)lightning talks" about current topics and developments in the field that keep the pace active and engaging.
"Half of the students are already working full time," Manson said. "And this is an exploding field."
Dunn works in biomedical research, doing testing for studies. She said she enrolled in the program to learn more about the analysis side of the work she does.
"I want to get a better understanding of data analysis and improve my personal skill set," she said.
Other student projects have looked at U.S. Census data, forest fire data, firefighter mortality data, and the ecosystem diversity of U.S. National Parks.
The DSSA program is now taking registrations for the fall 2019 cohort. More information is online at Stockton.edu/graduate, by calling 609 626-3640 or emailing gradschool@stockton.edu.
# # #
Contact:
Diane D'Amico
Director of News and Media Relations
Galloway, N.J. 08205
Diane.DAmico@stockton.edu
609-652-4593
609-412-8069-cell
stockton.edu/media