CARE Program Recognizes Mentors and Those They Helped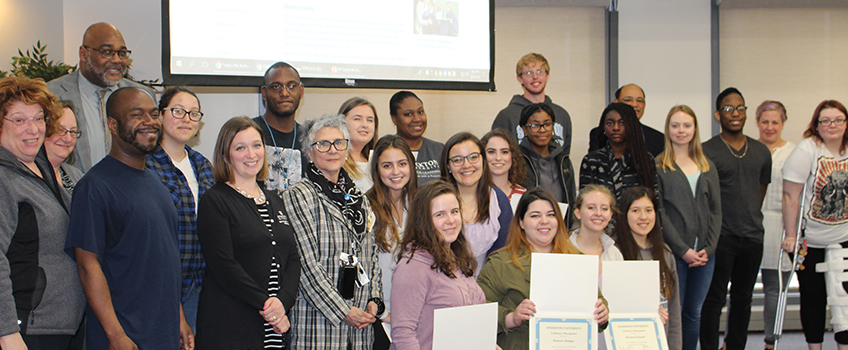 Galloway, N.J. _ Brittany Beals of Galloway Township joined the CARE program at Stockton University after transferring from Atlantic Cape Community College.
"I was new and didn't have any friends here," she said. "I saw a brochure and joined. Just having one mentor or person you could be in touch with really helps."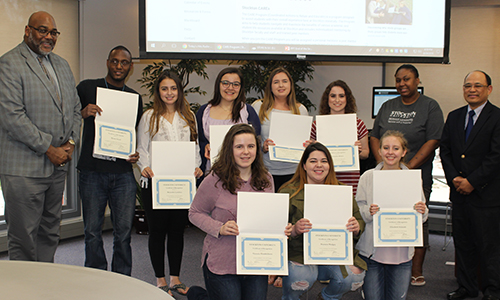 She liked it so much, she became a peer mentor herself this year, one of 17 honored at the Coordinated Actions to Retain and Educate, or CARE reception at the Townsend Residential Life Center.
The CARE program assists students in getting any help they need to succeed. Mentors can help them organize their time, learn how to study, or direct them where they can go for tutoring.
Students who are struggling can be referred to CARE, but Beals said students also have to put in the effort if they want to succeed.
"A good mentor has to be persistent," she said. "You have to let them know you are there for them, even if they don't always respond."
Student Quarn Ismail of Barnegat said when he first arrived at Stockton he wasn't sure he would succeed.
"(CARE) helped me develop study habits, and learn how to prep for exams," he said. "I also got involved in community service."
Program coordinator Tomas Itaas, associate director of the Student Affairs Retention Initiative, said this semester there were 178 students in the CARE program, and 120 faculty, staff, and student mentors working with them.
"Our goal is to have a mentor for each student, but we need more mentors," he said.
The other peer mentors honored at the program were: Alexis Braham, Kaitlyn Burke, Judith Cassidy, Justine Centner, Victoria Hendrickson, Alisa Iacovelli, Julie Kim, Alejandra Londono, Shannon Madgey, Daniella Mazzo, Leah Oattes, Oleksandra Ostapenko, Tracy Phan, Elizabeth Schmidt, Megan Soder, and Taylor Timmons.
The event also honored CARE program participants who are graduating: Kerri Almond, Daniel Iannacone, Quarn Ismail, Jessica Keen, Michael Keenan, Timothy Nugent, Alexandra Rodriguez, Jessa Ruiz, Mark Sheppard, Sean Sullivan, Antoinette Thompson, Christopher Ventrice and Terence Williams.
The next training session for faculty and staff mentors is at 4 p.m. May 8 in Campus Center Room 5.
More information on the CARE program is at CARE or contact Itaas at Tomas.Itaas@stockton.edu
# # #
Contact:
Diane D'Amico
Director of News and Media Relations
Galloway, N.J. 08205
Diane.D'Amico@stockton.edu
609-652-4593
stockton.edu/media