Student Success Scholars Program
The Student Success Scholars Program is a program designed to assist students with their overall experience at Stockton University.
Let us help you:
get organized
better manage your time
develop your academic and career goals
become an autonomous learner
empower you to succeed
The Program aims to help students navigate and maximize the benefits of various academic and student life resources available at Stockton and includes individualized mentoring by Stockton faculty and staff and trained peer mentors.
When you join the program you will be assigned a personal mentor or a peer mentor who will work with you. The Program requires at least one face-to-face meeting and weekly updates via phone, texting, or email with your mentor.
Students must bring all relevant materials to their meeting including class syllabi and notes.
Your mentor can refer you to any appropriate services on campus that will help you reach your objectives.
---
Please complete the application below to join as a program participant
Upcoming Events and Workshops
After Graduation: Next Steps
Tuesday, March 9, 2021
4:30 pm
Personal Budgeting Workshop
Wednesday, March 10, 2021 4:30 pm
Self-Care During the Pandemic
Thursday, March 11, 2021 4:30 pm
To attend a workshop, email studentsuccess@stockton.edu and a Zoom link will be sent you. Thank you.
Featured Mentee

Justin Winter 21'
Major: Computer Science & Information Systems
Volunteer Work: I have volunteered at summer swim meets throughout both high school and college. I also did some card organization at a place called Top Deck Games.
Student Organizations: Stockton Gaming Club
Career Goal: Either a job in Cybersecurity or Programming
Favorite thing about Stockton: I love walking the lake because of the peaceful sights to take in. The view is always amazing.
Why I joined the SSS program:College was continuing to become more difficult, and I felt that by joining this program, it would help me better organize my time to ensure everything was done on time.
Successful Experience: The Student Success Scholars Program has been an amazing experience that has helped shape me into a better & more well-rounded student. As college reaches its end, I am glad to have been a part of such a unique program. It has been an incredible life-changing experience, and I cannot wait to see how these skills I learned will be applied in the real world.
Featured Peer Mentor

Moira Sweeder '21
Major: Sustainability with a concentration in Policy & Economy and a minor in Business Studies
Volunteer Work: I am a member of Galloway's Green Team and a Student Success Scholars Program peer mentor!
Student organizations: I am a member of the Honors Program and the National Society of Leadership and Success.
Post Graduate Interest or Career Goal: After graduating I plan to start my career. I am still trying to figure out what specific job I will pursue. I am interested in working with environmental policy for a non-profit or government organization. I am also interested in pursuing a career path connected to sustainability and a circular economy model. I plan to attend graduate school but I would like to have experience in my field prior to graduate school. I want to get a graduate degree that is specific to my career path.
Favorite thing about Stockton: My favorite thing about Stockton is community feeling. Whether I am in class or getting a coffee from Beans List everyone is always very friendly. I enjoy walking to class and seeing people I know. I also have found that a lot of the staff/faculty members are willing to help me with anything I need which is great.
Why I joined the Student Success Scholars Program (3S) as Peer Mentor: I joined the 3S Program my sophomore year because I wanted to give back to my community. Many people have helped me achieve my academic goals and I would like to do that for others. I really enjoy being a peer mentor because helping others is something I find rewarding. Being a support system for other students is really important to me because I know that my support system is what helps me be successful. Everyone deserves someone who is willing to go the extra mile to help them succeed in life.
Featured Faculty/Staff Mentor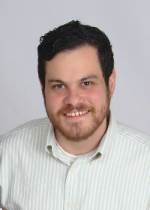 Name/Position: Steve Kalman, Assistant Professor of Chemistry
Education: B.S. in Chemistry from Muhlenberg College, Ph.D. in Inorganic Chemistry from the University of Virginia
Work experience: Before coming to Stockton, I was a Ph.D. student/research assistant/teaching assistant at the University of Virginia
Interest/hobbies: Spending time with my wife and daughter, watching television, listening to music, playing the guitar
Favorite album: Abbey Road by the Beatles
Favorite things about Stockton: The dedication and commitment of faculty and staff to the success of our students and the strong sense of community
Why I joined the CARE Program as a mentor: One of the reasons I am at Stockton is because I care about the success of our students. The Student Success Scholars Program has provided me with an additional opportunity to personally invest in our students, especially in cases where the students could really benefit from extra guidance.