Anthony Melchiorri Shares His Passion With Students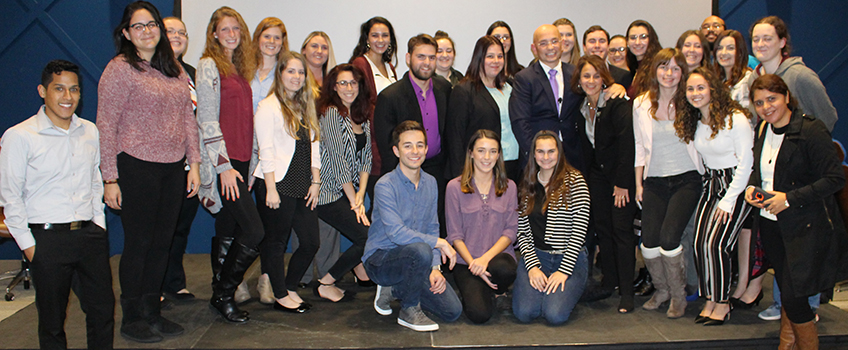 Atlantic City, N.J. _ People providing good service are the most valuable resource in the hospitality industry, Anthony Melchiorri told some 150 students, alumni, faculty and staff at Stockton University's Hospitality & Tourism Management Program's Distinguished Guest Speaker program Nov. 19 in the Fannie Lou Hamer Event Room at the Stockton University Atlantic City Academic Center.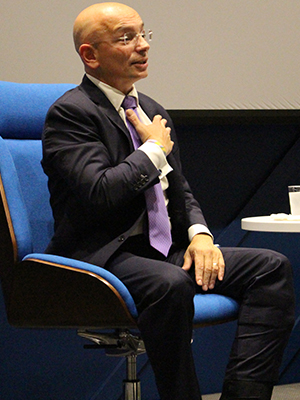 "Technology is never going to replace how you treat people," said Melchiorri, host of the Travel Channel series Hotel Impossible. "Be a five-star person even if you are working in a three-star hotel."
Melchiorri has more than 20 years of experience in the hospitality business, including general manager of the Lucerne Hotel in New York and the Algonquin Hotel. He was senior vice president of the Nickelodeon Hotel and Restaurant in Orlando, Fla., and senior vice president of New York Hotel Management Group. He also served as a protocol officer in the U.S. Air Force.
Passionate and enthusiastic, Melchiorri spoke non-stop for almost two hours in a question and answer format led first by Stockton Hospitality and Tourism Management Society president Gary Rosenberg and followed by questions from the audience. Asociate Professor of Hospitality and Tourism Management Studies Donna Albano organized the program and introduced Melchiorri.
Melchiorri said building a personal brand starts the day you are born. How should students build that brand?
Here's a recap of what Melchiorri shared:
"Don't lose your personality. You don't want to hire robots in this industry. I hired a doorman who was also a magician and told him to do magic tricks for the guests."
"You are the difference. You are the most important thing you have. When you are in an interview you want to say 'this is what I bring' but also ask 'what can they give to me.'
"My brand is that I get the job done, but I can be a pain in the butt."
"Take a revenue management class. Owners always think the problem is employees. But it's the owners' decisions that are the problem and they have to be revenue driven. The revenue manager is becoming the most important person, not the general manager."
(On dealing with bad bosses). "Don't not speak up because you are afraid of losing your job. Take the risk by doing your job. If that doesn't work, find another job."
"Leadership is everything. But a housekeeper can be a leader. Leadership is contagious."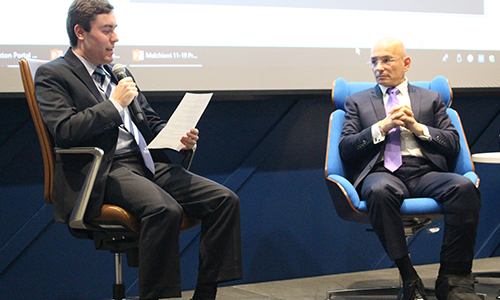 "To succeed in this industry you have to be nimble, able to change."
"I once turned down a job that I wasn't ready for. It was the best decision."
"People with no hotel experience can do more for me (than someone with hotel experience) if they care about people."
"I have no idea what future trends will be. But customers want things that are easy. A computer app can help, but you won't see robots in the U.S."
"You have to have basic standards, but I don't want all hotels to be the same. A hotel should bring out the personality of where it is. You can incorporate local food and still have bacon and eggs."
"Little things like a nice shampoo can elevate the experience."
"Airbnb has its place. What we have learned from it is that people want experiences and want to get to know a community. I don't think they will put hotels out of business. People were renting homes before Airbnb, it just wasn't as organized. But I do think they should have some regulations, especially regarding safety and security issues."
"The simplest things can touch the heart. Those are the best. A handwritten note rather than a corporate form letter."
"Don't talk about your goals, just be quiet and do it. Don't talk about it, be about it."
"Whatever you do, be good at it, even if you're the Naked Cowboy in New York's Times Square. That's his brand and he's good."
"Persistence pays off – persistence, desire and talent."
# # #
Contact:
Diane D'Amico
Director of News and Media Relations
Stockton University
Galloway, N.J. 08205
Diane.DAmico@stockton.edu
609-652-4593
609-412-8069
stockton.edu/media
Stockton University
Stockton University is ranked among the top public universities in the Northeast. Students can choose to live and learn on the main campus in the Pinelands National Reserve and at a new coastal residential campus just steps from the beach and Boardwalk in Atlantic City. Learn about our more than 160 undergraduate and graduate programs at Stockton.edu.