New Teachers Take Alternate Route to the Classroom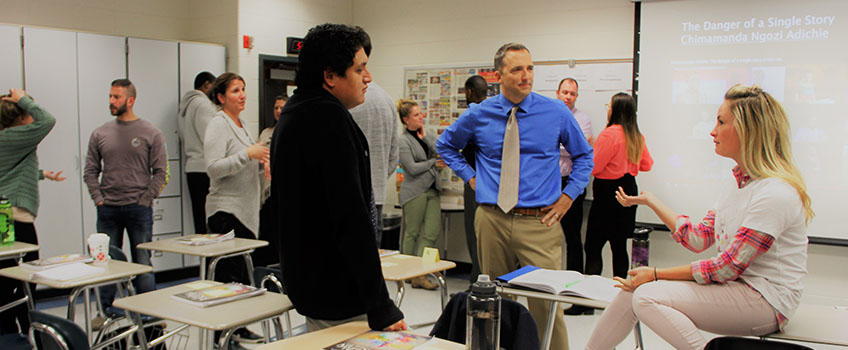 Galloway, NJ _ Dominick Andrews has a degree in visual arts from Stockton University, and a job teaching arts and animation at Charter Tech High School for the Performing Arts in Somers Point.
What he does not yet have is a teaching certificate. But a new alternate route program at Stockton will provide him not only the certification, but also credits towards a master's degree.
The program requires him to take classes at Stockton while he is teaching, but Andrews doesn't mind.
"It's nice because everything we are learning is all relevant information that we can use at work," he said.
Requirements for the New Jersey Department of Education's Alternate Route to Teaching program became more stringent this year, requiring participants to take 400 hours of instruction over two years.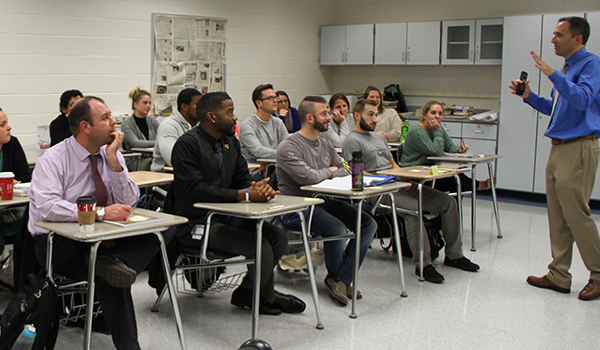 Claudine Keenan, Dean of Stockton's School Education, said they adapted the alternate route program at the University so that if participants successfully complete the program they will not only earn their state teaching certification, but will also have as many as 24 credits toward a master's degree.
"It is now a graduate level program that is preparing them to be even more valuable in the classroom," Keenan said. "The old one-year program was totally non-credit. Now they are in an accredited program and can earn a Master of Arts in Education."
The teachers in the first cohort come from different districts and typically teach in hard-to-fill positions, including special education , sciences, or English as a Second Language.
The program is a hybrid, with students taking courses both online and in class. This year they are meeting at the Galloway Township Middle School, but the program will be re-located to the new Atlantic City campus when it opens in the fall.
Michael Hinman, who directs the program, said it is attractive to people looking to change careers and also teachers from private schools or other states whose qualifications do not meet New Jersey's certification requirements.
"We had one person who taught for 20 years in a private school," he said.
The teachers do have to be working, and some had substituted in districts to prove themselves before being offered a job.
Greg Coughlin worked in sales and marketing for a decade when he decided it wasn't what he wanted to do. He started working as a substitute in Atlantic City schools, and this year got a job there teaching third grade.
Antoine Lewis worked as an aide and coach at Mainland Regional High School for three years before getting a teaching job through the alternate route.
"I just enjoyed being around the kids so much," he said. "Teachers and coaches had such a positive influence on me, and being an aide helped me a lot, too because I learned from the teachers."
Barbara Byrnes worked for a health insurance company, and while training others realized she enjoyed teaching. She left her job to become a teacher as a way to make an impact.
"I'm a special education teacher, and there's such a shortage," she said. "I enjoy it, and it's good that we can earn graduate credits, which also gives us a bump in salary."
Amanda Fessman, who has a degree in biology, took a pay cut to teach seventh grade special education math and science in Egg Harbor Township. But she doesn't regret the career change.
"It's for the kids," she said. "They need people who genuinely want to be there."
An information session for those interested in the program will be held from 4-5 p.m. March 14 in the Campus Center Meeting Room 5.
For more information on the alternate route program click here.
# # #
Contact:
Diane D'Amico
Director of News and Media Relations
Galloway, N.J. 08205
Diane.D'Amico@stockton.edu
609-652-4593
stockton.edu/media