Stockton Ceremony Commemorates 9/11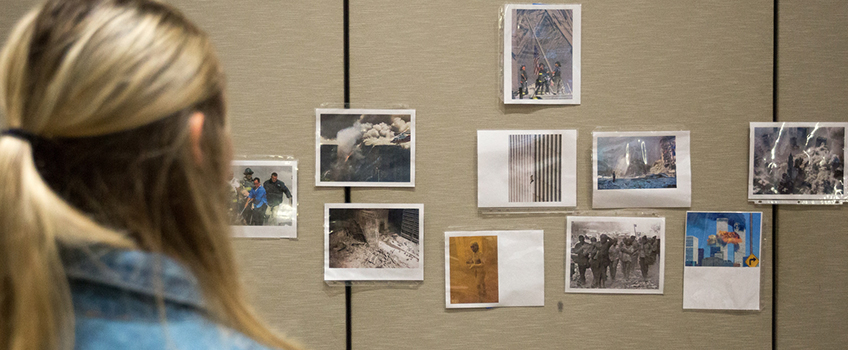 Galloway, N.J. - Seventeen years ago today, America suffered one of its greatest tragedies, the loss of 2,977 lives during the 9/11 terrorist attack. Stockton honored this day by having a 9/11 commemoration ceremony to share stories and remember the tragic events.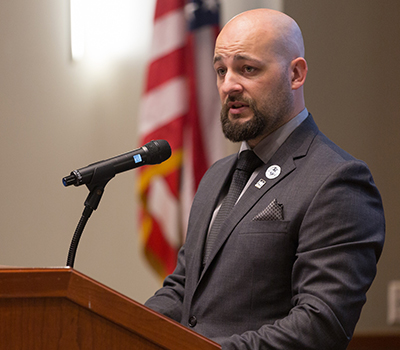 Ryan Luurtsema, President of the Student Veteran Organization was just 13 years old when the twin towers went down on September 11, 2001. He said during one of his morning classes, his teacher got a call, and immediately changed her body language in a way that made every student in class aware that something was wrong. No one knew their lives would change forever in a matter of minutes.
Katie Coburn, Student Senate President of Stockton was only four years old, and has a much different experience than Luurtsema. As a young child, Coburn has no memory of the exact day, but the aftershocks of it stick with her forever.
Coburn, along with many students of Stockton, are part of a generation where the date September 11th has always carried a heavy weight. She said for her and many other young adults her age, airplane travel always involved long, extensive security lines and a slight feeling of dread before the plane takes off.
Although America experienced a great tragedy, Jason Babin, Director of Military and Veteran Services, said it reminds us today that our attackers failed to divide us, but instead made us stronger. He said those lost in this hateful attack live on through family members and treasured memories.
"Those who died are with us still," Babin said, as a montage of pictures of that devastating day played behind him.
Vice President of Student Affairs, Christopher Catching said Stockton has not only a great student community, but also a strong military connected community. A New Jersey native, Catching admitted that looking out the window of his North Jersey home will never be the same without the Twin Towers standing out in the skyline of New York City.
Seventeen years later, September 11th is a day still as impactful as it was in 2001. Speakers said the Stockton community thanks the brave first responders for their sacrifices, and remembers those who lost their lives much too soon.
_ Reported by Chelsea Doherty
# # #
Contact:
Diane D'Amico
Director of News and Media Relations
Galloway, N.J. 08205
Diane.D'Amico@stockton.edu
609-652-4593
609-412-8069
stockton.edu/media