21 New Citizens Take Oath of Allegiance at Stockton University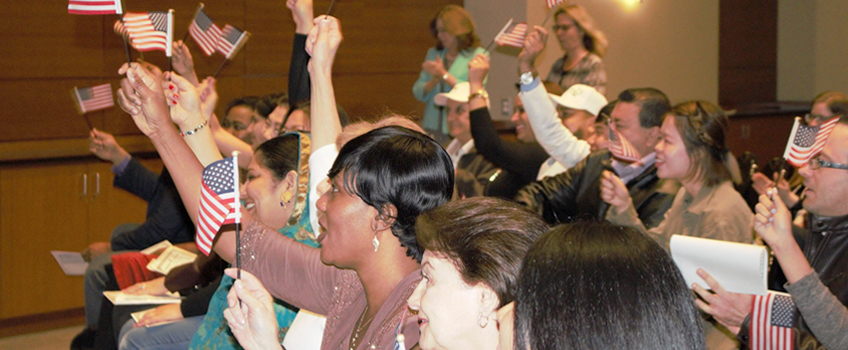 For Immediate Release; with photos on flickr
Contact: Maryjane Briant
News and Media Relations Director
Galloway, N.J. 08205
Maryjane.Briant@stockton.edu
(609) 652-4593
stockton.edu/media
Galloway, N.J. - Twenty-one of America's newest citizens took the oath of allegiance today during a special naturalization ceremony conducted by the U.S. Citizenship and Immigration Services (USCIS) at Stockton University.
"I know how you feel," said (USCIS) Mount Laurel Field Office Director Ya-Mei Chen. "I was in your chair in 2002 being naturalized in Kansas City.
"Being a first-generation immigrant is challenging," she continued. "The cultures are different - the food - the language - the people are all different."

Chen told them not to forget their heritage, but "please continue to learn the culture and the heritage and the language of this country." She mentioned that her son was teased at school when they first immigrated, so she reached out and did programs about Chinese culture in the elementary schools in her area. "Now my son is very popular," and being Chinese is cool, she said.
"I strongly encourage you to build bridges" between your country of origin and the U.S., Chen said.

After repeating the oath Chen administered, the new citizens cheered and waved small flags as their families and friends clapped and took pictures.
Atlantic City Mayor Don Guardian and Lori Vermeulen, Stockton University provost and vice president for academic affairs, joined the Stockton Center for Community Engagement (SCCE) and USCIS in welcoming the new citizens, some of whom participated in naturalization classes sponsored by Stockton. Student Marianna Alshay sang the national anthem.
"We're pleased to have you on our team, which will assure that freedom continues," Vermeulen said.
Guardian noted that the United States has been "trying to form a more perfect union for 241 years," drawing on the Magna Carta and democratic principles from ancient Greece. "It's a work in progress," he acknowledged.
Guardian said that it took the Civil War to free slaves, and that women did not earn the right to vote until 1920. He referenced other milestones such as the Civil Rights Act of 1964 and court rulings establishing LGBTQ rights in the past few years.
He said his grandmother came over to Ellis Island from what is now Croatia in 1918, and didn't realize at first that she was no longer ruled by the Austro-Hungarian Empire. But she learned.
He told the new citizens they would no doubt miss their countries of origin, saying "everyone who came before you suffered the same pains."
"America will be better because you have come here," he said. He said he was proud that 10 of the 21 new Americans have chosen to live in Atlantic City.
The new citizens originate from 16 countries: Bangladesh, Brazil, Bulgaria, Colombia, Dominican Republic, El Salvador, Ghana, India, Mongolia, China, Pakistan, Philippines, Romania, Serbia, Uganda and Vietnam.
Among them was Stockton graduating senior Hung Nguyen, 21, who came to Atlantic City when he was 9 and spoke no English. "My mom sponsored me and my dad for citizenship," he explained. His father took the oath at ceremonies in Hammonton earlier this week.
His mother came to Atlantic City to work in 2000 and became a citizen herself. When Nguyen came to the United States in 2004, he attended the city's Richmond Avenue School, learning English and becoming a star student who got a full scholarship to Stockton, where he majored in Business/Management.
What motivated him to become naturalized? "Trump," he said. "It's time to become a citizen."
The person who waited to the longest to become a citizen was Hossana Da Costa, of West Atlantic City. She first came to New Jersey from Brazil in 1968, when she was 8 years old. (Her name can be spelled Hossana or Rossana, she said, and on her certificate it was listed with a R.) She moved here permanently at 15, living mainly in Atlantic County, she said. She attended the University of the Arts in Philadelphia and has always been self-employed, but is looking for new career opportunities and thinks it will be easier to get a job as a citizen.
Why did she wait so long? I'm a procrastinator," she laughed. "But basically I was never big into politics and didn't feel like I knew enough. Now, I'm interested."
Did President Trump's election motivate her as well? Not really, but she had met him in the casino industry years ago, "and I liked him," she said.
"I have always felt like an American. But now I am so happy to be a U.S. citizen," Da Costa said.
"It is a privilege for me to participate in this ceremony and I am very grateful to share this important day in the life of our candidates for citizenship, their families and friends. It is humbling to witness 21 people become American citizens who now will be able to fully participate in our democracy," said Merydawilda Colon, executive director of the SCCE, which hosted the ceremony and offers the naturalization classes.

Those classes are being offered every Tuesday at the Carnegie Center, 35 S. Dr. MLK Blvd. in Atlantic City, from 6 - 7:30 p.m., through May 30 and will be offered again beginning Sept. 5, 2017 and ending on May 29, 2018.
The naturalization classes are facilitated by SCCE Student Fellows Paola De Los Santos and Alejandra Londono and supported by Jessie K. Finch, assistant professor of Sociology. For more information, visit stockton.edu/scce.
"Throughout the two years I have been involved in these classes, I have been consistently impressed and inspired by the devotion that our permanent residents have shown in attending class regularly, practicing English, and seeking to understand the United States of America," Finch said at the ceremony. She added that having just earned the right to vote, she doubted they would "ever be a part of the 44 percent of Americans who did not vote in federal elections last November."
The new citizens each received certificates from Atlantic County Freeholder Alex Marino, who is also the assistant to the provost for Atlantic City instructional sites at Stockton, and from Cape May County Freeholder Jeffrey Pierson.
"I had tears in my eyes" after watching the ceremony, Pierson said.
In fiscal year 2016, USCIS welcomed 752,772 citizens during naturalization ceremonies across the United States and around the world. In New Jersey, 40,517 new citizens were naturalized in 2016.
USCIS encourages new citizens and guests to share their naturalization ceremony experiences and photos through social media, using the hashtag #newUScitizen.
For more information on USCIS and its programs, please visit www.uscis.gov or follow them on Twitter (@uscis), Instagram (/uscis), YouTube (/uscis), and Facebook(/uscis).