Stockton Teams Represent North Korea and Luxembourg at Model UN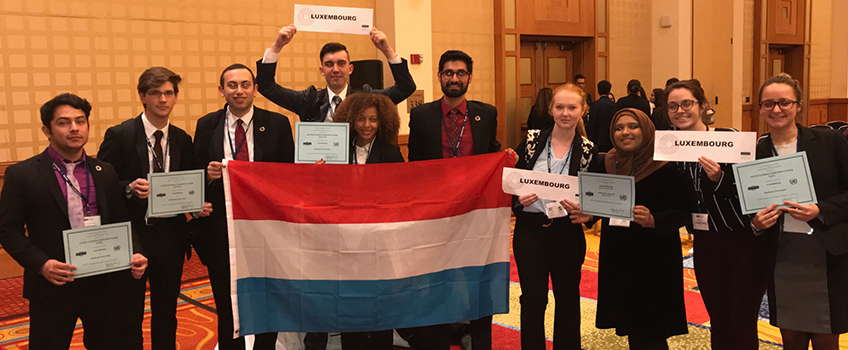 Galloway, NJ _ Members of the Model United Nations team at Stockton University knew it would not be easy representing the Democratic People's Republic of Korea, or DPRK, more commonly known as North Korea, at the Nov. 3-5 conference in Washington, D.C.
The team is highlighted in a feature in Washingtonian magazine in March 2018.
"It was a really big challenge," said James Culbertson of Absecon, who credited the group's president, Dom Tierno of Collingswood with the idea to request a challenging country. "It really was interesting to see which countries would work with us and how many people listened to us. We didn't expect to be taken seriously. It was very diplomatic and professional."
Ali Samran of Galloway said the club submitted five prospective countries to the national program, then were assigned those they represented.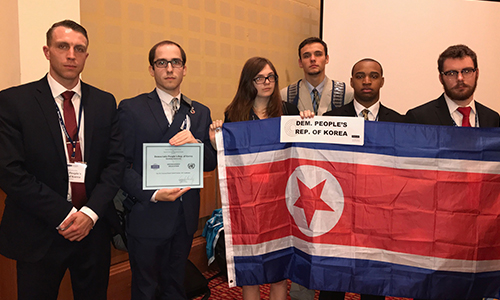 The Stockton team representing the DPRK returned with a Distinguished Delegation award. Another Stockton team represented Luxembourg and returned with an Honorable Mention Delegation award and four position paper awards.
Freshman Axavier Dennis of Pleasantville was on the UN Environment Assembly for the North Korean team. He said it was an issue the country supports, so it was easier to work with other countries.
"But there were agreements North Korea did not sign, so we could not work with those countries," he said.
Sophomore Syeda Sanjdha of Egg Harbor Township was on the Luxembourg team. Last year she represented India on the United Nations High Commissioner for Refugees.
She said representing Luxembourg was a big change.
"Luxembourg is much more hands off," she said. "There was a lot of research to do."
Nadira Anderson of Bergenfield, who was also on the Luxembourg team, said she joined to learn about using diplomacy to understand international affairs.
"It was very taxing at first," she said. "But it was also extremely fun. The days went really fast."
The goal of the National Model United Nations is to advance understanding of the UN and contemporary international issues. More than 1,000 university students from around the world participated on the nine simulated UN committees.
Associate Professor of Political Science Tina Zappile formed the Model UN program at Stockton and serves as the club advisor. She also teaches a class on the UN Experience. The team attends conferences in both the fall and spring semesters, and about 25-30 students participate each year. The spring conference is in New York City. Each winter, the International Travel Team attends a conference abroad.
The teams that travel in the U.S. are supported by the Student Senate under Student Affairs/Student Development and the team that travels abroad is supported by the Presidential Initiative. Students must apply to participate and applications are now being accepted for the spring team headed to New York. Students must demonstrate a willingness to learn how to use diplomatic means to solve world problems and to listen to different perspectives.
In addition to their delegation award, the Luxembourg team also was recognized for four Outstanding Position Papers in the General Assembly, International Atomic Energy Agency, UN Conference on Trade and Development and the UN Environment Assembly.
More information on Stockton's Model UN program is available at stockton.edu/model-un.
The following students participated in the fall conference:
GA1 Luxembourg: Josh Battaglia of Point Pleasant & Wade Van Orden of Little Egg Harbor
1. Cybersecurity and the Threat of Cyberwarfare
2. Addressing the Illicit Trafficking of Small Arms and Light Weapons
UNCTAD Luxembourg: Ali Samran of Galloway & Nadira Anderson of Bergenfield
1. Minimizing the Negative Impacts of Globalization
2. The Social Responsibility of Multinational CorporationsIAEA Luxembourg: Emma Corcodilos of Clinton & Kate (Katharine) Casario of Stratford
1. Nuclear Technology and Water Security
2. Improving the Effectiveness of Safeguards and Verification Mechanisms
UNEA Luxembourg: Bryan Gonzalez-Mejia of Ewing & Nick Hubchak of Jackson
1. Protection of the Environment in Areas Affected by Armed Conflict
2. Safeguarding our Oceans
UNHCR Luxembourg: Syeda Sanjdha of Egg Harbor Township & Florence Hulbert of Cherry Hill
1. Addressing the Needs of Internally Displaced
2. Improving Housing and Food Security for Urban Refugees
GA1 DPRK: Dom Tierno of Collingswood & Allison Uhrick of Washington Township
1. Cybersecurity and the Threat of Cyberwarfare
2. Addressing the Illicit Trafficking of Small Arms and Light Weapons
UNEA DPRK: TJ Urbanik of Monroe Township & Axavier Dennis of Pleasantville
1. Protection of the Environment in Areas Affected by Armed Conflict
2. Safeguarding our Oceans
UNCTAD DRPK: James Culbertson of Absecon & Dario Colombo of Cape May
1. Minimizing the Negative Impacts of Globalization
2. The Social Responsibility of Multinational Corporations
# # #
Contact:
Diane D'Amico
Director of News and Media Relations
Galloway, N.J. 08205
Diane.D'Amico@Stockton.edu
609-652-4593
stockton.edu/media