Stockton's 37th Annual Scholarship Benefit Gala Raises over $400,000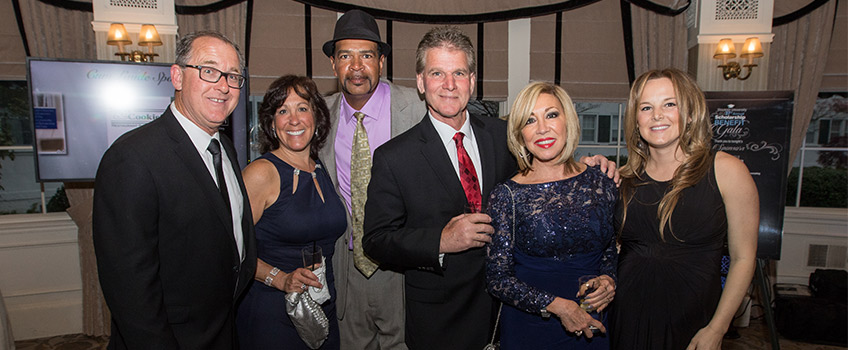 For Immediate Release; with photos on flickr
Contact: Maryjane Briant
News and Media Relations Director
Galloway Township, NJ 08205
Maryjane.Briant@stockton.edu
(609) 652-4593
stockton.edu/media
Galloway, N.J. - Guests at Stockton University's 37th Annual Scholarship Benefit Gala held at Stockton Seaview Hotel & Golf Club tonight raised more than $400,000, with net proceeds going to the Benefit Gala Scholarship Endowment Fund.
Earnings from this fund are used to provide annual scholarship awards to Stockton students. Since 2007 the Benefit Gala has added more than $3 million to the endowment in support of student scholarships. This year more than $110,000 has been awarded to 113 students.
"These scholarships make a huge difference in the lives of our students," said President Harvey Kesselman. "There are also incredibly successful alumni here in this room tonight, and they are illustrative of the dream coming true."
Among those alumni present were Tom Ballance, '82, president and COO of the Borgata Hotel Casino & Spa; Richard Dovey, '75, president of the Atlantic County Utilities Authority and chair of the University Foundation; Madeleine Deininger, '80, chair of the Board of Trustees and founder and president of the Sonoma, California-based Kismet Wines, Inc.; and Kesselman himself, a member of Stockton's inaugural class.
Students present who have benefited from scholarships included Kimberly Wilson of New Egypt, N.J., who graduated last May and will enter the doctorate in Physical Therapy program at Stockton this fall. She received a Foundation scholarship in 2015 which was established by former trustee James Yoh. Wilson was volunteering at the Gala, selling raffle tickets along with Sarah Curnell of Middle Township, N.J., a student in the Hospitality and Tourism Management Studies program who will graduate next month.
Wesley Hoffner, a junior from Medford, N.J., was also there as part of the Hospitality and Tourism Management class taught by Professor Michael Scales. "Professor Scales wants us to see how an event like this is organized and run. It's really practical experience," said Hoffner.
Testimonials from other scholarship recipients were featured on a slideshow on large screens. "Through Stockton's amazing faculty and outstanding opportunities, I have truly blossomed academically and personally," said Victoria Henderson, a scholarship recipient from the School of Health Sciences. "I have met my best friends and made my favorite memories. I am proud to attend this university and so grateful to be a part of the Stockton family."
First-time attendee John Gray of Linwood, N.J., business agent for the International Brotherhood of Electrical Workers (IBEW) Local 351, an event sponsor, said the Gala was "amazing and high-energy."
Bryan White of Ewing, N.J., who was enjoying the event with Stockton trustee Ellen Bailey of Galloway, N.J., said this was his third Gala and he was bidding on some wine baskets. "It's for a good cause - helping students."
As Kesselman walked by, White remarked, "He's a good man and just what the university needs, a very dedicated person."
The Gala featured an innovative format that allowed guests to circulate and enjoy live entertainment and special menus in each of four spaces throughout the historic Stockton Seaview.
The silent auction floated above the indoor pool, which was covered in translucent white flooring and lit from beneath, in a dramatic black and white presentation. The auction included a large variety of high-end items such as getaways, jewelry, golf, wine baskets, sweet treats and much more. Tito's Handmade Vodka, a partner for this year's event, agreed to match the first $10,000 raised through the auction.
Entertainment included Carnivale, a 12-piece big band that covers almost every genre of music; Fleur Seule, which plays1940s style jazz and swing music; the Megan Knight Duo, offering modern and classic sounds from various genres; Chad Juros and Mike Palladino, performing strolling magic and some celebrity impersonators.
Dolce Hotels and Resorts and the International Brotherhood of Electrical Workers (IBEW) Local 351 were the Chairs' Circle sponsors of the Gala.
Other top sponsors included: ASAPP Healthcare Inc. & Amethyst Personal Growth, the Cooper Levenson law firm, Dr. Howard and Gayle Gross, SOSH Architects, Avalon Flooring, the Borgata Hotel Casino & Spa, Chartwells, Follett Higher Education Group, Northeast Carpenters and Carpenters Local 255, the Saul Ewing LLP law firm, AC Devco and NewBrunswick Development Corporation, the Atlantic County Utilities Authority, AtlantiCare, Bricklayers & Allied Craftworkers, the Fox Rothschild LLP law firm; Fulton Bank of New Jersey, Glenn Insurance, Kramer Beverage Co. and Kramer Family Foundation, Marathon Engineering and Environmental Services, Inc, Pennoni, Pennsylvania Trust, Pepsi Beverage Company, Quantum Capital Management L.L.C., Resorts Casino Hotel, the Rothman Institute, Shore Medical Center, South Jersey Industries, Steve & Cookie's By the Bay, The Press of Atlantic City, Townsquare Media, U.A. Local Union 322 and Walt's Original Primo Pizza.