'Passion, Patience and Persistence' Are Keys to Success, Master's & Doctoral Graduates Told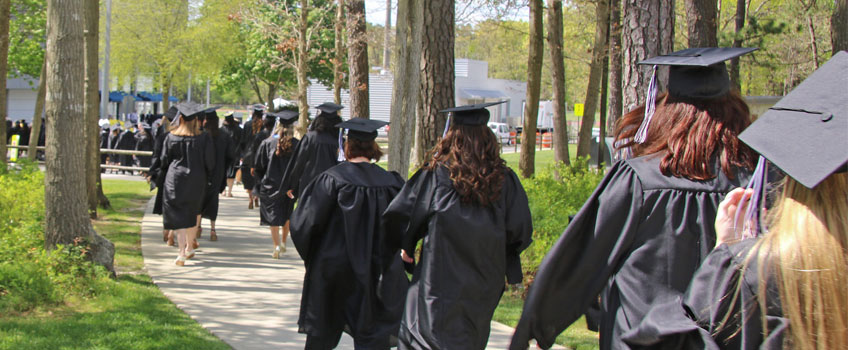 For Immediate Release; with photos on flickr; and list of graduates
Contact: Maryjane Briant
News and Media Relations Director
Galloway, N.J. 08205
Maryjane.Briant@stockton.edu
(609) 652-4593
stockton.edu/media

Galloway, N.J. - Doctoral and master's graduates today received their degrees and were hooded, in a tradition that dates to medieval times, at a Commencement ceremony held in the Sports Center on Stockton University's Galloway, N.J. campus.
A record total of over 1,550 graduates will receive degrees this spring, including the 217 who earned advanced degrees in Stockton's 13 master's and doctoral programs.
"Graduates, passion, patience and persistence are the anchors of your eventual success," said President Harvey Kesselman.
He illustrated these traits through the story of Kevin King, of the University of Washington, who recently took part in the NFL Draft. He made the trip from his California home to the East Coast with family and friends and waited ...and waited...and waited while his name was not called.
"The final selection of the evening was made, but Kevin, along with a handful of other players, remained. Tired, embarrassed, and very disappointed, Kevin had to face the reality that he would not go home that night a member of the professional elite," Kesselman said.
"But what I admired most was his persistence. He could have hung his head, grabbed his things, and returned home, as did the others. Rather, he made the decision to see it through to the end.
"Kevin was the only invited draftee to return for the second round. He explained it in a tweet: 'I came here to walk my mom and dad down the red carpet, hear my name called, and get my hat. They ain't getting rid of me that easy!'"
"The Twitter world exploded in support of Kevin King," Kesselman said. "He held on to his dream, and the very next day, he was the first to be selected and announced as the 33rd pick of the draft.
"Kevin King sustained a passion to pursue his dream, demonstrated persistence to press on when confronted with disappointments, and showed patience while positioning himself for success.
"And you too, have fulfilled your dream. Earning a graduate degree in your chosen field is no small achievement," said Kesselman.
"As a result of your staying the course, you've earned the opportunity to become a leader in your field. The advanced degree you'll receive today will place you in a position to not only walk through doors, but to open them for others. Furthermore, it equips you with the ability to build a platform far greater than the one you will walk across today.
"Graduates, you have officially made it to the next level," he said.
"Stockton has encouraged and empowered you to stake claim to your calling. Let all the knowledge, wisdom, civic mindfulness, and social consciousness that have undergirded your education become the foundation that informs your decisions," he continued.
"In closing, this is what I leave you with today. Remember to follow your passion, exercise patience, and most of all…make your motto for persistence be: "They ain't getting rid of me that easy!"
Ashley Vaccaro, of Forked River, N.J., was the student speaker. A recent graduate of the Master's in American Studies program, she just completed her certification in Secondary Education with a concentration in Social Studies; she also earned a B.A. in History here in 2014.
One of Vaccaro's greatest academic achievements was creating a digital database for the Hammonton History Project commemorating the town's 150th anniversary. Her ultimate goal is to obtain a Doctoral degree in Cultural Studies so she can become a full-time professor and return to teach at Stockton.
"For some of us, today marks the end of our educational journey, while for others, it marks the beginning of the final chapter," said Vaccaro. "Regardless of where we are on this journey, we have Stockton's administration, faculty, and staff to thank for shaping us into the people we have become."
She went on to say: "Graduate school, as a whole, challenges us to be curious and to think outside the box; and it is this curiosity that pushes us to keep moving forward.
"Do not be afraid of your fears," she urged. "Use those fears and generate change. We are graduating at a time where the world is begging for new voices to be heard, and we all have the ability to be those voices.
Do not let the fear of being misunderstood keep you silent. Stand up for everything you believe in, and know that there are others out there ready to rally behind you at any given moment. Fear may be a powerful entity, but so are compassion, unity, and strength to do what is right. No matter where your path may lead you, I hope you remember this: Fear is not meant to stop you, but to challenge you.
"That is what the American Studies program has taught me: to be the voice for those who may not be heard because they do not fit the ideal model, and to challenge what is simply accepted
as 'just the way things are.' ... I no longer fear those who are different from me, but embrace
them. Bell Hooks said it best when she said, 'When we choose to love, we choose to move against fear, against alienation and separation. The choice to love is a choice to connect, to find ourselves in the other.'

"Class of 2017, I hope you stand here today ready to take on the next challenge in life, and know that we will always be connected through our remarkable institution, Stockton University," Vaccaro concluded.
Sgt. Tracy Stuart, of the Stockton Campus Police Department, graduated with a Master's in Instructional Technology (MAIT) degree, walking across the stage to be hooded and recognized as a graduate with her police dog partner, K9 Hemi, who also sported a small mortarboard. "It's an overwhelming, incredible experience," Stuart said of receiving her advanced degree.
"I'm not supposed to cry in uniform, but I'm holding back tears right now."
Lori Vermeulen, provost and vice president for Academic Affairs, introduced the graduates to receive their degrees, which were conferred by Kesselman. She explained that receiving a hood at graduate ceremonies is "a tradition that dates back to medieval times. The hood's size and color indicates the level of degree, the institution that confers the degree and the field of study for which the degree is granted."
Bess Kathrins, professor of Physical Therapy, received Emerita Status on her retirement. Trustee Ellen Bailey bestowed the title on her, "in honor of your dedicated teaching, scholarship, and service." Among Kathrins' many contributions to Stockton University is her service as interim dean of the School of Health Sciences.
"I have known Dr. Kathrins for over three decades. She truly has been one of the most influential faculty members in the history of this institution," said Kesselman.
Hassan Dar, of Galloway, who just received his MBA, celebrated with his wife, Aqsa, parents Qaiser and Noureen Dar, and sister Hira at a reception after the ceremony. "It was a difficult and challenging, but rewarding experience," he said. "I was going to school while working full-time and we recently got married. But I made it." He's currently working as a technical writer at the FAA's William J. Hughes Technical Center.
Representing the Stockton University Board of Trustees at Commencement were Bailey and Cristian Moreno, student trustee, and Ike Ejikeme, alternate student trustee. Johanna Johnson, first vice chair of the Stockton University Foundation Board of Directors and an alumna from the class of 1979, and First Lady Lynne Kesselman, also an alumna, were also recognized, along with other members of the cabinet and senior leadership.
Ekaterina Sedia, associate professor of Biology, served as faculty Grand Marshal. Joseph Sramaty, a Stockton staff member and 2015 Stockton alumnus, sang the national anthem and "Ospreys on Parade," the alma mater with lyrics by Professor Emeritus of Creative Writing, and 2001 Pulitzer Prize winner for poetry, Stephen Dunn, which were adapted by Sramaty. The music was composed by Bud Noble, an adjunct instructor.
For more information about Stockton University's graduate programs, visit stockton.edu/graduatestudies.
Stockton will hold its largest undergraduate commencement - and the first-ever in Atlantic City - at Boardwalk Hall on Friday, beginning at noon. Vermeulen invited all the master's and doctoral graduates to come and share in the community celebration. Video of the event will be livestreamed on Friday and available for viewing, along with today's ceremony, at stockton.edu/commencement.
# # #