History of Kramer Hall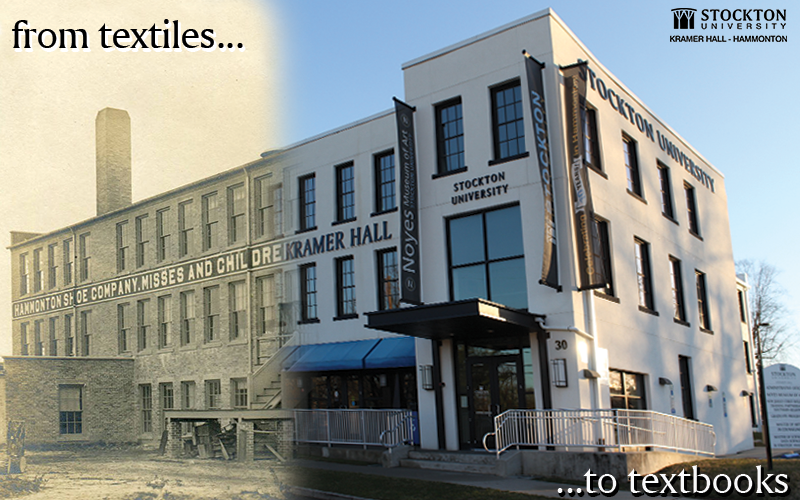 Upon Kramer Hall's opening, Assistant Director of South Jersey Culture and History Center Paul Schopp performed extensive research about our historic building in the heart of Downtown Hammonton.
His findings are highlighted in the timeline below. However, we encourage you to read his complete history of not only the building, but also of the Hammonton Shoe Company in South Jersey.
---
Pre-1900

Cyrus F. Osgood arrived in Hammonton in 1872. Born in Auburn, Maine in 1841, Osgood became well-versed in all phases of shoemaking by the time he arrived in Hammonton. Though he utilized several locations around Hammonton for shoemaking, by 1885, Osgood & Company had a permanent home on Front Street, across from the Camden & Atlantic Railroad Station. The company expanded into a building next door as the Hammonton Shoe Company in 1899.

The pre-1909 Hammonton Shoe Company building.

1900-1910

By 1901, the factory employed 75 people. With production needs rapidly expanding, it was determined that running the operation out of 2 factory buildings with separate names was not optimal for production. In January 1909, plans were made to construct a new 3-story factory building next to the 2 factory buildings in operation, and construction had begun by February. Osgood Shoe Company operated under the Hammonton Shoe Company at their new location.

This location, with updated signage, was optimal because it provided free advertising for passers-by on the train. In addition, this factory was sought after due to the large windows that were uncommon for factories at the time. This is what would later become Kramer Hall.

The Federal Immigration Commission produced a survey around this time that highlighted the Italian migration to Southern New Jersey. The report stated that the first Italians arrived in Hammonton around 1870, and that Italian-Americans made up 40% of the workforce at the Hammonton Shoe Company. At the time, the total workforce was 78 males and 23 females.

Cyrus F. Osgood, c. 1880s.

1910-1929

By 1915, Osgood Shoe Co. and Hammonton Shoe Co. had a combined total of 210 employees, aided by an increase in demand, influx of new Italian immigrants, and a desire of agricultural laborers to leave farms. By 1918, however, the workforce decreased, likely as a result of the First World War. Osgood Shoe Co. halted manufacturing by 1923. The downward employment trend continued until the stock market crash of October 1929, which caused the Hammonton Shoe Company to cease operation, as well.

Osgood Shoe Company Employees c. 1915.

1929-1959

By 1930, the former Hammonton Shoe Company building became the Hammonton Auction House. Between the mid-1930s and the 1950s, the location housed the South Jersey Manufacturing Company, which fabricated rainwear and sportswear. By the mid-1950s, however, the building remained vacant until it was purchased by the Bertino family in 1959.

The Hammonton Shoe Company building that now serves as Kramer Hall.

1959-1990

The Bertino Family was looking to relocate their garment manufacturing business to a new location; thus, 30 Front Street became the home of the National Garment Company. Employing 90 women and 18 men, National Garment supplied department stores with women's coats and sportswear. Headed by Anna C. Bertino, this factory was one of the earliest female-run factories in the nation. Incidentally, many of the women employed here often out-earned their husbands, which was uncommon in that era.

The factory remained in operation until 1990.

National Garment Company, c.1970s.

1990-2002

Shortly after National Garment Company ceased operation, Kim Michaels, Inc. found a home in the building. They manufactured women's skirts. Owned by Michael Maculaso and employing 50 people, the company moved to another location in 2002. This left the former Hammonton Shoe Company building vacant.

The building that is now Kramer Hall c. 2008, before renovation began.

2002-2013

Left vacant, the town sought several options to repurpose the building. In Fall 2009, Stockton began offering courses in Hammonton at St. Joseph's High School.This ultimately led to the purchase of the building by the Richard Stockton College of New Jersey (now Stockton University) in 2011. The naming of the building was formalized in December 2012, after longtime Stockton supporters Charles and Lynn Kramer. The satellite campus had its grand opening and ribbon cutting in January 2013.

Former President Herman J. Saatkamp speaks during the ribbon cutting. (L to R) Anne Liberto, Mark Kramer, Charles Kramer, Leo Schoffer, Dr. Herman Saatkamp, President Emeritus Harvey Kesselman, Michael Frank, Mayor Steven DiDonato, Justin Frankel.

2013-Present

Since opening, Kramer Hall has fully integrated itself not only into the town of Hammonton, but also within its place in history. Kramer Hall serves as more than just an educational facility; it serves as a cultural and historic hub centrally located within the town of Hammonton. Knowing our roots has helped us to engage with our community, which has led to so many partnerships and historic preservation initiatives over the years. Beyond that, Kramer Hall houses historic pieces that were recovered during the building's renovation, as well as 2 sewing machines donated by individuals affiliated with the garment factory once housed here.

In 2014, Kramer Hall presented a series of lectures called "A Stitch in Time," which focused on the garment industry in Southern New Jersey. This led to an oral histories project of garment workers that became a published book in 2016.

To further solidify our place in Hammonton's history, Kramer Hall was a key player in the Town of Hammonton's Sesquicentennial (150th Anniversary). Through grants and campuswide partnerships, several projects were executed to honor the town's longevity: The Hammonton History Project, a "Digitization Day" to digitize historic Hammonton artificats, a Historic Walking Tour of the town, several art exhibitions by the Noyes Museum of Art, and a lecture series called "Women's March Toward Equity." We also permanently house various artifcats from the garment industry that once took place in this building.

Kramer Hall became the exclusive location of two Master's Programs: the Master of Science in Data Science & Strategic Analytics in 2017 and the Master of Arts in Counseling in 2019.

In April 2023, the University celebrated ten years of Stockton in Hammonton, which included a community mural project, reflections on the past 10 years, as well as speeches by Stockton dignitaries, Hammontonians, and Kramer Hall students & alumni.

Present-day Kramer Hall.