Electronic Classrooms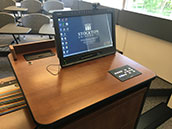 Stockton's electronic classrooms are equipped with a custom designed podium containing a computer, webcam, document camera, and connections for personal laptops and other devices.
The output of these devices is displayed through a ceiling-mounted projector and a simple to use keypad interface. The podium computer is for Faculty and staff use only.
If electronic classrooms are not available, staff and faculty members can sign out a portable projector system.
Electronic Classroom Video Tutorial
Additional Help