Graduate Clubs/Organizations
Graduate Student Council
The Graduate Student Council (GSC), as stated in the preamble, is an organization of "graduate students who are diverse individuals with unique skills, experiences, and talents. We value this diversity as it enriches our lives and educational experiences. We are committed to our education, our professions, and the advancement of graduate students at the University. We also value the opportunity to meet with fellow graduate students, faculty, administration, and alumni. We desire an organization that is committed, responsive, efficient, and engaging to carry out these desires and to act on our behalf in matters concerning our general welfare."

Virtual Meeting Dates for Fall 2020: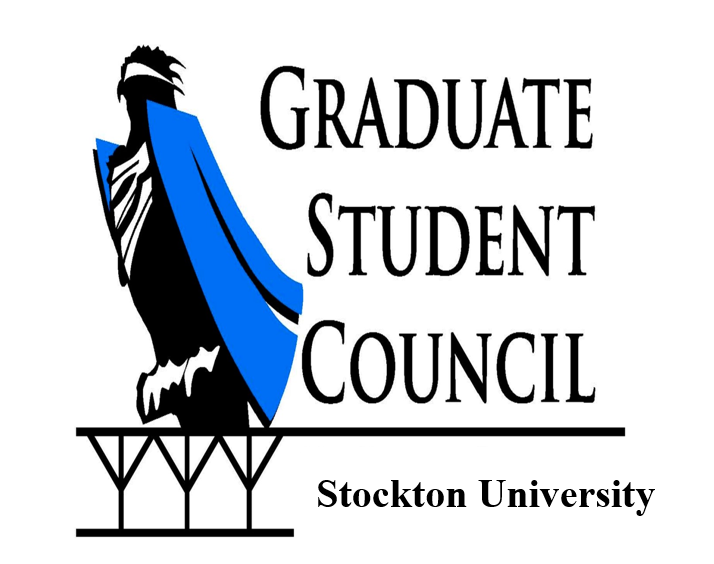 Executive Board Membership
Program Delegates

President- Melissa Sandoval, MSW

Vice President- Akeel Gaines, OLA

Secretary- Ave McFadden, MSCD

Treasurer- Vincent Caiazzo, OLA

Student Life Chair- Nicole Jaque, M.S. in Communication Disorders

Fundraiser Chair- Vacant


Maria Hoover Spade, Advisor

American Studies- Pending

Business- Pending

Communication Disorders- Pending

Counseling- Pending

Holocaust & Genocide Studies- Allison Kisielis

Occupational Therapy- Kelli Holsten, Mari Timney

Organizational Leadership- Kerri Zeleniak, Alice Vasser

Physical Therapy- Nicole Pallante, Theresa Abapo

Social Work- Pending
We welcome any suggestions, comments, complaints, etc. E-mail us at GSC@stockton.edu. Want to join the GSC Membership? Log into your goStockton Portal, choose the group icon in the upper right hand corner and you should have a request to join the group on from your account. Log-in for news, events and to learn more.
Annual Budget Request Packet for AY 16-17
Budget Guidelines
Budget Request Form
Graduate Student Council Constitution
Graduate Student Council Survey Results Fall 2010
Travel Reimbursement
---
Clubs and Organizations
Doctor of Physical Therapy (DPT) Club
This professional club is for current physical therapy students in the curriculum as well as undergraduates interesting in this exciting profession. Through this club, students can interact with people that are representative of the population that physical therapists treat. We are also able to appreciate how our work can change lives.
Master of Arts in American Studies (MAAS)
The MAAS Society seeks to unite students currently enrolled in the Master of Arts or Certificate in American Studies programs, while enhancing their knowledge and understanding of the field of American Studies.
Master of Arts in Criminal Justice (MACJ) Club
The MACJ Club provides a network between faculty, students, alumni and criminal justice personnel. It also promotes criminal justice as an academic area of study and a professional career choice by increasing awareness among students and faculty through trips to agencies and conferences pertinent to the field, formal and informal discussions, and lectures.
Master of Arts in Holocaust and Genocide Studies (MAHG) Club
The MAHG society provides a forum for students to discuss upcoming conferences, research and paper proposal ideas, as well as foster a sense of community among Holocaust and Genocide Studies Master's students.
Master of Social Work (MSW) Alliance
The MSW Alliance seeks to enhance all of students' knowledge and understanding of social work values and principles. This will be accomplished through the promotion of social change, problem solving in human relationships, empowerment, and advocation for social justice
Organizational Leaders in Action (OLA)
The purpose of OLA shall be to support and encourage the academic, social, and professional pursuits of its members. We wish to promote student scholarship and leadership as well as communication among students and faculty here at Stockton University.
Contact: mooring1@go.stockton.edu
Student Occupational Therapy Association (SOTA)
Increase awareness of Occupational Therapy in the community through events, meetings, and service projects.
Stockton Speech and Hearing Club
The purpose of this organization is to unite its members and serve the University community by providing a vehicle for student representation in matters of professional concern and organizing activities to promote awareness of human communication and related health issues.