Women's, Gender and Sexuality Studies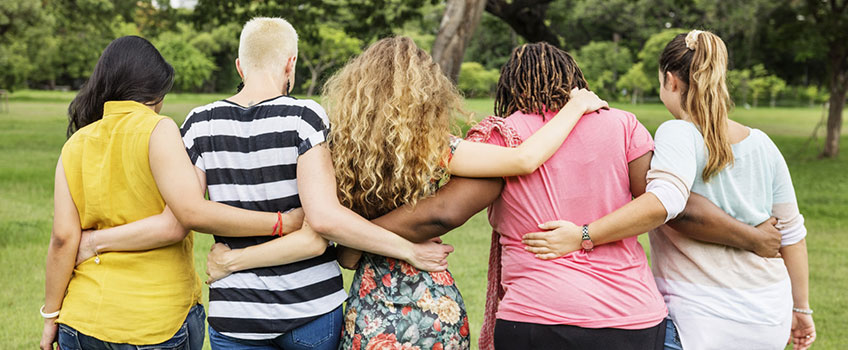 Women's, Gender and Sexuality Studies (WGSS) engages feminist practice and theory to further the understanding and analysis of gender and sexuality from a range of disciplinary perspectives. The Women's, Gender and Sexuality Studies' curriculum facilitates critical thinking, student and faculty engagement, and an awareness and appreciation of diverse cultures and experiences by developing competency in feminist activism, theory, and methods.
---
WGSS Minor Goals
The WGSS minor will be able to demonstrate achievement in the following:
Identifying and defining fundamental principles, generalizations, or theories related to the study of women, gender and sexuality;
Applying feminist theories and methods to multiple academic disciplines and texts as well as to experiences beyond the classroom;
Analyzing and critically evaluating global and national perspectives and representations related to women, gender and sexuality;
Engaging with communities, from the local to the global, through feminist activism and scholarship;
Developing a clearer understanding of and commitment to personal values;
Developing skill in expressing oneself orally and in writing.
Not every WGSS course will address all the above learning outcomes; students completing the minor will demonstrate their competency in these six areas through the completion of their final capstone/portfolio course.
Program Requirements
Students must declare the minor by completing the Minor Declaration form and submit it to the Center for Academic Advising (CC 242) and meet with the WGSS Minor Coordinator and/or their preceptor to discuss course selection and progress.
All WGSS courses are open to any student at Stockton University. A WGSS minor is awarded to those undergraduate students who complete the following:
Women, Gender, and Sexuality (GAH 2358/1039 or GSS 2358), a four-credit course which serves as an introduction to the study of women's, gender, and sexuality studies, and to feminist scholarship and activism.
Three Elective Courses (12 credits of study), which must come from courses that are approved by the Women's, Gender, and Sexuality Studies faculty and based in feminist theory. See below for a list of approved courses. A range of elective courses are offered each semester.
Seminar in Feminist Theory (GIS 3614), a 4-credit course focusing on primary source readings in feminist theory. Course covers how humans create, interpret and evaluate knowledge claims about the world.
WGSS Capstone-Portfolio (WGSS 4800), a one-credit course that serves as the culmination of students WGSS course of study. This course is usually taken in the student's penultimate or final semester, and after completing or concurrently with GIS 3614.
Please note that we are not always able to offer both Women, Gender and Society, and Seminar in Feminist Theory every semester, thus students will need to plan ahead with their preceptors to be sure they can meet the requirements in a timely manner.
WGSS Courses
Course descriptions for the offerings listed below appear with other courses of the same acronym online. Not all Women's, Gender, and Sexuality Studies courses are included in the list below. Students wishing to transfer an elective should contact the coordinator or their preceptor. Students should work with their preceptor to select from the Women's, Gender, and Sexuality Studies offerings each semester. These can be viewed on the list of courses for Interdisciplinary Minors offered each term which is posted online prior to pre-registration.
Core Courses:
GAH 2358 or
GSS 2358 Women, Gender, and Sexuality (4 credits) or
GAH 1039 Women, Gender, and Sexuality (Freshman Seminar)
GIS 3614 Seminar in Feminist Theory (4 credits)
WGSS 4800 Ethnic, Minority, Gender Studies (1 credit)
Elective Courses:
ANTH 3355 Anthropology of Men and Women
CRIM 3757 Women and Criminal Justice
GAH 1044 Women and the Bible
GAH 1051 The Body Across Disciplines
GAH 2122 Women's Lives
GAH 2280 Witches
GAH 3109 Women, Minorities and the Mass Media
GAH 3121 African-American Women Writers
GAH 3202 Gay and Lesbian Literature
GAH 3205 Queer Autobiographies
GAH 3206 Race & US Culture
GAH 3617 Meanings of Motherhood
GAH 3635 U.S. Women's Movements
GEN 2235 Gender Equity in Sports
GEN 2306 Women and Health
GIS 3648 Gender and Violence in Film and Society
GIS 3658 Women and Genocide
GIS 3672 Slave Narrative Revisited
GIS 3725 Women in Law, History and Literature
GIS 4602 Sex, Power, Conflict
GIS 4622 The Geography of Women
GIS 4648 Women in Leadership
GIS 4656 Documenting Hemings and Jefferson
GNM 1031 Gender Issues in Computing
GSS 2106 Women, Science & Technology
GSS 2161 Perspectives on Sexuality
GSS 2181 History of Childbirth in America
GSS 2181 History of Childbirth in America
GSS 2310 Sex Discrimination and the Law
GSS 2337 Gender and Aggressive Behavior
GSS 2648 Sexual Assault: Victims and Perpetrators
GSS 3104 Language and Power
GSS 3601 Gender and Work
GSS 3618 Sport, Media and Gender
GSS 3640 Sexuality, Crime, and Criminal Justice
HIST 2169 American Jewish Women
HIST 3618 Global Feminism Seminar
LANG 4248 Spanish Women Writers
LITT 2140 Literature by Women
LITT 2145 Family in American Literature
LITT 3311 19th Century American Women Writers
LITT 3316 Contemporary American Women Writers
LITT 3624 Queer American Literary Traditions
PHIL 3613 Feminist Philosophies
POLS 3612 Women and the Law
PSYC 3602 Psychology of Gender
PSYC 3605 Psychology of Eating Disorders
PUBH 2300 Focus on Women's Health
SOCY 2111 Women and Social Action
SOCY 2642 Homosexuality in Film
SOCY 2315 Gender and Sexuality
SOCY 2320 Sociology of Gender
SOCY 2640 Sexuality and Society
SOCY 3678 Popular Culture, Tough Women
ADDITIONAL INFORMATION
If you have any questions about the minor, then please contact the current coordinator:
Coordinator: