Panhellenic Formal Recruitment Registration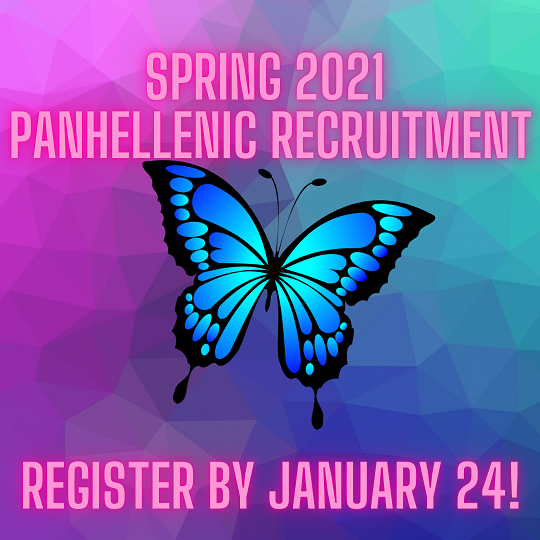 CLICK THE IMAGE TO REGISTER. REGISTRATION COSTS $15. Participants must have 2.50+ GPA and 12 completed college (non-AP) credits.
::This year we are completely virtual using Zoom::
IMPORTANT: We have heard a lot of women who are interested say they will wait until Fall 2021 to join a sorority, however the spring is when recruitment takes place! If you wait, you will have to wait until Spring 2022 as there is no formal recruitment in the fall.
Spring 2021 Formal Recruitment Dates
1/27/2021 Orientation (option 1) ........8:00-9:00pm
1/28/2021 Orientation (option 2) ........8:00-9:00pm
1/29/2021 Round 1 .........5:30-11:30pm
1/30/2021 Round 2 ........12:30-5:30pm
2/5/2021 Preference Round .........6:30-10:00pm
2/6/2021 Bid Day ........12:00-2:00pm