Student Senate Adds Diversity & Inclusion Committee
By Sophia DeSenzo, Joshua Hunte, Christopher Lipari Pazienza, Monica Rodriquez & Leah Starnes
Student Senate Diversity and Inclusion Committee Members
During the past two years, the Student Senate has discussed creating a Diversity and Inclusion Committee. On Jan. 26, the Student Senate officially announced the formation of a committee and explained its structure and purpose.
This committee centers itself around supporting diverse groups on campus through the active engagement of members on different committees, ensuring underrepresented students are properly included in every discussion on campus and all students are given the security they need.
We have seen extremes that may have never been imaginable, but what we have also seen is a movement and banding of people who are willing to fight for justice.
Currently, the committee includes one member from each Senate committee: Student Affairs, Academic Affairs, Governmental Affairs, Finance and Public Relations, reinforcing that diversity and inclusion are weaved throughout the Student Senate.
The Diversity and Inclusion Committee is in the process of outlining goals, and we strive to continue building relationships with clubs and organizations that focus on diversity and inclusion education and support diverse groups on campus.
One way we can accomplish this is by attending their meetings. We want to attend at least one of these meetings per week, starting with Unified Black Students Society (UBSS), Asian Student Alliance (ASA) and Los Latinos Unidos (LLU). By attending these meetings, we are immersing ourselves in their discussions, learning more about their goals, struggles and avenues to resolve them. While helping these diverse organizations, we want to see them grow and attract more students to take part in events and discussions.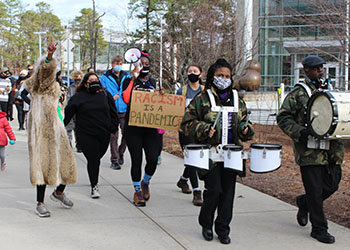 These collaborations are an important step, but we must also address the pervasive discrimination in our country. Throughout the last year, we have seen an influx of discriminatory attacks against all minority groups. We have seen extremes that may have never been imaginable, but what we have also seen is a movement and banding of people who are willing to fight for justice. All these things have led and forced all people to understand that the education of diversity and inclusion is essential to our everyday lives. We cannot continue to ignore the issues that are right before us.
As this committee and its relationships strengthen, we aim to build a culture of transparency in the Stockton community. It is easy to overlook many issues when they do not directly affect you, but by doing so, others are put down. We want to address the race of students; acknowledge and discuss the issues they face; and do what is necessary to fight and resolve those issues. Working together, we will be able to create more events such as marches, town halls and cookouts centered around diversity at Stockton.
We are also engaging as active participants on institutional committees and demanding the University do its best to make the campus as inclusive as possible. This involves working with the following groups: Committee on Campus Diversity and Inclusive Excellence (CCDIE), Asian American and Pacific Islander Heritage Planning Committee, Multicultural Center Planning Committee, Bias Prevention Education and Response Team (BPERT), Academic Policy Committee, and Board of Trustees Fellowship Committee.
Within the Student Senate, incorporating diversity and inclusion in every area of our discussions is essential to the proper advocacy of all students, from being more vocal about diverse cultural holidays on social media to hosting and coordinating different events for clubs to raise awareness.
This committee hopes to create a culture of diversity and inclusion that attracts more incoming students and remains with students after graduation. We will continue to work toward these goals, giving underrepresented students the acknowledgment and ability to grow and continuing the effort to create an inclusive environment for all students.