WGSC Creates Culture of Care with Help of Governor's Grant Award
By Laurie A. Dutton, MA, LPC, LCADC
Director of the Women's, Gender and Sexuality Center
EDITORS NOTE: And follow-up story appears here.
October is home to both Domestic Violence Awareness Month and LGBT History Month. This year, it is also the start of a new two-year $100,000+ grant awarded to Stockton's Women's, Gender & Sexuality Center by the State of New Jersey. The grant proposal, "Creating a culture of care" was awarded money through the Governor's Emergency Education Relief Fund (GEER II) Grant and will be used to combat interpersonal violence in our communities of color as well as reduce bullying of LGBT individuals.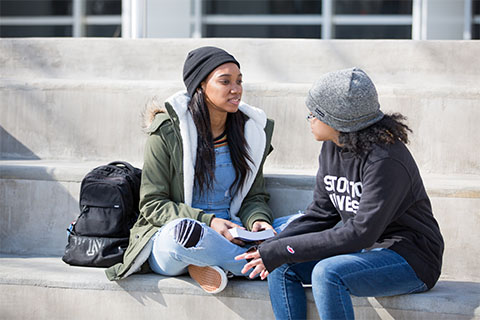 Interpersonal violence is a pattern of abusive behaviors that occurs in family or dating relationships to exert power and control over another. Behaviors that result in domestic violence, dating violence, sexual assault and/or stalking do not discriminate among races, socioeconomic backgrounds or sexual orientation, but have been found to occur at higher rates in the BIPOC and LGBTQ communities. That, coupled with the historic events of the past 18 months, have made basic living and survival especially stressful for abuse victims in communities of color.
Historically, rates of interpersonal violence and victimization are higher among Black women (29.1%) than among White females (25%). Furthermore, the rate of lifetime victimization among Asian and Pacific Islander women is estimated to be 40-60% and one survey found it to be as high as 80%. Latino women (7.9%) are more likely to have been sexually assaulted than non-Latino women (5.7%). According to the National Resource Center on Domestic Violence, "African American females experience intimate partner violence at a rate 35% higher than that of white females, and about 2.5 times the rate of women of other races. However, they are less likely than white women to use social services, battered women's programs, or go to the hospital because of domestic violence."
To exacerbate this situation, in March 2020, the emergence of COVID-19 in New Jersey forced Governor Murphy to issue several executive orders that essentially shut down the state and forced most residents to stay home and in isolation from others. Some of our students were forced to leave school and return to their violent family homes. While this was an important public health measure, it allowed batterers to further exert power and control over their victims, who were often trapped with only their abuser in the home for months at a time. These victims, including many University students, suffered in silence.
Now that we are slowly getting back to "a new normal," we cannot overlook the possibility that there are increased numbers of students returning to Stockton University who have been victimized and abused at an even higher rate than before the pandemic. The systemic inequality of BIPOC and LGBTQ students has likely widened in the area of interpersonal violence because of extended social isolation, mistrust of the criminal justice system to provide safety, and other factors.
Stockton has an opportunity and a duty to break this multi-tiered cycle of violence, especially in our LGBT community and our communities of color. The GEER grant will allow us to provide quality programming, clear and consistent messaging, and innovative prevention strategies that are culturally appropriate.
The systemic inequality of BIPOC and LGBTQ students has likely widened in the area of interpersonal violence because of extended social isolation, mistrust of the criminal justice system to provide safety, and other factors.
We will use this grant to focus on three goals: 1) Strengthening our Victim Advocacy Center by establishing a peer education program that will increase general awareness of the center, as well as plan diverse and equitable programs on prevention education; 2) Increasing student reporting of interpersonal violence by 25% or more within our BIPOC, LGBTQ+ populations and 3) Providing effective and culturally appropriate peer-led awareness campaigns.
The goals of this project align with the State Plan for Higher Education to have 1) Safe, supportive, and inclusive campuses and 2) Supportive faculty and staff. The project's goals also align with the University's strategic plan, specifically with Inclusive Student Success as supported by our Division's strategic priorities.
We will accomplish our goals by employing four strategies:
Hire a part-time employee who is employed by the Women's Gender & Sexuality Center and has a dotted line to our BIPOC student affinity groups, TogetHER and Sankofa.
Design and hold peer-approved programs each year on primary prevention and bystander intervention, with a focus on interpersonal violence among BIPOC and QTPOC.
Develop and teach an undergraduate course on peer education about power-based personal violence issues and motivating those students to join our newly created peer education program.
Hold one Safe Space LGBTQ-sensitivity facilitator training in the first year, resulting in providing at least 5 LGBTQ-sensitive and culturally competent prevention programs on campus in year two.
The evaluation of this project will assess whether attitudes and misconceptions among BIPOC, QTPOC, and LGBTQ+ students, regarding interpersonal violence and reporting violence to the University, positively changes. This will be evaluated through pre and post-tests at each of the 12 offered peer education programs and Safe Space trainings, the 4-credit class on peer education, reporting numbers, and focus groups.
It is anticipated that after thoughtful discussions, engaging speakers and a social norms peer campaign, the number of interpersonal violence reports (both confidential and non-confidential) will positively increase in the areas of conduct, criminal justice, counseling, and social support.
The Women's, Gender and Sexuality Center was completely redesigned in 2019 to physically support the University's strategic priorities, specifically to provide a safe, confidential space for women, our LGBT community, and victims of interpersonal violence. The center, which houses a victim advocacy center with a separate entrance, was thoughtfully designed to promote diversity and inclusion within its walls. The effort of the new design is paying off- the center averages 45+ students a day coming in for services, to chat, or hang out in the lounge, and houses many events by the women of color affinity group TogetHER.
References
CARE. (2020). Rapid gender analysis: COVID in the United States.
D'Amico, D. (2019, December 4). Women's, gender & sexuality center opens. Stockton University.
Exec. Order No. 107, N.J.S.A., 1-13 (2020).
Gates, G.G. (2017, May 22). Vermont leads states in LGBT identification. Gallup Poll.
Stockton University (2020). 2020 Institutional Profile.
Women of Color Network (2006). Facts and stats: domestic violence in communities of color [Fact Sheet]. National Resource Center on Domestic Violence.