Student Trustees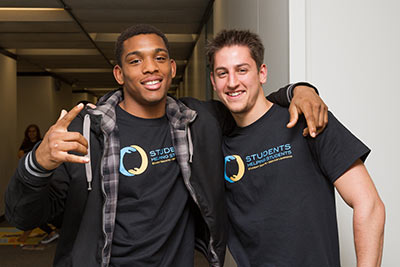 Why Consider Becoming a Student Trustee?
Do you have a desire to make positive change at Stockton University? Are you committed to the best interest of Stockton students? Want to be a part of the solution?
As a Student Trustee, you can take an active role in the governance of Stockton University, be well-informed of important university issues, and take part in decisions that promote the mission of Stockton: to provide students with an environment for excellence.
What does a Student Trustee do?
Student trustees participate fully in trustee board matters, with some exceptions: participation in matters involving personnel of the University; property acquisition or sale; investments; litigation; and matters falling within attorney-client privilege.
Two students serve on Stockton University's Board of Trustees: one as a voting member, the other as a nonvoting alternate. Both Student Trustees serve as representatives on specific Board committees, and participate in Board discussions, deliberations and the Open Public meetings.
I'm Interested. Am I Eligible?
To qualify for service as a student representative on Stockton's Board of Trustees, you must be:
a full-time regularly matriculated student;
in good academic standing;
18 years of age or older; and
a U.S. citizen.
Note: The standards for eligibility for student representatives on the Board of Trustees shall be the same as those required of other student government officers.
How can I become a Student Trustee? What are the Next Steps?
Becoming a Student Trustee is a leadership opportunity, in which representatives are elected by the full student body of Stockton University for two-year terms. Each Student Trustee serves as a non-voting member during the first year and as a voting member during the second year. Vacancies are filled by the student governing body for unexpired terms only. For more information on elections, please contact the Office of Student Development.
---
As stated in the NJSCU Trustees' Reference Guide (6th edition)
In 1986, New Jersey became one of the first states in the nation to enact legislation giving student representatives voting rights on state college/university boards of trustees. The original legislation, Assembly Bill No. 1803, was signed into law by Governor Kean (October 1986) as Chapter 136 of the Public Laws of 1986. [NJSA 18A:64-3.1]
The law provides for the inclusion of two student representatives on each state college/university trustee board, and specifies eligibility requirements and the manner of selection (see below) of student trustees at the traditional state colleges/universities. Also, the law allows the governing board at Thomas Edison State College to establish special eligibility requirements and selection procedures for student trustees at that institution.