Philosophy and Religion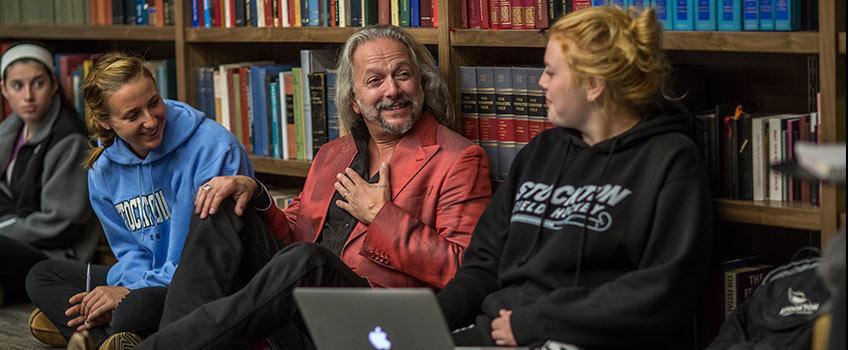 Within the Philosophy and Religion program you can pursue a B.A. degree in Philosophy and Religion, Philosophy Legal Studies, or Philosophy Graduate Studies. A minor in Philosophy and Religion is also available.
Curriculum Worksheets
To view the Course Schedule by term, click here.
See the Catalog of Courses for complete descriptions of course offerings.
For detailed curriculum information, please refer to the Academic Bulletin.
Top Five Reasons to Study Philosophy and Religion Studies at Stockton
Adapting to Change
The Philosophy and Religion program is a place to come for an excellent education due to the unique, dynamic, and diverse areas of specialty and experiences that its faculty members create. Our courses prepare students as serious competitors for further study, professional careers, and, above all, a well-rounded education. Some of our graduates have received law degrees, master's degrees in philosophy, library science, bioethics, theology, counseling, chiropractic, herbal medicine, and an MFA in poetry, while others are graduate students in psychology, osteopathic medicine, information sciences, and cognition, brain and behavior programs.
Information Literacy & Research Skills
To discover the rich history of ideas, and the foundation of the humanities and the arts.
Communication Skills, Creativity & Innovation
To develop critical and creative skills in thinking, writing, and interpretation, and to be provided with time-tested tools of philosophical analysis.
Ethical Reasoning
To be inspired by the search for values and the quest for a deeply meaningful life.
Teamwork & Collaboration
To become part of a vibrant community of scholars in the interpretation of the love of wisdom.
Special Opportunities
The International Honor Society (PST), Stockton Philosophical Society (SPS), the Classical Humanities Society (CHSSJ), and the Philosophy Speaker Series are active and exciting groups within the Philosophy and Religion program. For students interested in further discussion on philosophical and religious topics and themes, the SPS meets twice a week. Our chapter of PST (Phi Sigma Tau), the International Honor Society of Philosophy, with a rotating Faculty Advisor and three student officers, offers in-depth analysis of chosen topics and themes and the opportunity for students to publish in its journal Dialogue, and graduate with honors. The Classical Humanities Society of South Jersey (CHSSJ) brings speakers to campus for lectures on the classics and classical history disseminated through the humanities. The Philosophy Speaker Series invites scholars from area universities and colleges to lecture, visit, and have dinner with our Philosophy majors and minors.