Open House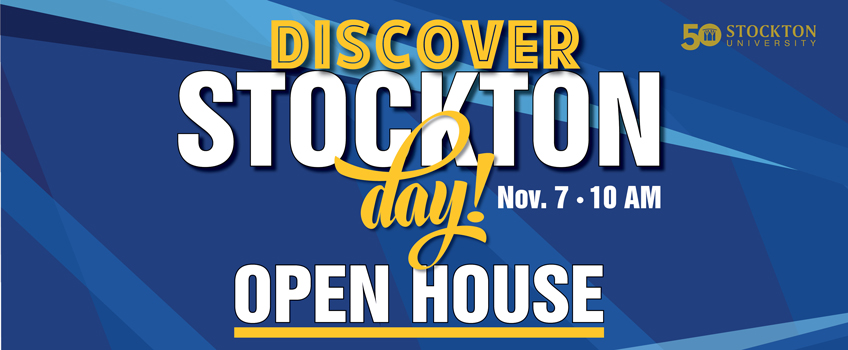 Join us this fall for an Open House!
---
---
We can't wait to see you on campus!
In the meantime, check out some of our sessions from our Spring 2021 Virtual Open House week!
Is Stockton YOUR University?
Description: Discover all you need to know about Stockton's admissions process, including applying, scholarships, and more!
So, You're Accepted? Now What?
Description: Find out what your next steps are as an admitted student, including paying your deposit, applying for housing, and finalizing your financial aid.
Residential Life: Living on Campus
Description: Residential Life is excited to welcome you to campus. Learn about the process of applying for housing and living on campus.
Financial Aid & Bursar: The Process
Description: Learn about the financial aid process from start to finish, including sources of aid available, applying for aid, and reviewing your aid offer. In addition, learn about the Bursar's Office, including understanding student bills.
Advancing Equity in Academic Achievement
Description: This session highlights the opportunities available through the Office of Academic Achievement Programs to bridge equity gaps in academic outcomes (i.e. GPA, graduation, retention) among historically marginalized students and their counterparts. The session will highlight First Ospreys (Stockton's retention initiative for first-generation students) and campus-wide racial justice initiatives.
Alumni Perspective Panel
Description: Join our panel of Stockton alumni as they share their stories and post-graduate experiences, as well answer your questions! Panelists: David Harrison '99 - Business Studies - Business Analyst; Enzo Caminotti '99 - Business Studies - Director of Marketplace Operations for Asia Pacific and Latin America with Nike; Kelly De Felice '12 - Hospitality and Tourism Management - Former Senior Associate Director of Alumnae Engagement; Tony DiPietro MA '07 - Instructional Technology - Financial Advisor with Voya Financial and Councilman with the Township of Galloway; and Emily Heerema '08/MS '13 - Occupational Therapy - Occupational Therapist.
Get Involved @ Stockton!
Description: Hear from the Office of Student Development staff and discover the many ways to get involved and stay connected at Stockton, including 200+ clubs, Greek life, and more!
Straight Talk: The Real Diversi-tea
Description: This session, held in honor of Black History Month, aims to "spill the tea" about the importance of inclusion, diversity, and representations of black experiences at PWI (Predominantly White Institutions).
---
Have questions?
Set up a virtual appointment with an admissions counselor!
To set up a video or phone appointment with an admissions counselor, visit our Contact Us page.
Are you a prospective graduate student?
Please visit our Graduate Events page to register for an upcoming information session!