For Students
What is an internship?
Stockton University uses the National Association of Colleges and Employers (NACE) definition and criteria for identifying an internship:

An internship is a form of experiential learning that integrates knowledge and theory learned in the classroom with practical application and skills development in a professional setting. Internships give students the opportunity to gain valuable applied experience and make connections in professional fields they are considering for career paths; and give employers the opportunity to guide and evaluate talent.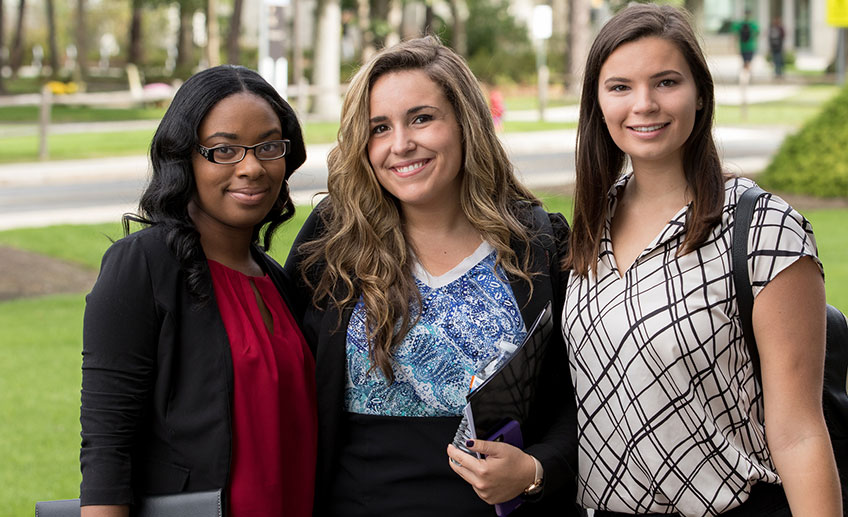 94% of hiring managers say that they would be more likely to hire a recent graduate who has held an internship or apprenticeship with a company or organization. AACU
Seven Criteria for Identifying an Internship:
The experience must be an extension of the classroom: a learning experience that provides for applying the knowledge gained in the classroom. It must not be simply to advance the operations of the employer or be the work that a regular employee would routinely perform.
The skills or knowledge learned must be transferable to other employment settings.
The experience has a defined beginning and end, and a job description with desired qualifications.
There are clearly defined learning objectives/goals related to the professional goals of the student's academic coursework.
There is supervision by a professional with expertise and educational and/or professional background in the field of the experience.
There is routine feedback by the experienced supervisor.
There are resources, equipment, and facilities provided by the host employer that support learning objectives/goals.
Academic Credit
Follow University procedures to ensure your internship is eligible for academic credit and that you receive credit. Academic credit can be earned with your internship and applied towards graduation.
Meet with your internship program coordinator to find out what your major requires for an internship to be taken for academic credit.
For credit internships are recorded on your transcript.
Internships can be up to 4 credits during the Fall, Spring and Summer semesters.
Opportunities can be paid, unpaid, or stipend.
Non-Credit
Arranged between you and the employer.
A non-credit internship may or may not be recorded on your transcript.
Opportunities can be paid, unpaid, or stipend.
Every academic school at Stockton has different procedures and requirements for doing an internship for academic credit, therefore it is up to you to contact your academic school to find out what you need to do if you'd like to receive credit for an internship experience.
There are many resources available to students that are seeking an internship. We encourage you to try a variety of avenues to search such as: Career & Internship Fairs, Handshake, networking with professors and program coordinators as well as professional staff, family, friends, and other contacts. We partner with employers from various industries who are seeking Stockton students to participate in a credit-bearing internship. Students are also encouraged to contact their preceptor for more information on finding an internship.
Generally, you can apply as early as your freshman year of college for an internship. Most students will complete an academic (credit-bearing) internship during their junior or senior years to increase the chances of the internship leading to a job offer.
Students should begin the internship matching process well in advance, typically one semester prior to when you intend to do an internship, in order to secure an opportunity.