From Outer Space to Under the Sea
From Outer Space to Under the Sea
Stockton student research has no limits.
By Diane D'Amico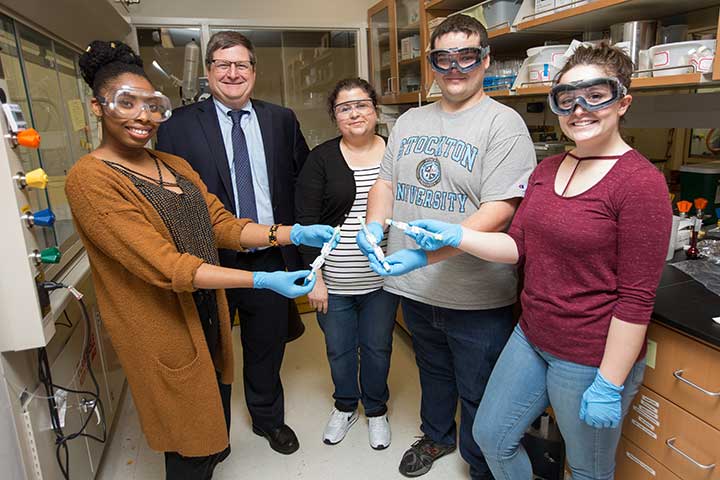 When Stockton student Tiffany Roach presented her research the 2018 Yale Bouchet Conference on Diversity and Graduate Education at Yale University in April she was approached by a chemical engineering professor at Stanford University who suggested she might want to apply to their graduate school.
"Without this experience I would never have considered Stanford for graduate school," said Roach, a Biochemistry and Molecular Biology major, who will graduate in 2019 and plans to pursue a Ph.D. in Biomechanical Sciences. "But this interaction definitely encouraged me not to be afraid to reach high."
Encouraging students to reach high is at the core of Stockton's mission. Research opportunities that start while they are still undergraduates provide students with the experiences they will need to be successful in graduate school or in the job market.
Those experiences have no limit.
Stockton students have developed or participated in projects that have been tested at the International Space Station and in fledgling oyster beds deep in the Tuckerton Reef.
Peter Straub, dean of the School of Natural Sciences & Mathematics, said interested students have the opportunity to work with faculty members on research projects in many fields. They just need to ask.
"Look at all the posters that go up, and go to information sessions," he said. "Get in touch with faculty and find out what they are working on."
Special Research Experience for Undergraduates grants from the Office of the Provost help support students and faculty, some of whom continue their research during the summer at Stockton and other universities across the country.
"

Without this experience I would never have considered Stanford for graduate school."

The Summer Independent Research Experience or SIRE program allows students to work on supervised research over the summer.
Straub is especially excited about new opportunities at the new Unified Science Center 2, which includes new Physics and Biology labs, a greenhouse and a Sustainability Lab.
"We'll have students who work on our farm in the summer, then can work in the greenhouse all year long," Straub said.
Student Andrew "Andy" J. Cross, a Sustainability major, received one of five $1,000 Board of Trustees Fellowships for Distinguished Students for a project titled "Analysis of Stockton Farm Crop via Use of Near-Infrared Aerial Imagery." He'll be working with Associate Professor of Biology Ron Hutchison.
Stockton's organic farm has already started producing early crops which are sold throughout the summer on campus and at the Galloway Township farmer's market.
But research is not just for students in the natural sciences. Associate Professor of Health Science Amee Shah has started the Student Mentoring for Achievement in Research and Technological Skills or SMART program to give undergraduate students the chance to do research. The students work with Shah in the Cross-Cultural Speech, Language and Acoustics Lab at Stockton, and two presented at the conference at Yale.
"It is a testimonial to the fact that with the right tools, mentoring and funding support, we can prepare even sophomore and junior students to present at the most scholarly venues and hold their own with doctoral students, administrators and faculty," Shah said of her two students who presented at the conference.
Straub said research opportunities are as unlimited as a student's imagination.
"Just come into the NAMS office and ask," he said.
Learn more about Stockton's School of Health Sciences.
Learn more about Stockton's School of Natural Sciences & Mathematics.