Stockton Marine Field Station to Plant Baby Oysters at Tuckerton Reef Restoration Site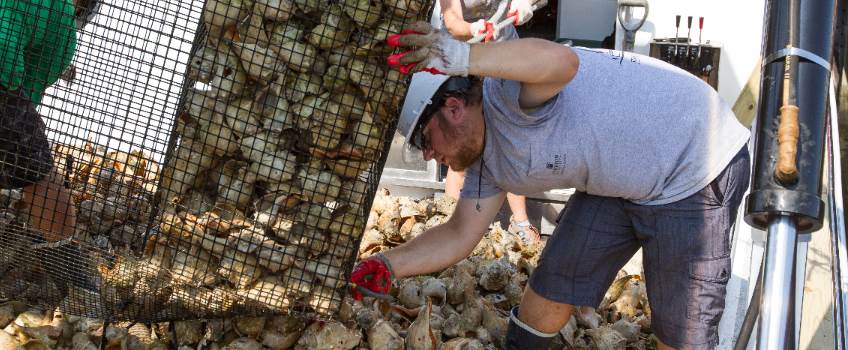 For Immediate Release
Contact: Susan Allen
News and Media Relations
Susan.Allen@Stockton.edu
(609) 652-4790
Stockton.edu/media

Galloway, N.J. – More than 150,000 baby oysters, or spat, will be planted next week in the Tuckerton Reef, the first-ever bottom oyster restoration site in the Southern Barnegat watershed.
The project has also generated an expanded oyster recycling program, using shells from Long Beach Island area restaurants.
In 2015, Stockton University's Marine Field Station partnered with Parson's Mariculture and the American Littoral Society on a proposal to the Barnegat Bay Partnership's shellfish research program.
The team was awarded $52,000, most of which was used to establish the pilot-level Tuckerton Reef with aquaculture-set oyster spat on whelk shell and transplanted seed from the Mullica River. The balance of the funding has contributed to continued efforts on the Toms River Good Luck Point site, led by Al Modjeski of the American Littoral Society.
The disease-resistant aquaculture-set oysters, spawned by the Rutgers Aquaculture Innovation Center, were planted on the reef sites last July and the Mullica River seed was transplanted in November (2016).
"Today, the oysters look great. The spat on whelk shell set is 1.5-2 inches long and the Mullica River seed is of mixed size up to 2 inches," said Steve Evert, manager of Stockton's Marine Field Station and principal investigator for the research project. "At the Tuckerton site both oyster types are staying up out of the sediment and have remained in place, suggesting that our site selection was appropriate."
This year's planting is funded by the Jetty Rock Foundation with in-kind contributions from Parsons Mariculture and Stockton University.
The two-acre research site is located in the Middle Grounds area of Little Egg Harbor Bay with initial and future aquaculture work being done by Parsons Mariculture. Christine Thompson, assistant professor of Marine Science, and her students at Stockton are doing scientific monitoring.
Biodiversity sampling using traps and visual assessments has revealed sets of shellfish, including wild-set oysters, hard clams, slipper shells and barnacles, indicating there is the potential for natural growth beyond the restoration project.
The site also has red-bearded sponge, blue crabs and several species of small finfish. As it matures, the site should be an excellent area to target recreational fish species like flounder, weakfish, black drum, blowfish and others.
Fishing over the research lease is encouraged, but as a leased site, the harvest of oysters is not allowed.
To continue growth of the experimental reef and to engage the community in environmental stewardship, Long Beach Township and the Jetty Rock Foundation teamed up with Stockton University, Parsons Mariculture and restaurants in the Long Beach Island region to launch the Oyster Recycling Program.
Recycled shell from restaurants in the Long Beach Island region will now become part of the Tuckerton Reef. Long Beach Township will provide the support staff and vehicles to coordinate shell transport while the Jetty Rock Foundation provides marketing and fundraising oversight.
"This is an important initiative and one that I have been trying to do for a long time," said Township Mayor Joe Mancini.
Recycled shell was first gathered in 2015-16 as a pilot project with the Old Causeway Steak & Oyster House in Manahawkin.
ADDITIONAL BACKGROUND INFORMATION
Oysters are filter-feeding invertebrates that colonize reefs. Once plentiful, New Jersey's oyster population has plummeted over the years due to changes in water quality, disease and overharvest. Oyster larvae float in the water column for about three weeks before settling to the bottom and adhering to a hard substrate, often other oyster shells, at which point they become spat (young, settled oysters). Shell recycling provides a sustainable source of this required substrate for restoration efforts.
Two local community leaders have collaborated to share the story of the oyster, and to tell the stories of the bay men and women who like the oyster have prevailed as stewards of the bay.
Stockton graduate Angela Andersen, who is the sustainability coordinator for Long Beach Township, and Corrine Ruff, a former commercial pilot, author and film producer, have produced a feature length documentary, "The Oyster Farmers," which is set to premiere on July 21 at the Stafford Township Arts Center.
The Jetty Rock Foundation, the non-profit charitable organization of the New Jersey-based Jetty apparel brand, became the fiscal sponsor of the documentary. Learning about the oyster lead Jetty to support the Oyster Recycling Program.
"Through the filming, we went through a pretty amazing educational journey, and about something in our own backyard—oysters. We came to understand that oysters weren't naturally setting any longer, that a rich history of shell in the water was gone, and most importantly, that our Barnegat Bay was pretty unhealthy," explained Jeremy DeFilippis, a founder of Jetty.
The Jetty Rock Foundation is leading a community outreach effort to help spread awareness of shell recycling and to engage the community in reef expansion.
"Long story short, we met Dale Parsons and Steve Evert who had really laid the ground work for a man-made oyster reef, something that might help improve the health of our bay. Bam, it hit us. We are watermen who use our brand and clothing to inspire other surfers, fishermen, boaters, insert anything with water, to draw your own line," said DeFilippis.
The potential for oyster restoration in the southern Barnegat Bay watershed has united Stockton University, Dale Parsons, film producers, the Jetty Rock Foundation, Long Beach Township and now the local community. Long Beach Township will be creating a science education center in their Holgate section next summer, which will be a launch point to go out to the reef.
"The water is our ultimate connection, and if we can support an initiative that helps to maintain its purity, then we are doing our duty to ensure that we can all pursue our passions on it, in it, and over it," said DeFilippis.
Learn more about the Oyster Recycling Program at www.followtheshell.com. Watch "The Oyster Farmers" film trailer on Vimeo.
For more information about Stockton University, visit Stockton.edu.
# # #