Community Emergency Response Team Program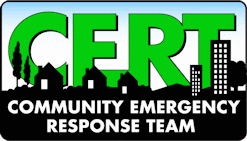 The Community Emergency Response Team (CERT) Program educates people about disaster preparedness for hazards that may impact their area and trains them in basic disaster response skills, such as fire safety, light search and rescue, team organization, and disaster medical operations.
Using the training learned in the classroom and during exercises, CERT members can assist others in their neighborhood or workplace following an event when professional responders are not immediately available to help. CERT members also are encouraged to support emergency response agencies by taking a more active role in emergency preparedness projects in their community.
The mission of the STOCKTON CERT PROGRAM is to harness the power of every individual through education, training, and volunteer service to make our community safer, stronger, and better prepared to respond to the threats of terrorism, and disasters of all kinds.
AUTHORITY
The incident commander or emergency management coordinator has the authority to activate the CERT members. For Stockton, the incident commander will usually be the responding uniform officers. On site CERT members should then approach that dispatched officer and identify themselves as CERT Team members. This should be done only after those officers' assess the situation. The officer may then deploy you systematically to an area.
---
CERT Training & Preparedness Photo Galleries: