Stockton Students Watching President's First 100 Days with Interest After Attending Inauguration, Protests, 2 Weeks of Policy Seminars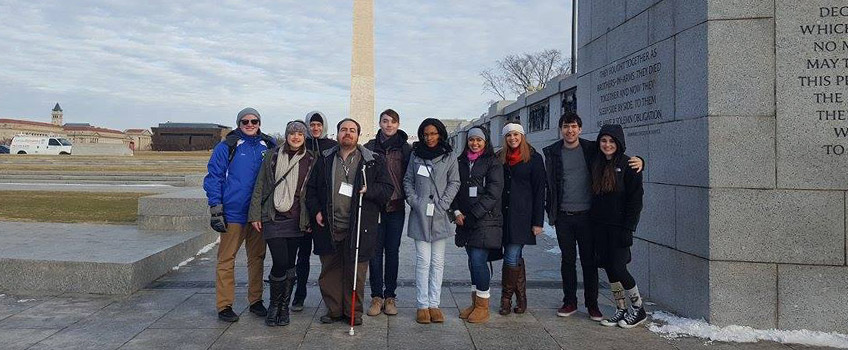 Contact: Maryjane Briant
News and Media Relations Director
Galloway, N.J. 08205
Maryjane.Briant@stockton.edu
(609) 652-4593
stockton.edu/media
Galloway, N.J. - After attending President Trump's inauguration, seeing some protests in the nation's capital and spending two weeks at the Washington Center Presidential Inauguration 2017 Academic Seminar, Stockton students are watching the president's first 100 days very closely.
"I think the part that surprised me the most about the inauguration itself was President Trump's inaugural address," said Carly Bulgia, a senior from Poughkeepsie, N.Y. majoring in Political Science and the head of the Republican Club on campus.
"I expected to hear a speech about uniting the nation, and something positive. Instead, I felt that his speech was very dark, and that it was a major insult to President Obama," she said. "For the first time in a long time, President Trump is coming into office when the economy is good, and is steadily increasing, and the unemployment rate is decreasing. I expected President Trump to address the success that our country is having, and how he expects the country to grow."
Reflecting on the seminar sessions, Bulgia said she was was impressed by the foreign policy discussion led by experts who talked about the relationship Trump now has with Russia and Vladimir Putin, and also the threat of North Korean missiles.
"This experience will shape the independent study because I think that it made us aware of a number of issues that we need to look for during the 100 days of the Trump administration," said Bulgia. "Some of these issues include women's rights, foreign affairs, the national debt, and religious liberties. Our speakers and site visits really drew attention to these issues, and taught us about how Trump will change the existing policies, and so it will be interesting to watch him, and see if he actually does what everyone thinks he will do."
Students will be part of an independent study this spring with Claire Abernathy, assistant professor of Political Science, who accompanied the 10 students to D.C. The independent study will build on the seminar experience, with students tracking the progress of President Trump's policy initiatives in the first 100 days and assessing the new administration's effectiveness in this important period, Abernathy said.
"Our students attended morning panels and presentations from noted scholars, journalists, and political observers, gaining insight into the election results and into the possible policy actions that will be taken by the new administration," said Abernathy. "Each afternoon, we visited with representatives from prominent Washington organizations to hear about a wide variety of policy areas, including immigration policy, environmental policy, and budget policy."
"In sessions throughout the seminar, we focused on what we can do to raise the level of political discourse and to better engage with people across the political spectrum," she added. "Those skills in listening to new and different perspectives were often put to the test by our speakers and by our visits with organizations around the city."
Students will hold a panel discussion on Feb. 2 at 2:30 p.m. in F111 about the inauguration. Then on Feb. 7 at 4:30 p.m. in West Quad 103, students, faculty, staff and alumni who participated in the Women's March will share their experiences and consider how to translate the energy of this march into political action going forward.
A few students skipped the inauguration and went to the protest instead.
Yomaris Acosta, a sophomore Criminal Justice major from Mays Landing, N.J., was staying near where a protest occurred.
"This was the same protest that turned violent and was being shown on the news all day that day. ....While being there, I learned that the media can be very deceptive at times," Acosta said. "They only showed a small section of the protest but not anything else that was occurring. At that same protest I saw a live local band putting on a show, various individuals elevating their political discourse and a lot more peace than the violence being shown on television."
Arianna Santiago, a freshman Biology major from Millville, N.J. said the inauguration "ceremony was emotional for me. I cried because of the comments made at the Inauguration. It really shed light on some Americans' mindset. I can say that the overall experience was life changing."
She was also stunned by its aftermath.
"I was surprised by the events that followed the inauguration," said Santiago. "The protests covered a spectrum of issues. Some got very violent and I was shocked at the actions of some. I think everyone needs to come together and ask the tough questions. This country will remain divided otherwise."
See more photos on the Political Science Facebook page.