Stockton Sweethearts: From Ospreys to Love Birds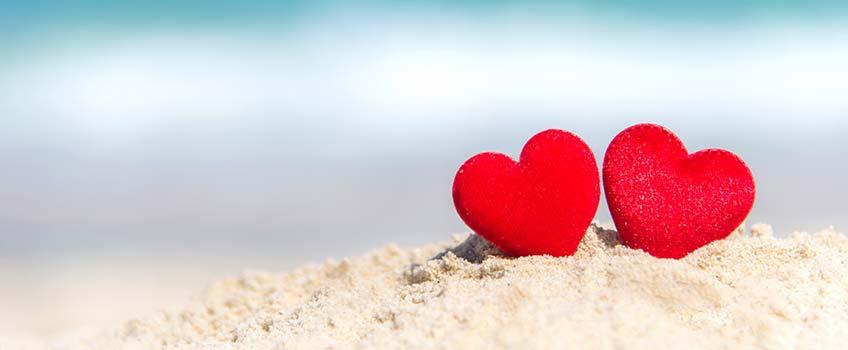 When it comes to love stories, the where and how a couple meets can be the most interesting parts. Stockton Sweethearts are Ospreys who found each other while students on campus or after graduation out in the world. In recognition of Valentine's Day, we recently asked our graduates to share their Stockton love stories. Below are some testimonials from this special group of love birds who are proud to be Ospreys for Life!
---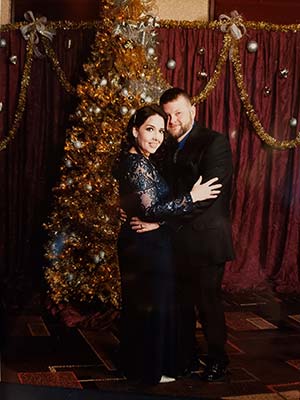 Names: William '02 and Amy (Conroy) Holmes '18
Hometown: Millville, NJ
Date of Wedding: June 7, 2008
Children: Amelia Beth, age 9
Stockton Sweetheart Story: "Bill and I met through mutual friends in September of 2003. Since graduating from Stockton, he stayed in close contact with his Kappa Sigma brothers and his other Stockton friends, who also became my friends as our relationship developed. We got married in 2008, and had Amelia a year later. We watched her grow up with our extended 'Stockton family' and their children, and they've all become close friends. Because of this close bond that all started with Stockton, in 2014 I chose Stockton University as my school to complete my bachelor's degree in Public Health! I was proud to walk at commencement in May of 2018 with my alumnus husband supporting me. I couldn't have done it without him!"
---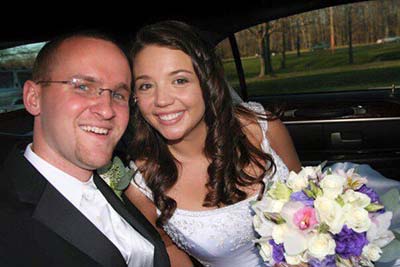 Name: Mark '06 and Becca (Bandomer) Finley '06
Hometown: Medford, NJ
Date of Wedding: Nov. 25, 2006
Children: Amelia, age 9, William, age 5
Stockton Sweetheart Story: "Mark and I started dating our senior year of high school. After graduation, we decided we were going to try a long-distance relationship as I was starting at Stockton and he was enrolled at a university in Pennsylvania. After one semester, we were lovesick, and Mark transferred to Stockton! His parents (understandably) were apprehensive about the change in schools and what this would mean for him. The truth is, even though love was the motivating factor, Mark was thrilled with everything that Stockton had to offer. He enjoyed the exposure to different fields of study, the professors and the small class sizes. Our second year at Stockton, Mark experienced a significant setback as he suffered from complications from Ulcerative Colitis. He had to take some time off from coursework to allow for two major surgeries and recovery time. We only grew as a couple and realized that we wanted to make the lifelong commitment to be together. Mark was able to accelerate his coursework during his remaining semesters and managed to graduate on time. Not only did he graduate on time, but he graduated summa cum laude with a 4.0 GPA! I graduated with a 4.0 GPA as well and was selected to be our class valedictorian. During my speech, I thanked my fiancé for all that he has taught me about working hard no matter the obstacles. Twelve years and two kids later, Stockton will always have a special place in our hearts."
---
Name: Brian '10 and Bethany (Feerar) Jenkins '09
Hometown: Delran, NJ 08075
Date of Wedding: Oct. 15, 2016
Children: Carson, 9 months
Stockton Sweetheart Story:Brian and Bethany met at Stockton in 2007. Brian was a member of the Stockton baseball team and Bethany was a member of Zeta Tau Alpha. They were introduced by a mutual friend. Brian won her over with his dance moves and the rest is history. Brian and Bethany got married in 2016 after nine years of dating. Brian teaches high school special education and coaches football, baseball and lacrosse. Bethany is a registered nurse. They recently welcomed their first child, Carson Andrew in May 2018. They also have a cute new girl puppy named Jojo after Joel Embiid.
---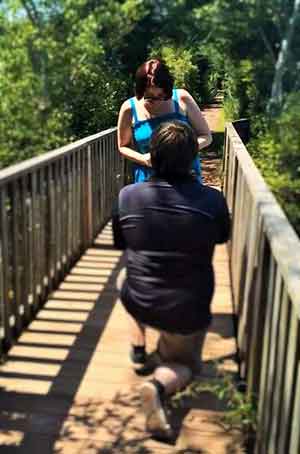 Name: Brian '14 and Caitlyn (Wajs) Reardon '14
Hometown: Hamilton, NJ
Date of Wedding: Oct. 14, 2017
Stockton Sweetheart Story: "Brian and I met at the Stockton Outdoor Adventure Retreat in 2010. I was on Orange tribe. Brian was on Purple tribe. Despite being on different tribes, we managed to become fast friends. We made some of our closest friends at Stockton. We continued to live our lives together – falling more and more in love each day. We went through many major life events together — senior year, graduation, nursing exams, graduate school applications — he even followed me all the way to Boston when I was accepted into Northeastern University to study Speech-Language Pathology. One day in 2015, Brian suggested a day trip to Stockton to go visit at one of our favorite places: Lake Fred. We had spent many of our days at Stockton walking the trails around Lake Fred, hand-in-hand. We even had a favorite spot by the bridge. It was on this bridge that Brian proposed. We were married Oct. 14, 2017. Many of our Stockton friends came. So many we needed two tables to handle them all! Since then, we have added a dog and cat to our little family. We just bought our first house. We are putting our degrees to good use. I am a speech therapist in a specialized school district. Brian is a nurse working in a GI office. We look forward to the years to come and our regular visits to Lake Fred."
---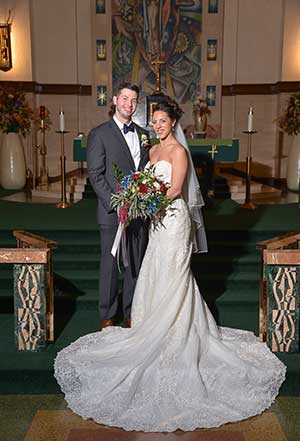 Name: Gage '13 and Deneen (Piotrowski) Mick '13
Hometown:Galloway, NJ 08205
Date of Wedding: Nov. 9, 2018
Stockton Sweetheart Story: "Gage and I met our freshman year through mutual friends. During the second semester, I decide to pursue him more as a boyfriend, and soon after that we began dating. In April 2010, Gage asked me to be his girlfriend and our relationship took off. We stayed together throughout college. We both had very busy schedules; Gage was an Accounting major and pitcher for Stockton's baseball team, and I was a Dance Pre-Movement Science major and a part of Stockton's Dance Company and Dance Team. After graduating, Gage moved home while I continued my education to obtain an Elementary Teacher degree. In 2016, we moved in together into an apartment located very close to our old stomping grounds. Gage asked me to marry him on March 4, 2017, in New York City and we were married on Nov. 9, 2018. Gage now works at Owen's & Minor as a consultant specialist/sales specialist. I currently work as a dance teacher at Atlantic City High School. Our life together is wonderful; full of love and laughter. Stockton will always be a huge part of our lives. This is the place I found my soulmate, my husband, and I could not imagine my life without him."
---
Name: Tyler Dehl '14 and Jamie Hembree '14
Hometown: Toms River, NJ
Date of Wedding: Spring 2020
Stockton Sweetheart Story: "Jamie and I met at Stockton in 2013 during our junior year and have been together ever since. We both absolutely loved our time at Stockton, and are grateful that we both met in the courts across from the lodge on Lake Fred. Jamie and I are now engaged and we plan on getting married in Spring 2020."
---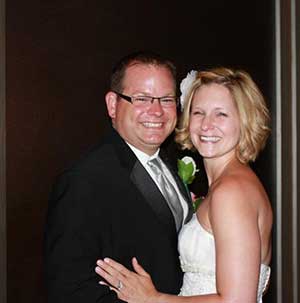 Name: Robert '97 and Laura (Saunders) Pierce '98
Hometown: Jamison, PA
Date of Wedding: June 24, 2012
Children: Katie, age 5, Peyton, age 15
Stockton Sweetheart Story: "We lived in C Court. We met my sophomore year and his junior year. He lived upstairs from us. We were always friends but never dated. We graduated, met and married other people. Fourteen years later, we had both been divorced and ended reconnecting through mutual friends (from Stockton as well), who said we should date each other. We went on our first date in January of 2011 and have been together ever since."
---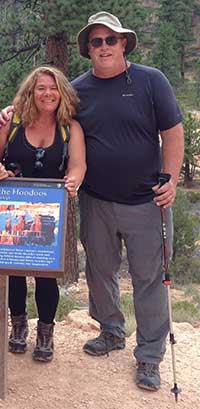 Name: Glenn '85 and Maryann (Bucci) Carter '85
Hometown: Red Bank, NJ
Date of Wedding: Oct. 29, 1988
Children: Keira, Deryn and Reed
Stockton Sweetheart Story: "My husband and I met in Charlie Hurland's Pre-calculus class in 1981, and three children, several dogs, successful careers and some world travel later, we are still coming back to Stockton and remember it as the most inspiring time of our lives. Like many students at that time, we spent our days at Stockton and our nights working at the casinos — Glenn a blackjack dealer and me a cocktail waitress. I, of course, showed up in a Gloria Steinem persona, hair in a ponytail and aviator sunglasses. She had just come to the school to speak … typical Stockton – intellectual stimulation combined with real life experiences expanding your knowledge and world view. Stockton encouraged our motivational pursuits by allowing us to take part in an exchange program, spending a semester in Australia at the University of Wollongong. Stockton offered it before it was a 'thing,' again pioneering ideas and opportunities for their students. Besides the solid support of the institution itself, the people at the school and other fellow students were and still are real or as we said back then 'down to earth.' Our feelings and fond memories of Stockton must have been contagious as our son became a Stockton alumnus in 2016 and then a Peace Corp Tanzania alumnus in 2018. We visit Stockton frequently, but the best visit by far was sitting in with our son for his Physics class taught by the incredible Professor Yitzhak Sharon — just as we had as students in 1983. And it all started at C-wing, nestled in the pines."
---
Name: Wayne '97 and Patricia (Mura) Nigro '95
Hometown: Toms River, NJ
Date of Wedding: Nov. 26, 1995
Children: Amber Tiffany
Stockton Sweetheart Story: "My husband and I met while I was attending Stockton. He worked in the computer lab and helped me fumble my way through using computers. Keep in mind, computers were relatively new at that time. We became friendly and lived in the same county and were both commuting to school. One thing led to another and we were married my last semester at school. I got married on Nov. 26, 1995, and graduated the following month. Our daughter now attends Stockton and we couldn't be prouder! Go Ospreys!"
---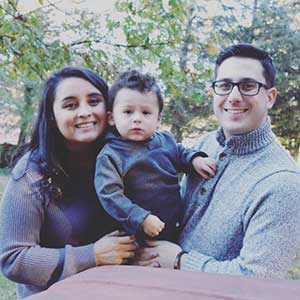 Name: Matt '11 and Stephany (Vaca) Mazzone '12
Hometown: Northfield, NJ
Date of Wedding: June 26, 2015
Children: Logan, age 1.5
Stockton Sweetheart Story: "Matt and I met spring of 2011 in our HTMS elective, Event Planning and Management. We never really talked until the day of the class charity event which we were hosting at Lakeside. From then on, we became friends and would meet at the Osprey Nest and the Campus Center for a bite in between classes. If we had not both taken that elective with Professor Scales, we would have never met and I would have never met my best friend. Matt and I both stayed local and have kept in contact with our professors over the years. Professor Scales and some of the other HTMS professors who knew us from class have even met our son Logan at an alumni event! When I think back to that semester, I had no idea that I would be sitting two rows from my future husband, but I thank God for my indecisiveness as I had changed my major twice before finally settling on Hospitality & Tourism Management Studies."
---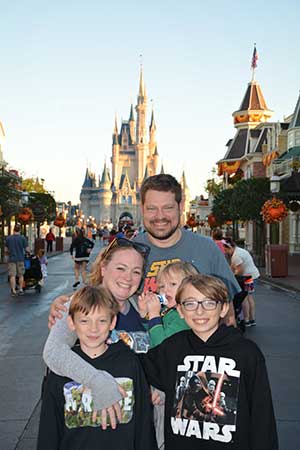 Name: Jeremy '99 and Tarah (Olita) Sawyer '03
Hometown: Tuckerton, NJ
Date of Wedding: Oct. 16, 2004
Children: Keith, age 12, Remy, age 9, and Dash, age 2
Stockton Sweetheart Story: "We met in the lobby of the Experimental Theater during an audition. His friend had locked his keys in his car and he had the spare key. I wasn't even auditioning, I was supporting friends. He knew everyone there as did I, but we didn't know each other. I hadn't actually started my minor in Theatre Production yet. He thought I was active in the Theatre department and so he came back to campus around rehearsal time every day the next week trying to bump into me. We ended up being in a theater club talent show together a couple of weeks later, and the rest — 18 years, two houses and three kids — is history."