Controlled Burn Planned at Stockton University for Nov. 23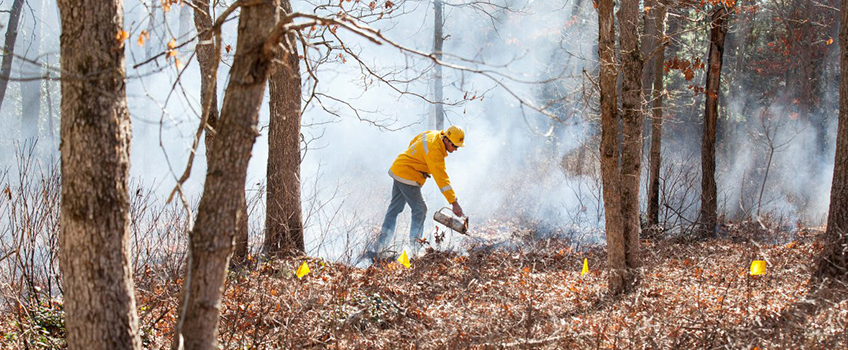 A controlled burn will be conducted by the New Jersey Forest Fire Service on Stockton's campus as part of the university's forest management plan. Weather-permitting, the burn will take place on Wednesday, Nov. 23, at 11 a.m. on a 6.7-acre plot located off of Vera King Farris Drive across the street from the Arts and Sciences Building, towards Lake Pam.
The university's 10-year stewardship plan is the state's first comprehensive forest management plan on public land within the Pinelands region and was developed by Robert Williams, of Pine Creek Forestry, a certified forester with 40 years of experience, and approved by the Pinelands Commission. Read more about the plan here.
George Zimmermann, professor of Environmental Studies who researches forest management with a specialty in the ecology of the Atlantic white-cedar, and his students will conduct research and data collection during the contolled burn.
Stockton will analyze how prescribed fire affects three different forest treatments: small patch clear cut with variable retention (where the healthiest trees remain untouched to accelerate recovery), low thinning (removal of the weakest tress in the lower portion of the canopy) to prevent southern pine beetle infestation and reduce the threat of wildfire, and a controlled area left untouched for comparison to the forest condition prior to management.
Students will be using a portable weather station for real-time monitoring and recording of air temperature, wind speed, wind direction, wind gusts and relative humidity. They will bury thermocouples (temperature sensors) to record flame heat and speed. Infrared guns will also be used to measure heat within the forest. Fire fuel loads will be measured before and after the burn, and tree and understory growth will be measured over the long term.