Picture Stockton...honoring its military families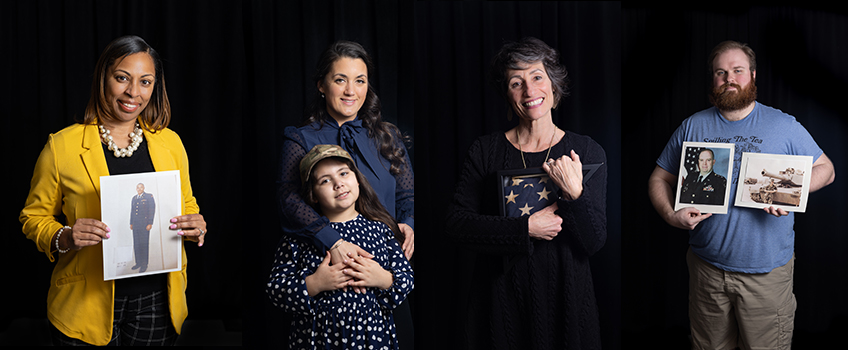 Galloway, N.J. - Sarah Wyatt, a Health Science major, came to the Military and Veteran Success Center in F-105 with her commencement cap and a framed portrait of her father, Mark Wyatt, pictured as a young man smiling in his brown leather aviator jacket and U.S. Navy service hat.
Wyatt's late father won't get to see her graduate, but she proudly wore her cap and held his photo as she sat down for a portrait session honoring both her father's service and her own sacrifices as a child of a military service member.
April is the Month of the Military Child, designated by the Department of Defense, to recognize the sacrifices and the challenges that military families overcome. Stockton's Office of Military and Veteran Services invited military dependents and their parents from the Stockton community to share their stories by posing for a portrait.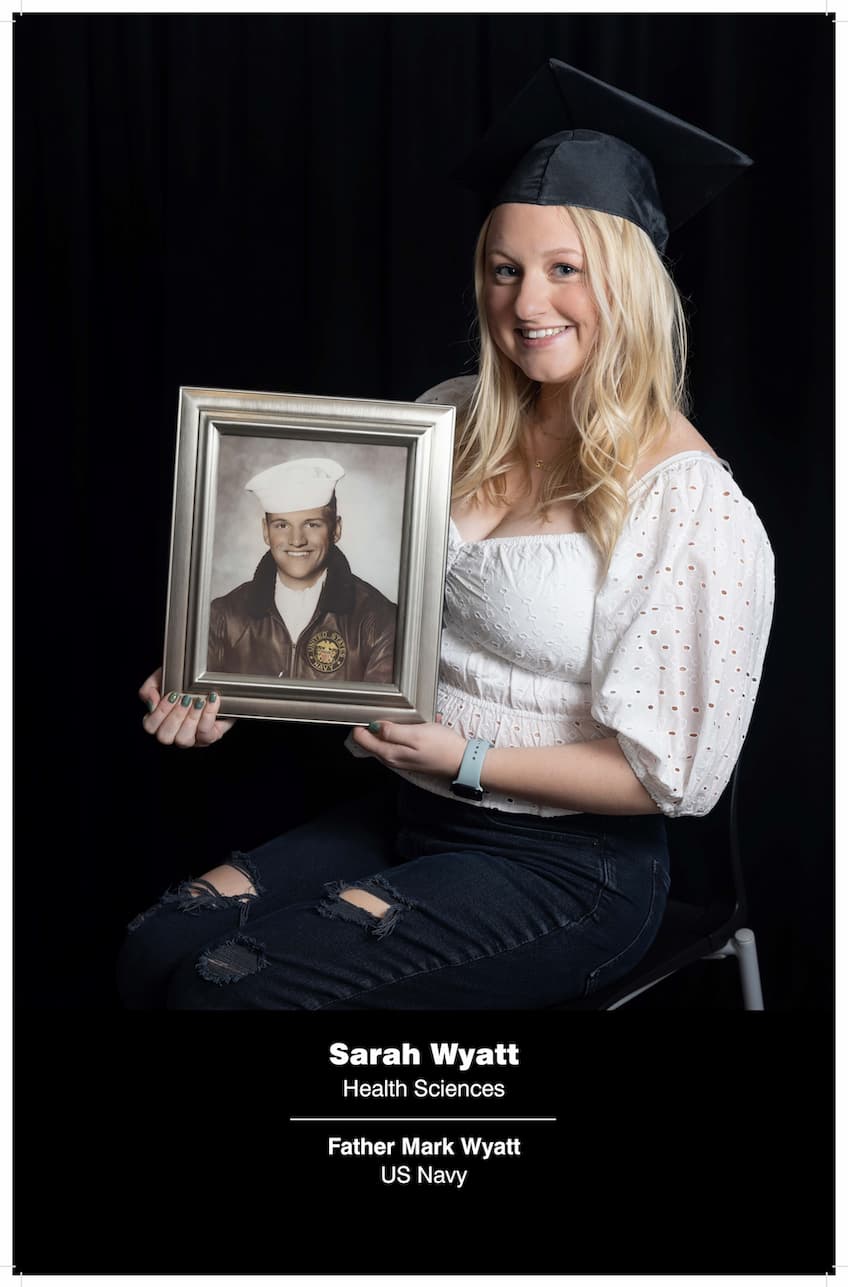 Karl Schute, a U.S. Army veteran and History major, held photos of his father, Col. Harry Schute, who lives thousands of miles away. After serving in Kurdistan during the Iraq War, Col. Schute stayed in Iraq and currently works as a security consultant to the Kurdish regional government.
Schute's fondest childhood memories are visiting a comic shop and stopping for pizza with his father before his deployments. When he grew up, he followed in his father's footsteps.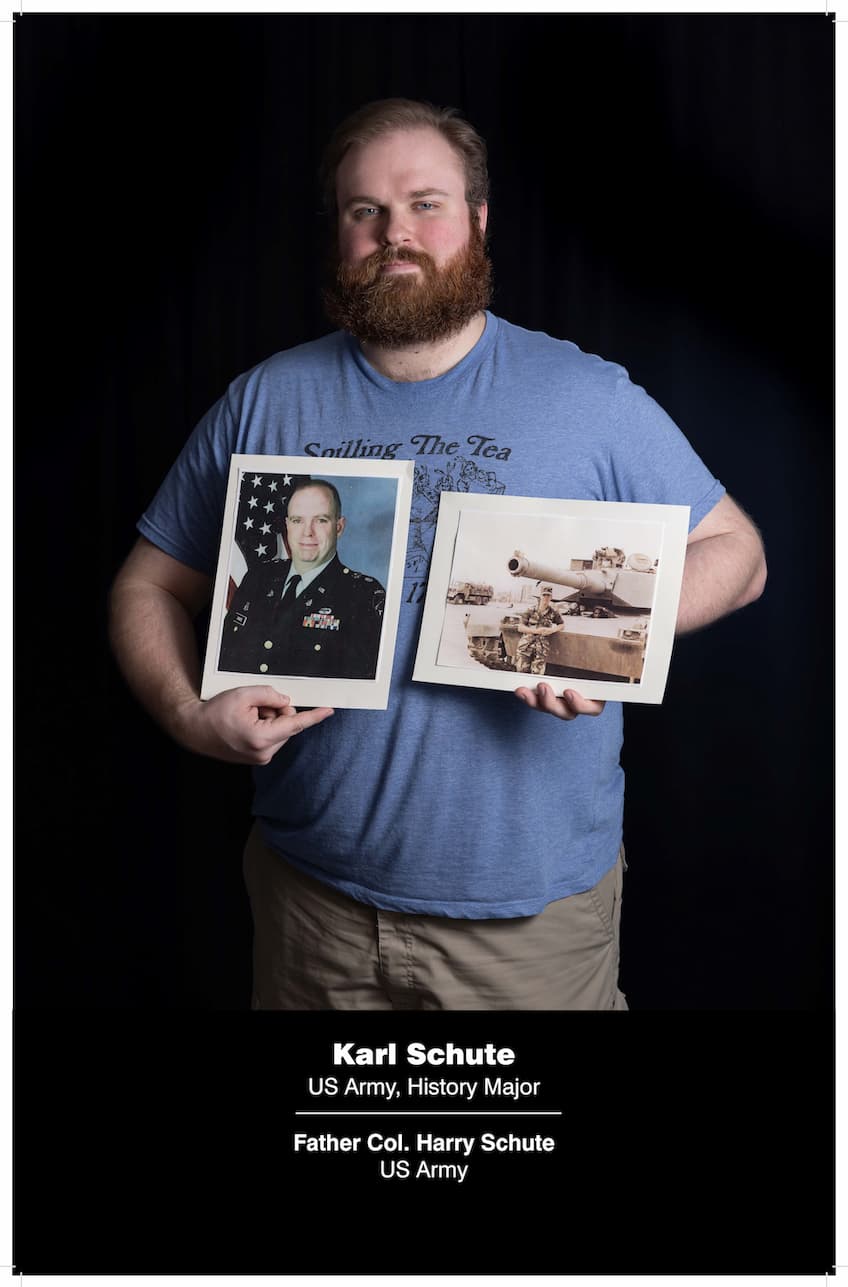 Distinguished Professor of Physical Therapy Mary Lou Galantino's late father, Louis Guarino, served in the Korean War and helped to construct the Panama Canal.
She hugged his memorial flag for her portrait.
Galantino's father completed his service right before she was born, but she still remembers going through his military photos as a child.
"The momentum of his experiences have resonated with me deeply throughout my entire life," she said.
Today, her father's service impacts how she teaches. Galantino welcomes student veterans to speak to her students, who are future physical therapists. The veterans bring their personal experiences with physical injury and perspectives on health care to the classroom discussions. The veterans gain insights from Galantino, who connects them with resources and offers guidance.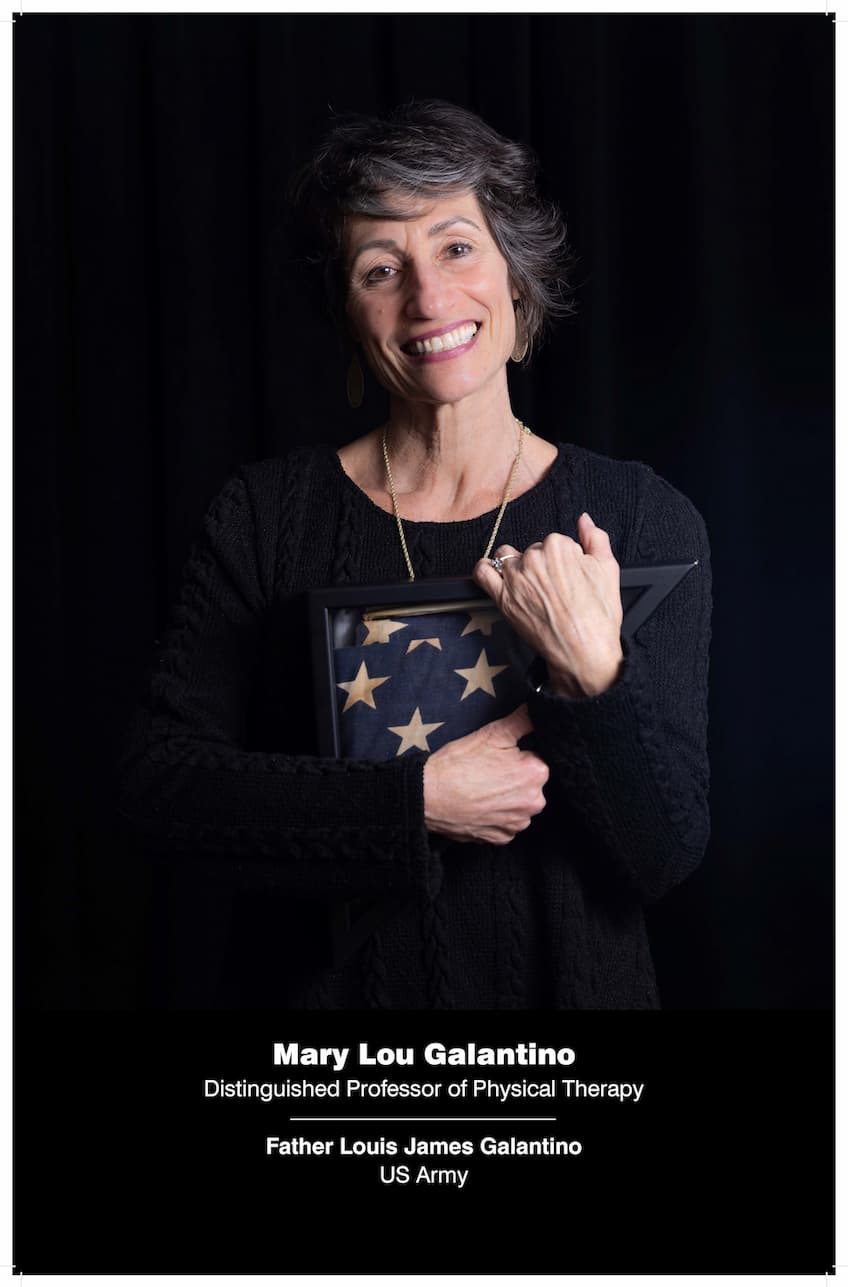 U.S. Navy veteran Tim Coyle, a 1979 Business graduate and 2001 MBA graduate, proudly came back to campus for a photo with his daughter Lauren Fonseca, a 2004 Literature graduate and a tutoring center specialist and coordinator of academic support.
When Fonseca looks back on her childhood, she is overwhelmed with gratitude.
"My dad grew up in poverty and joined the Navy as a young adult. He used the G.I. Bill® to attend college -- the only way higher education was going to be an option. His sacrifice and long work hours afforded me a life of comfort and opportunity. My parents funded my own bachelor's degree from Stockton and always offered me a soft place to land when life handed me challenges and trauma," she said.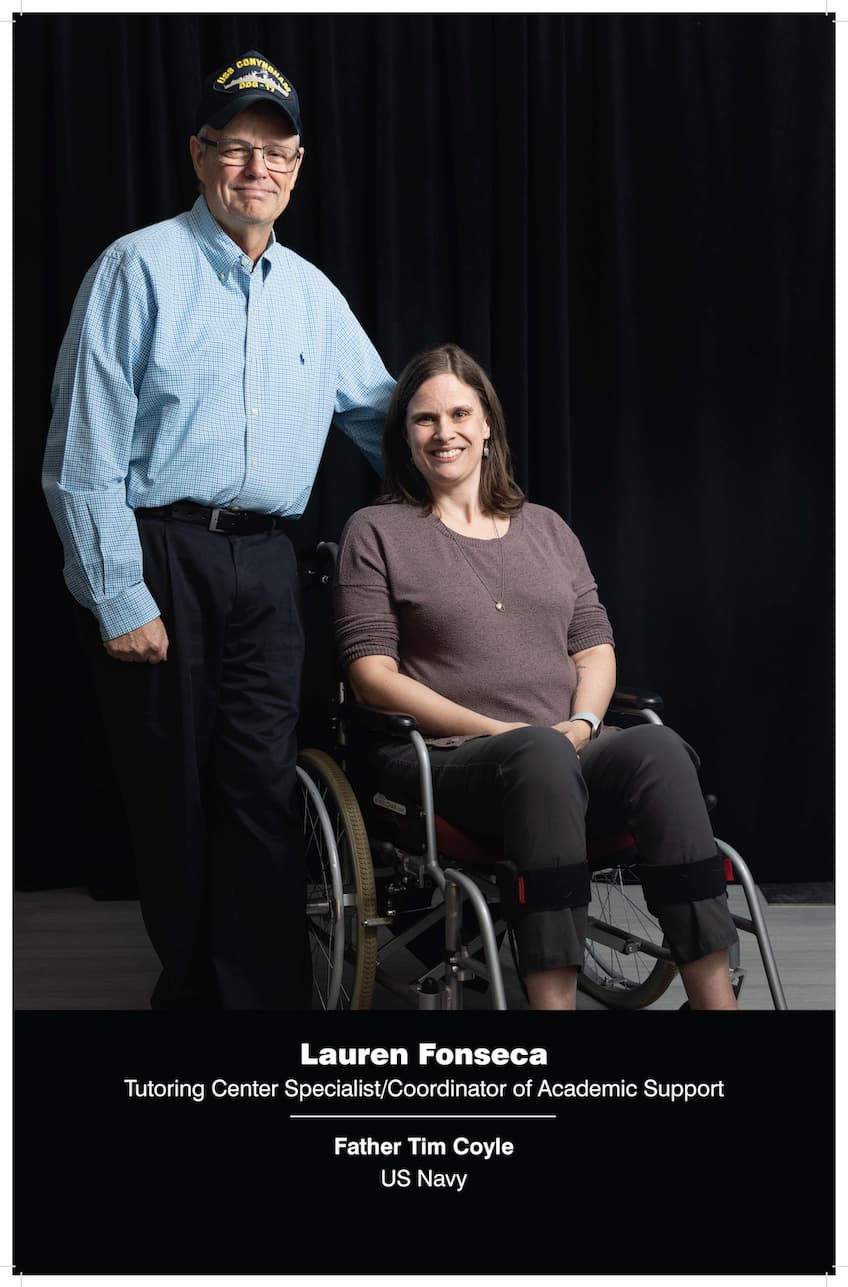 Shannon Gallina, a student in the Master of Social Work program, and her daughter, Kamila, wore Wounded Warrior shirts and brought photos of their late husband and father, Nicholas, who served in Operation Iraqi Freedom in the U.S. Coast Guard.
One of Kamila's favorite photos was of her and her father jet skiing. She wore red, white and blue ribbons in her hair in honor of her father's military service.
Nicholas Gruff 's story is part of the 22 Too Many initiative, which is a veteran suicide awareness and prevention project that shares stories in remembrance of military heroes.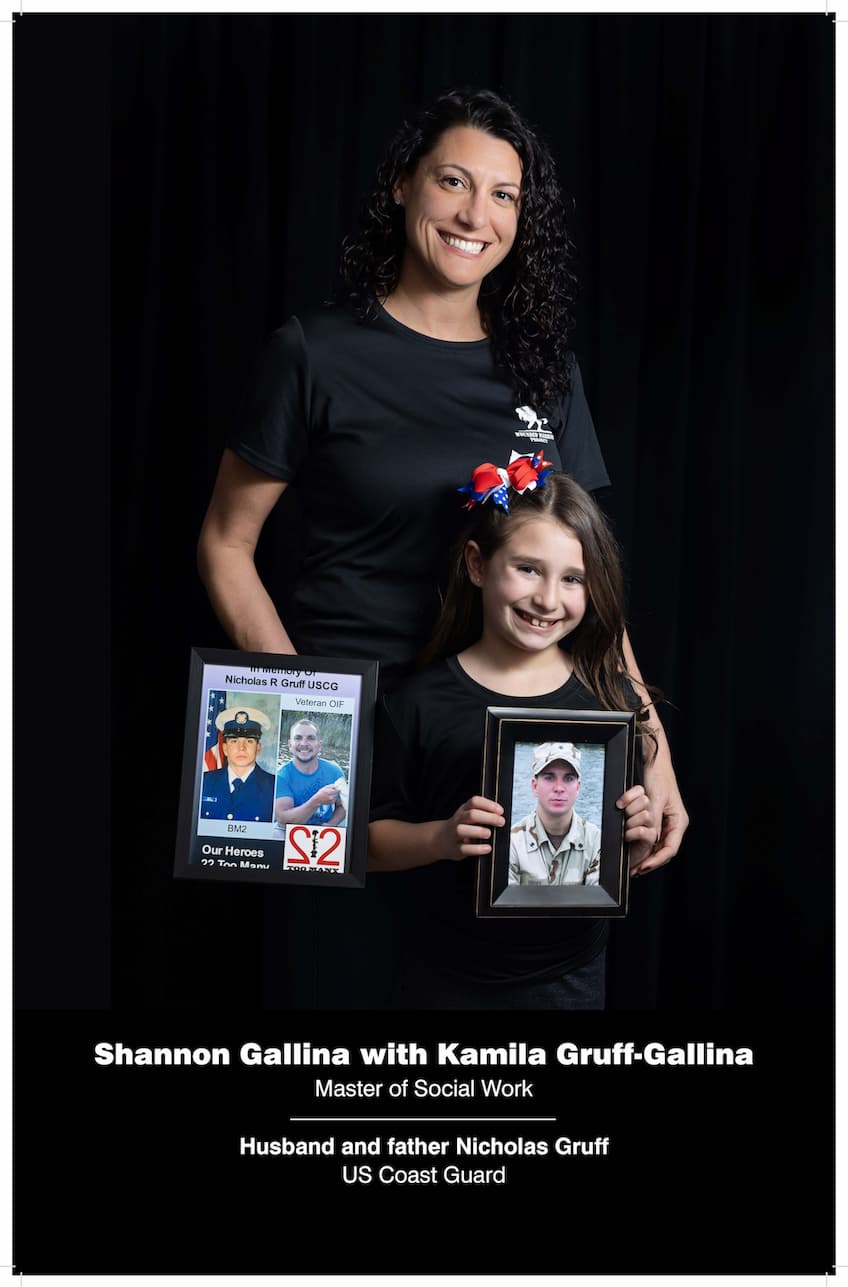 Katherine Hibbert, a 2006 Business graduate and associate director of Facilities Management and Plant Operations, brought in her father Tom Hibbert's Navy dress uniform and sailor's insignia that she once wore for a Halloween costume.
Hibbert recalled a story her father told her from his time working on a submarine. He had had a close call one day. The crew believed they were under attack and began to surface. As they ascended, they were greeted by a massive troupe of shrimp that had triggered the alarms to sound.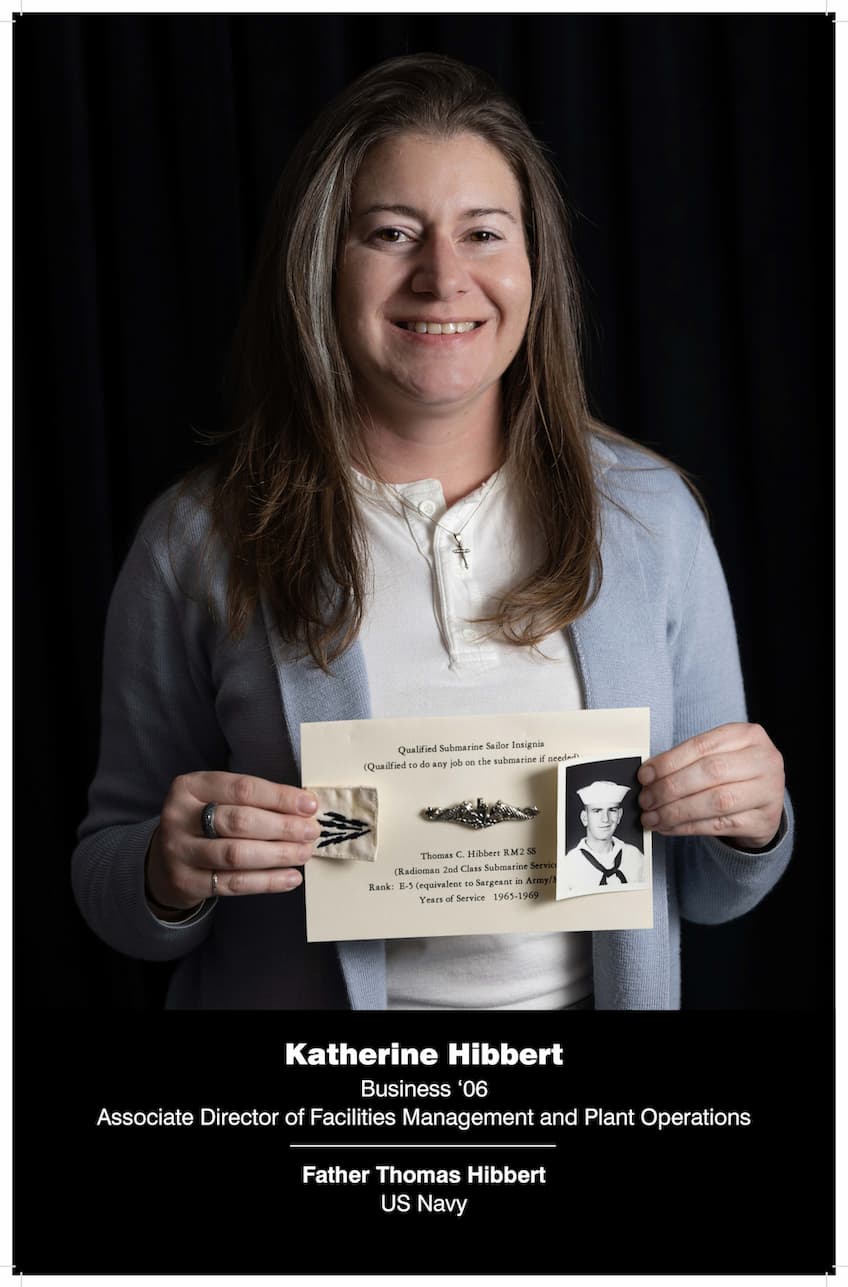 Netesha Peterson, an Ed.D in Organizational Leadership student and assistant director of Career Education and Development, brought a photo of her father, Harold Hill, who served in the U.S. Army.
"My dad was the company commander for a unit in Woodstown, N.J. and I got to ride in a military vehicle during a parade. Seeing my dad in that leadership role made me feel very proud of him," she recalled.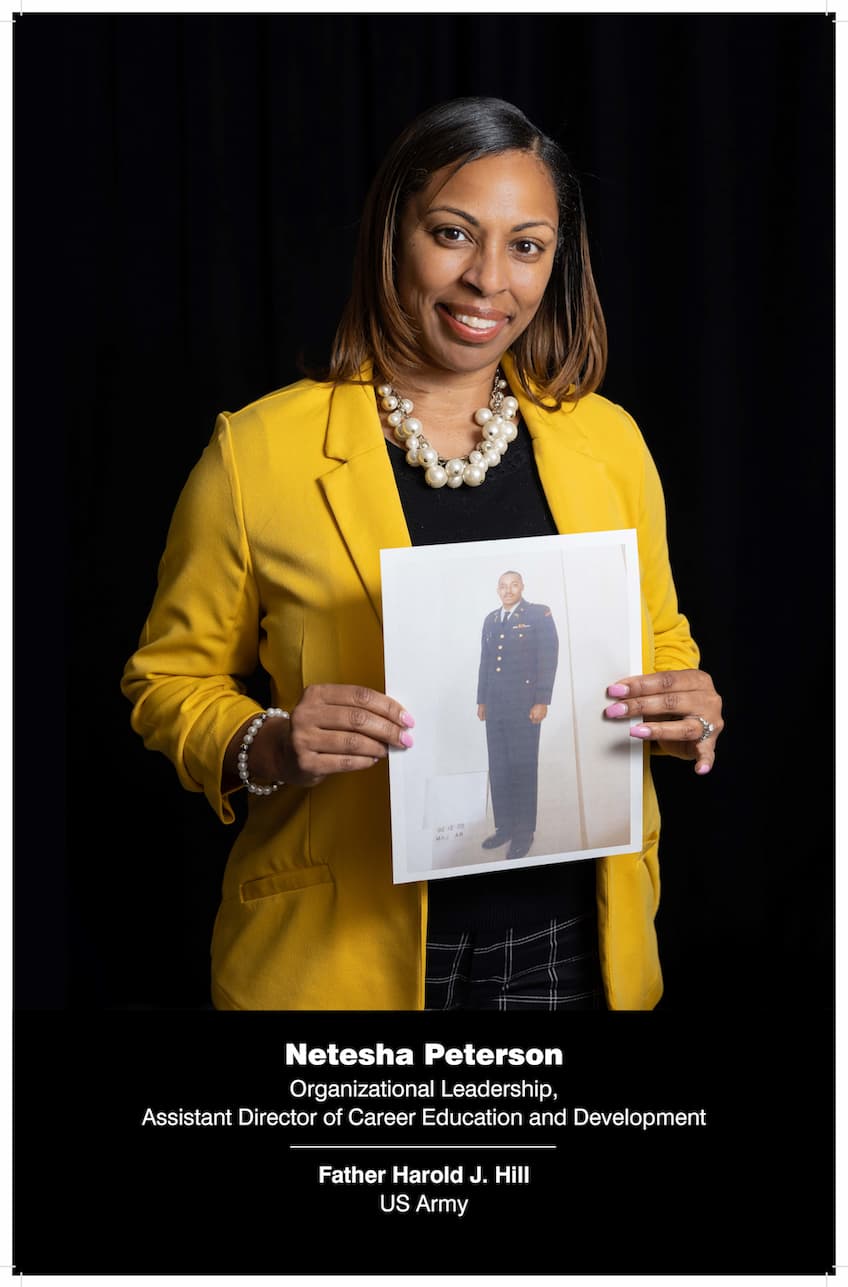 Ashley Jones, a 2020 Master of Social Work graduate and assistant director of the Military and Veteran Success Center, was talking with Karl Schute, a student worker in the office, about ways to expand Stockton's veteran portrait project that debuted for the 2022 Veterans Week. Jones and Schute, who are both military dependents, came up with the idea to spotlight Stockton's military families.
Jones remembers being in middle school waiting excitedly for emails and phone calls at odd hours from her father, Michael Jones, who was stationed overseas. The emails she remembers most vividly are the ones where she would click on a link to watch a video that turned out to be a jump scare. Talking about those funny emails today still makes her smile.
Attending Family Day on her father's Air Force base was a tradition. She would listen to him and his co-workers tell stories while enjoying her favorite wild berry-flavored gummy lifesavers.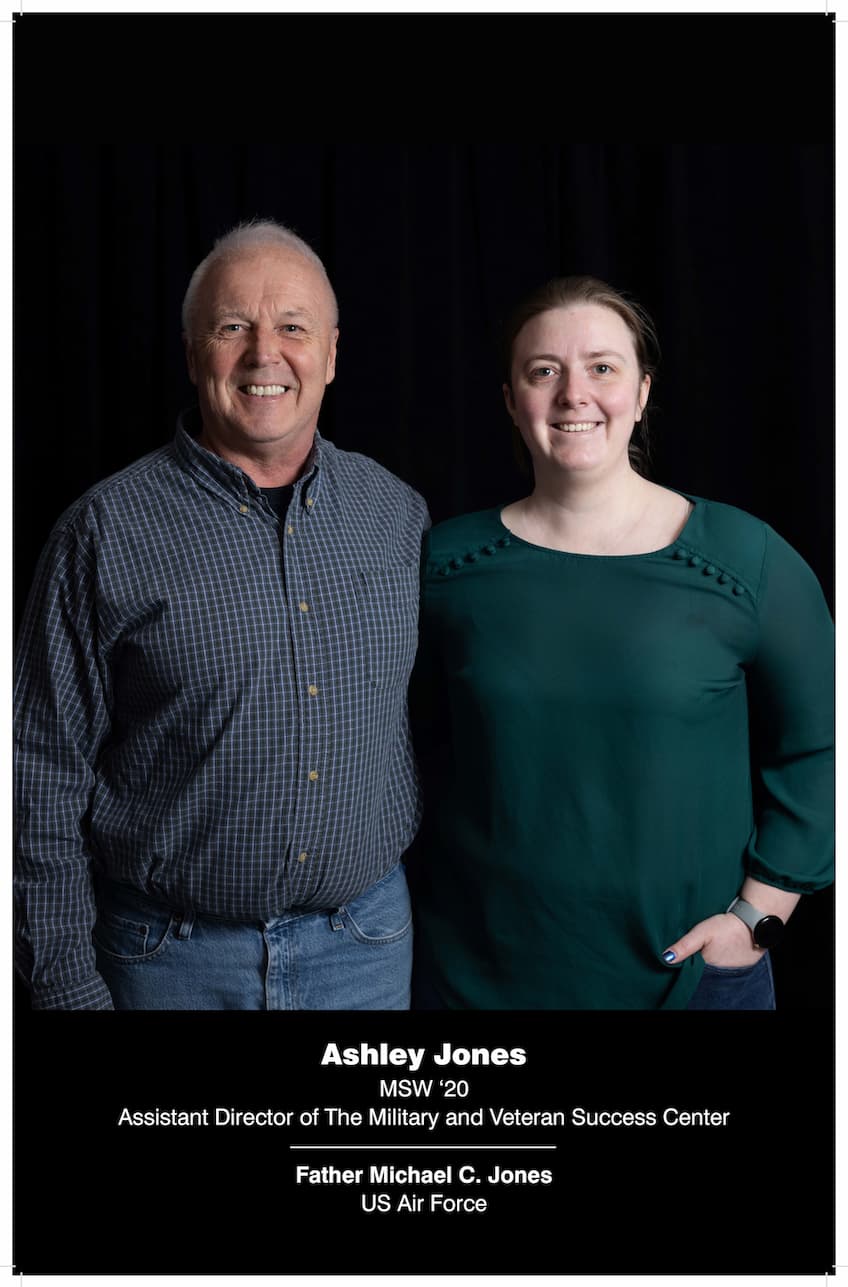 Melissa Ortiz, a Public Health major and U.S. Army veteran, brought her children, Allyson and Jonas, to campus for the portrait session.
She proudly wrapped her fatigue jacket around them as she gave them a hug.
"Female representation in the military is important to me because it shows that women can be just as capable of answering the call to serve our country," she said.
She is proving that to her children every day.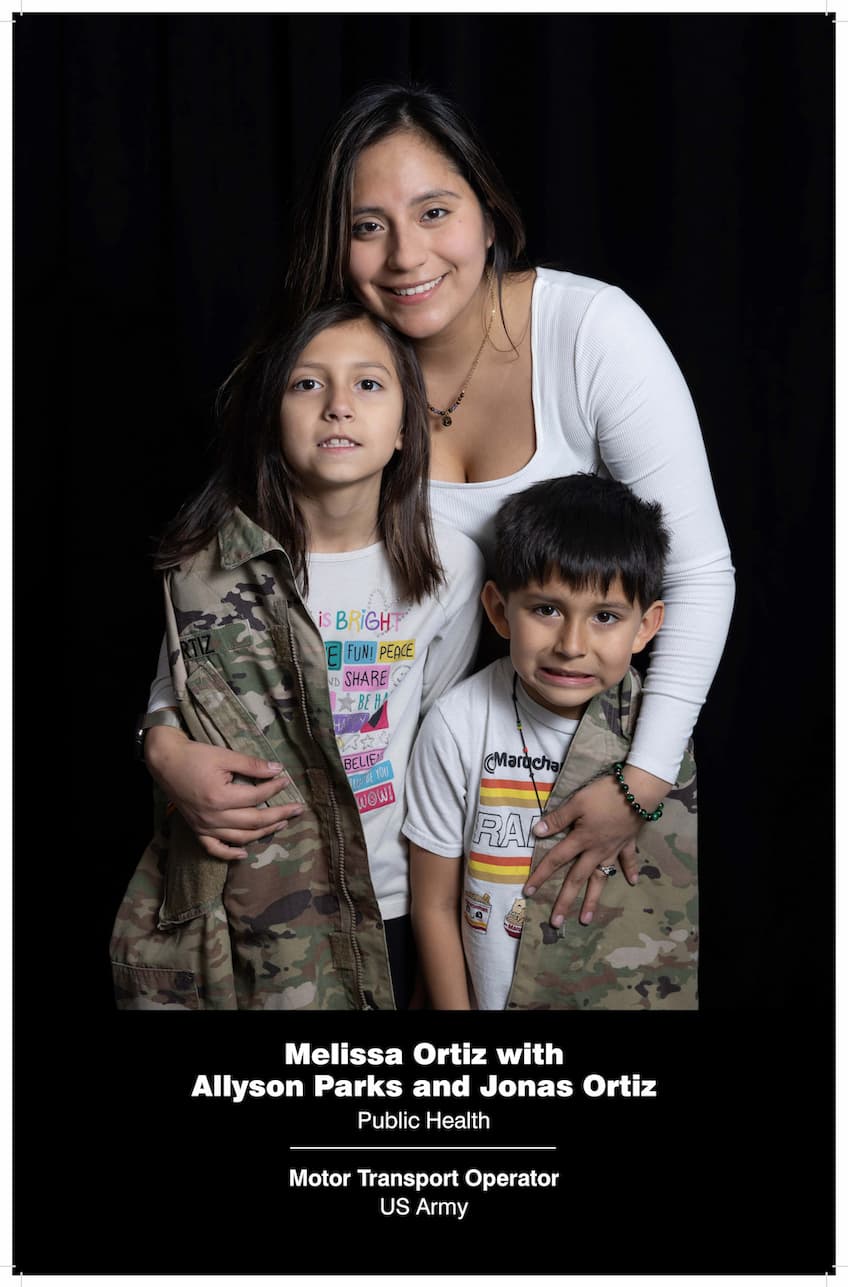 Christine Mayer, a student in the Master of Social Work program and a U.S. Air Force veteran, let her daughter, Mia Peppin, wear her fatigue hat for their portrait together.
Being a woman in the military means "proving to anyone who thought we only had a finite set of skills or fit in a specific societal box, that women are fully capable of working and thriving in male-dominated career fields," she said.
Her daughter's favorite moments as a military child were "when mommy would come home and surprise me."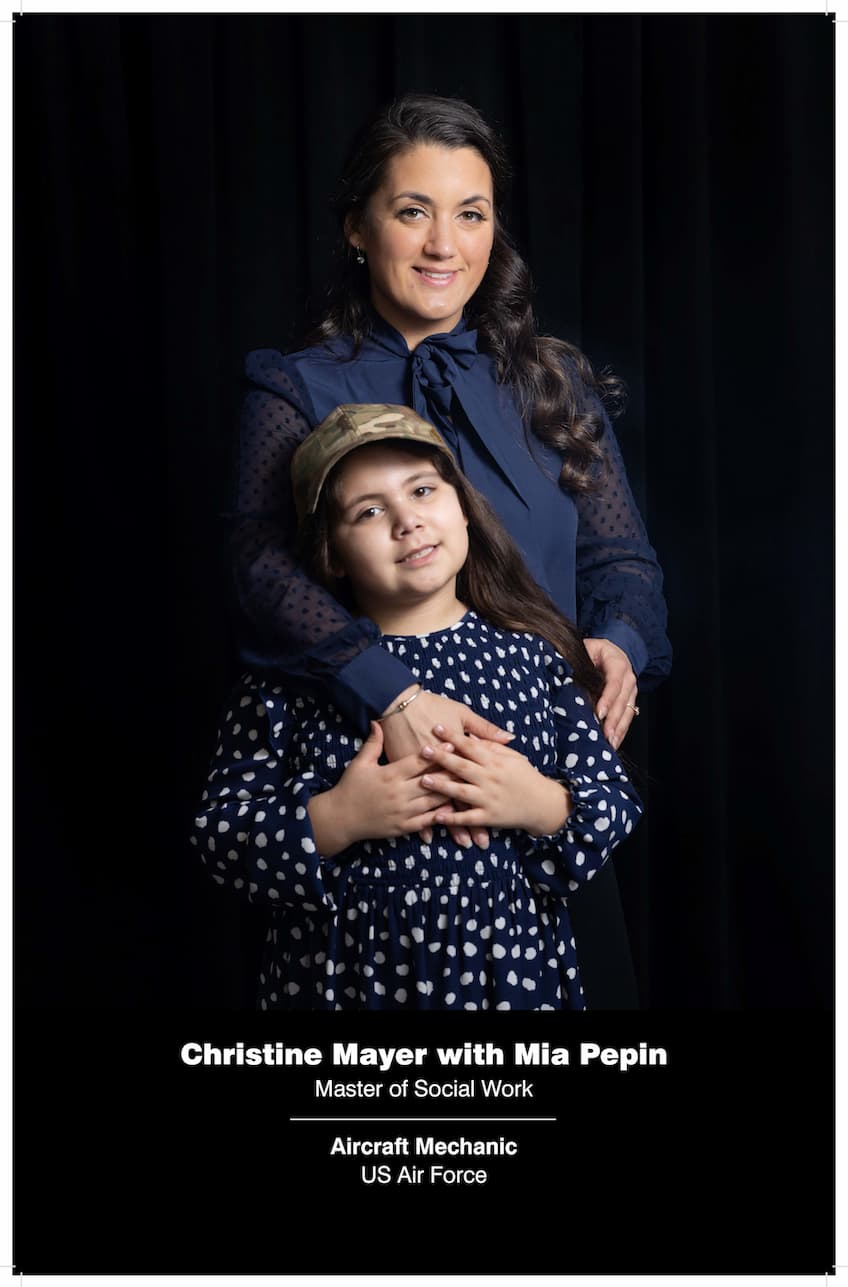 Susan Allen, a 2009 Mathematics major, 2014 Master of Arts in Instructional Technology graduate and a professional services specialist 3 in University Relations and Marketing, took the portraits in this military dependents series and is a dependent herself. Her late father, W. Clark Allen, served in the U.S. Marine Corps and U.S. Air Force and upon retirement, joined Susan and her mother, Sheryl Allen, a former employee of the Graphics department, at Stockton University, where he worked in Plant Management. His son, Cody Allen, is a Sustainability graduate who currently works for the Department of Defense.
"My favorite childhood memory is sitting in the cockpit of an F-16 fighter jet, wearing a pilot's helmet that was a few sizes too big for me, and asking dad to put the canopy down. My dad was an aviation electrician and was working on that jet in the hanger," she said.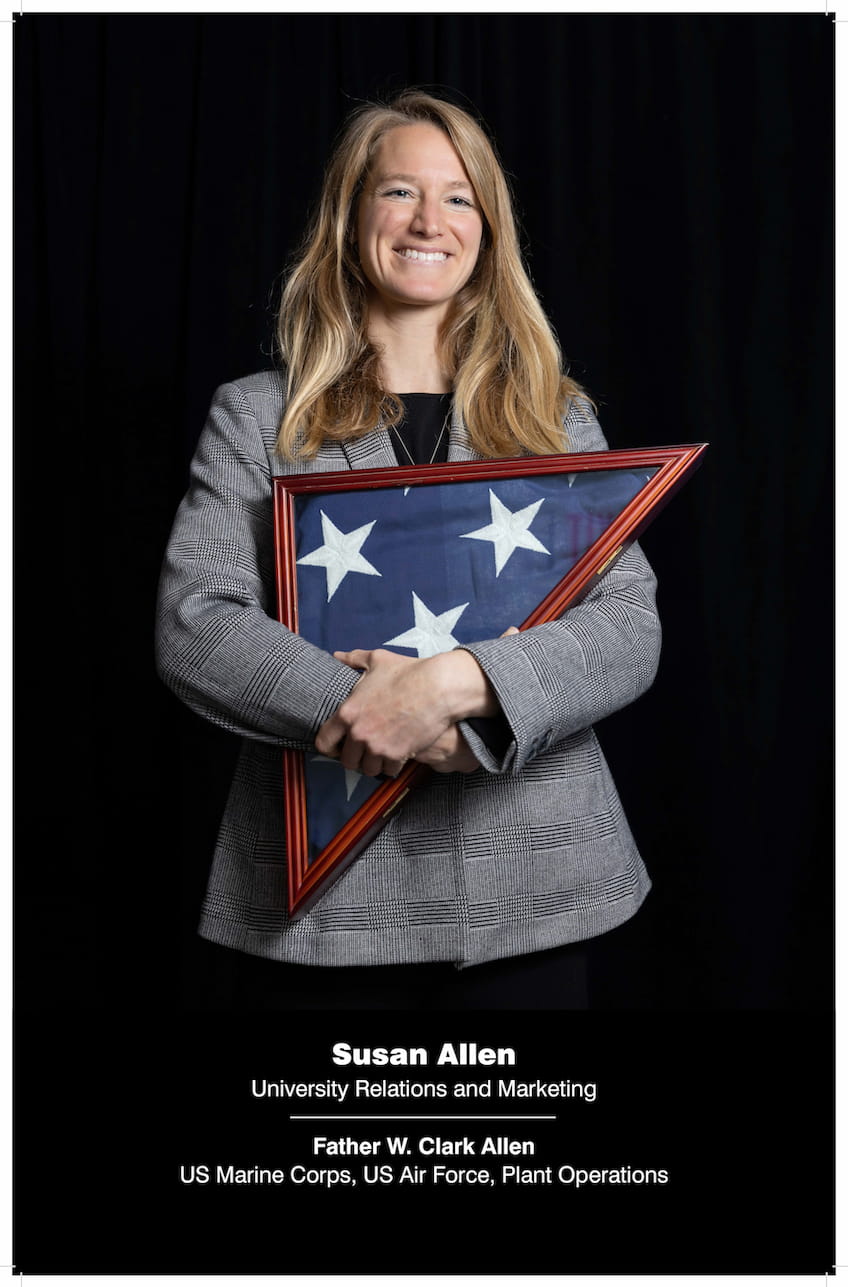 View the full collection of photos on display for the month of April in the hallway outside F-105.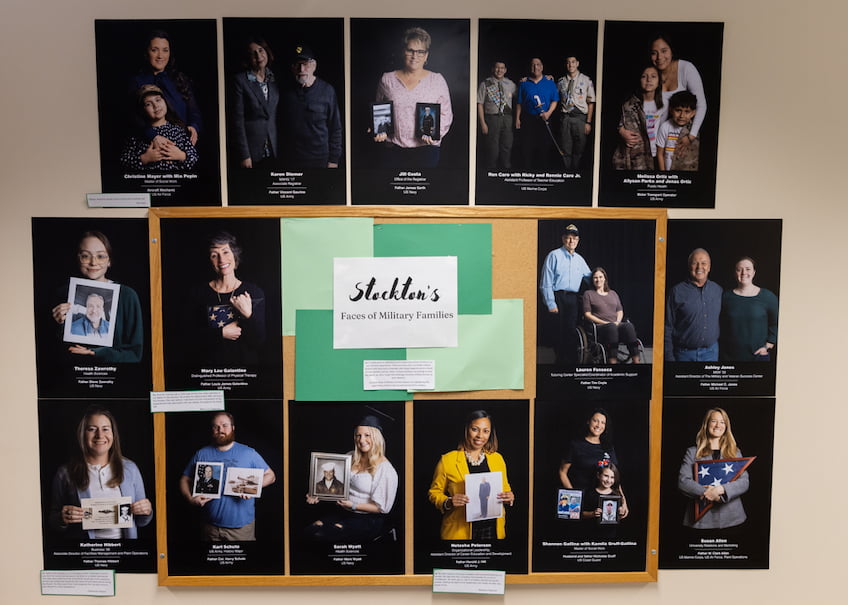 Photos and story by Susan Allen
*GI Bill® is a registered trademark of the U.S. Department of Veterans Affairs (VA). More information about education benefits offered by VA is available at the official U.S. government Web site at http://www.benefits.va.gov/gibill.