New Kesselman Student Fellowships Promote Civic Engagement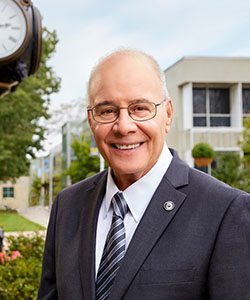 Galloway, N.J. — Engage NJ has launched the Kesselman Student Fellowships for the Advancement of Democracy, recognizing retiring Stockton University President Harvey Kesselman, who has been a staunch advocate for the advancement of human rights in New Jersey.
The Kesselman Student Fellowships empower teams of students to work on local community projects that advance democracy by finding solutions to connect people across differences and by removing barriers to opportunity faced by individuals in local communities.
Kesselman has been a long-serving board member of Engage NJ, a higher education presidents' coalition focused on civic engagement in New Jersey.
"I am honored to be the namesake for this new initiative that will afford opportunities for the next generation of change-agents in New Jersey," Kesselman said. "Stockton University infuses a commitment to protecting and advancing democracy in our mission and programs, and I'm excited to see this fellowship provide another avenue to engage our students statewide."
Engage NJ promotes student action to advance democracy while developing the skills and competencies to thrive in 21st century life and work.
"Engage NJ proudly elevates the stories and experiences of students who, by their actions, show a sense of responsibility to contribute to the ideals of American democracy for all," said Saul Petersen, executive director of Engage NJ. "Kesselman Fellows will carry forth these actions and ideals in that spirit. As the fellows grow into positions of influence in the future, they too will pass on to others the values that Dr. Kesselman holds dear."
Three teams of students from around the state will be awarded $1,000 per team to conduct a project during the 2023-2024 academic year, while being provided opportunities for professional pathway coaching and skills development opportunities including consensus-building, public speaking and networking. Teams will have the opportunity to apply for a second year to further advance their project while connecting with other fellows from across the nation through Engage NJ's national network of higher education civic engagement coalitions.
Teams must be nominated by member institutions and awards will be announced in April. Learn more at www.engagenj.org/kesselman.
Kesselman is retiring as president on June 30. Stockton has thrived under his leadership. He shepherded the university through its expansion to Atlantic City and successfully championed equitable funding for public colleges and universities in New Jersey. Kesselman is regarded for his advocacy for higher education and has served on multiple statewide boards.
# # #
Media contacts:
Stacey Clapp
Director of Strategic Communications
Stacey.Clapp@stockton.edu
609-626-3645
609-412-8069
stockton.edu/media


Mark Melhorn
Associate Director of News and Media Relations
Mark.Melhorn@stockton.edu
609-652-4593
609-569-6026
stockton.edu/media