Welcome Message from President Kesselman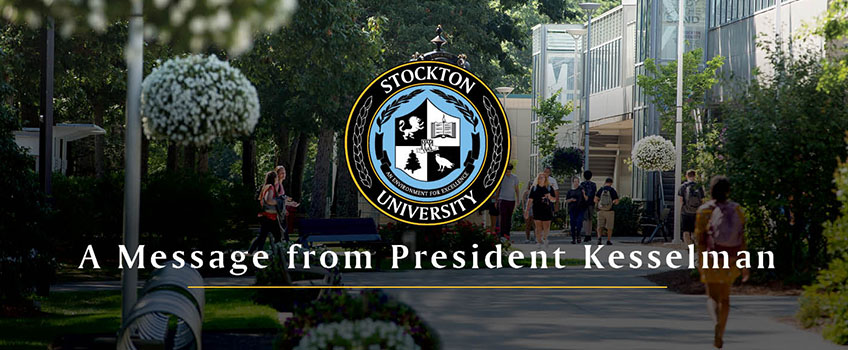 Welcome Fellow Ospreys!
Last week, as I put on my mask to enter the Campus Center, I recalled a time in the fall when I had optimistically hoped that in 2022, we would no longer need to wear masks. Then the Omicron variant arrived, making it clear that COVID-19 is not yet done with us and remains a significant factor in our day-to-day lives.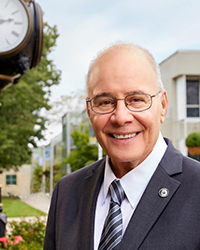 As we begin the spring semester, I want to assure you that the health and safety of our students, faculty, and staff remains our highest priority. With appreciation and gratitude for your help, cooperation, dedication, and commitment, Stockton had a successful fall semester with limited impact on our daily activities. I am confident we will continue that same success this spring.
We have learned a great deal over the past two years and we continue to adapt as needed to public health conditions while remaining committed to providing students with the comprehensive education, programming and extracurricular activities that define a Stockton education.
So yes, for now, we still require everyone to wear masks indoors. Soon, we will have KN95 masks in addition to surgical masks available at the Campus Center Information Desk and other key locations around our campuses. If you have not already done so, I strongly encourage you to get a booster shot when you become eligible. Vaccine clinics are being offered on campus this month to assist with this important health step. And remember to upload your updated vaccination information in the Stockton Portal.
If you do become sick, please stay home. We will continue to work together to assure everyone receives the services they need to succeed in their classes and workplace.
Those with vaccine exemptions are required to continue following the procedures in place for COVID-19 screening and testing at the Pomona House. Stockton is also coordinating with public health officials to host PCR testing at Chris Gaupp housing in Galloway beginning this week and the Carnegie Center in Atlantic City next week.
Details regarding our COVID-19 procedures are in the FAQ on the Stockton website at stockton.edu/return.
We remain hopeful the current Omicron surge will abate quickly. We look forward to an academically and socially invigorating semester as we continue to celebrate Stockton's 50th anniversary of teaching and hope you will join us at the many planned events. I'm also happy to announce Stockton has reengaged the Compass Fund for the spring semester. Students, faculty, and staff can apply for funding to support projects that sustain the six areas of focus in the University's Strategic Plan 2025 – Choosing Our Path. A message with more details will be sent later today.
Welcome back and soar safely Ospreys. Vax up, boost up, mask up!
Harvey Kesselman
President
Stockton University