Washington Interns Get Real-World Experience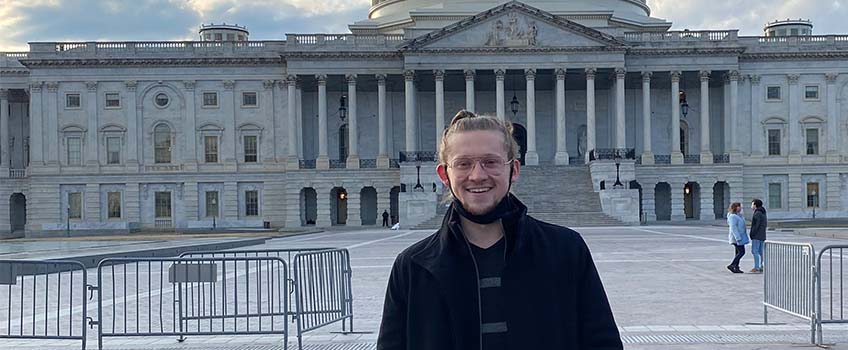 Galloway, N.J.- Since the mid-1970s, more than 1,300 Stockton University students have spent a semester in Washington, D.C. through The Washington Center. The Washington Internship Program at Stockton pairs students with internship sites that align with their major and interests. Students then get the opportunity to learn, work, and live in Washington, D.C. for an academic term.
The majority of the spring 2022 cohort participants are doing in-person internships, with a few working virtually. Associate Professor of Political Science Michael Rodriguez, coordinator of the Washington Internship Program, is hopeful that internships will continue in person.
"Getting to live and work in the nation's capital is an extraordinary opportunity for any student," said Rodriguez. "Faculty and staff understand that and encourage students to take advantage of the opportunity. This internship is truly one of Stockton's gems."
Through the internship, the students said they are gaining not only real-world experiences to put on their resumes but real-world connections that will help them once they graduate. They all agree that the experience is one that is valuable and necessary to develop in their careers.
Here's what else the Spring 2022 cohort had to say about their experiences:

Francis "Frankie" Martinelli-Noble, Camden County, Communication Studies and Visual Arts
"As an intern for kglobal, a public relations firm, I help build media lists, monitor social platforms for our clients, and pitch to reporters. The internship experience has really allowed me to find out what I'm interested in, in both a professional and personal sense. I would definitely recommend participating in the Washington Program because you can gain real-life work experience while meeting so many new people, all while experiencing a different environment!"

Sabrina Ringrose, Cumberland County, Anthropology and Sociology
"It has been a great experience to learn how to transition from school to a career through the Washington Internship Program. I have done article reviews, researched topics that affect the Black, LGBTQ+, and HIV/AIDS communities, and much more. Interning for the National Black Justice Coalition (NBJC), I have learned how quickly current events evolve and how challenging, but rewarding, it can be to keep up. I would recommend the internship because it offers you an opportunity to work in a field that interests you. Even if it is not your career goal, I believe taking any opportunity to get work experience is worth it."

Ivan Rosales, Ocean County, N.J., Political Science with an Economics minor
"I always wanted to live in D.C. even if it was for just a semester. For my internship site, 50 State, I've been doing a lot of research projects. This experience has shown me the importance of putting yourself out there. We all live through similar experiences when it comes to nervousness, and many of the people you will work for will completely understand. I would definitely recommend the Washington Internship Program: you just gain a lot of great real-world skills working here."

Dontae McFadden, Mercer County, N.J., Historical Studies with a Literature minor
"The Washington Internship Program allowed me to experience life in a multicultural city while gaining important professional skills. My internship responsibilities include marketing and serving as a publicist for Friends of Liberia's (FOL) brand new anthology, Never the Same Again: Life, Service, and Friendship in Liberia. Through the program, I have learned that I must be mindful and think logically as to the population/group I am working with or for. I have been working with an older audience and older coworkers who are very different from peers my age. Understanding my coworkers' abilities and strengths have effectively helped me serve the Friends of Liberia anthology project."

Sophia Church, Ocean County, Sustainability
"I wanted the experience of living and working in Washington. As an intern for the American Center for Life Cycle Assessment, I have been creating policy briefs and compiling a list of colleges with Sustainability and LCA (life cycle assessment) programs. The Washington Internship Program has taught me how to manage my time effectively. I would recommend this experience because getting to experience Washington D.C. has been amazing."
Jared Mills, Monmouth County, N.J., Psychology (Forensic Psychology concentration)

"The Washington Internship Program is a good opportunity to network and gain stronger connections within my field and government agencies. At Same Day Process, my responsibilities include serving legal documents to government agencies, residences, and corporations throughout D.C., Virginia and Maryland as well as filing documents with courthouses. As an intern here, I also do small-scale information investigations on subjects we serve so we can ultimately get them the legal documents addressed to them, and do stakeouts on residential and business locations. Through this experience, I have learned how valuable it is to stay level-headed in high tense/pressure situations and that organization is key to being efficient at your job.