Artist's Legacy Continues in Printing Press Donated to Stockton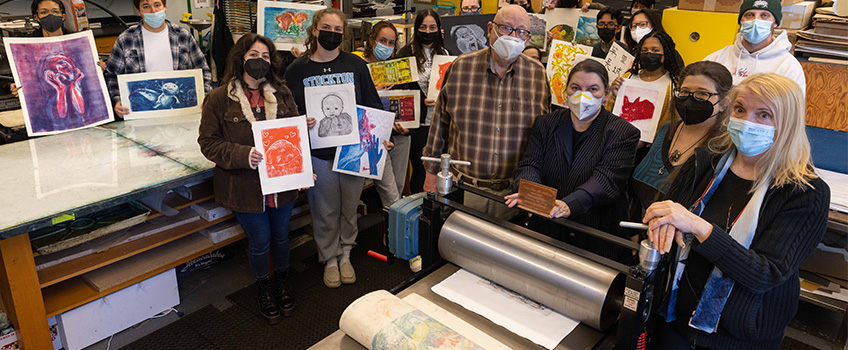 Galloway, N.J. _ When June Ann M. Sullivan of Little Egg Harbor passed away in 2021, she left behind a legacy of art, nurtured through her business, Watermark Gallery in Tuckerton.
That legacy is now continuing at Stockton University through the donation by her family of her printing press and supplies.
"I am just so delighted to see it here being used," said her husband, Gene Sullivan, as he, daughter Dawn DeZan and friend Diane Tomash toured the room in the Arts and Sciences Building with Associate Professor of Art Mariana Smith, who teaches printmaking at Stockton.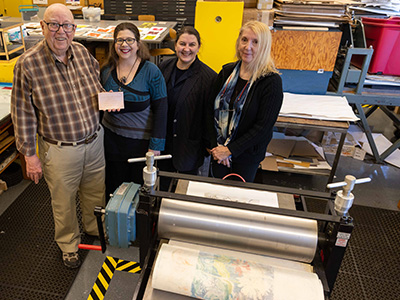 Smith said the new press doubles the capacity to print student works and will accommodate larger pieces and assist students in building printmaking portfolios.
Sullivan said he put out inquiries to a few universities about donating the press, but when Smith came to see it, her enthusiasm left no doubt she would get it.
"She looked at it and her face just lit up," Sullivan said.
Getting it to Stockton, however, was a project that required two professionals to dismantle and reassemble it, and a Stockton facilities crew to transport it.
"It was on the second floor and Stockton facilities did magical things to problem-solve the logistics," Smith said. "It was a little scary. But it's in mint condition."
Sullivan said June knew she would be involved with art from when she was a little girl.
"After World War II she had an uncle at Temple University Tyler School of Arts in Philadelphia. She looked at art school and said, 'I have to be here.' " Sullivan said.
June owned and operated the gallery in Tuckerton, which was damaged by Hurricane Sandy, and was honored by Ocean County Cultural and Heritage Commission in 2018, receiving a Special Recognition for Advancement of the Arts award.
"She did painting, printmaking, origami," her husband said. "It made her so happy, and she'd be so happy to see this here at Stockton still being used."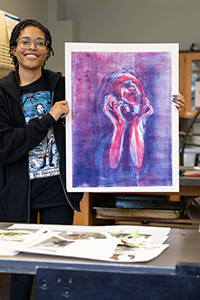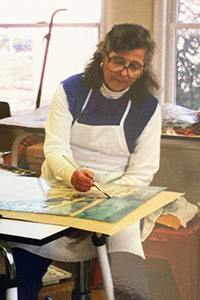 Student Muslema Davis, a junior Visual Arts and Illustration major, was thrilled with her printed project.
"It was my first time ever seeing anything like it," she said of the press. "This is my first printmaking class. It wasn't too hard to use once we understood the concept and how much pressure was needed for the spinning. The hardest part was probably the inking process and keeping everything in line and showing through each layer."
For the class assignment, Davis had to find an image on Google—it could be anything she wanted. Her original image was a very dark background with a woman's face showing in multiple positions.
Davis replicated the photographer's creative technique through colored layers in her print. The printmaking process required a lot of preparation before the press, which generated excitement.
"The peel off was the best. It's hard to see the design on the plexiglass before you put it into the press," Davis said. "I'm proud of myself because this is the biggest project I've done for this class," she said.
Tomash said her friend June would be so happy to see students using the press.
"She'd be thrilled that her legacy lives on," said Tomash, who is also an artist. "So many people will be blessed by this gift."
Follow Mariana Smith step by step as she create a print...
- Story by Diane D'Amico. Photos by Susan Allen.
# # #
Media contact:
Diane D'Amico
Director of News and Media Relations
Galloway, N.J. 08205
Diane.DAmico@stockton.edu
609-652-4593
609-412-8069
stockton.edu/media