Students Drive Peers to Get Out and Vote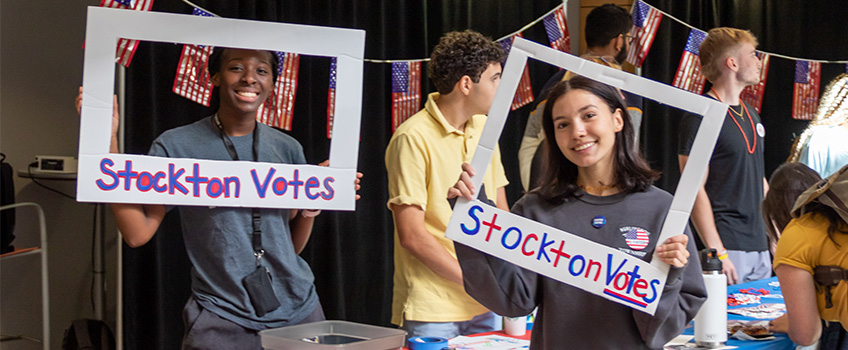 For my family.
It'll be my first time voting!
This is the way to make your voice heard.
In red, white and blue, reasons why Stockton students vote decorated the F Wing Atrium as students in the "Stockton Votes" first-year seminar encouraged peers to check their voter registration status ahead of November's midterm election.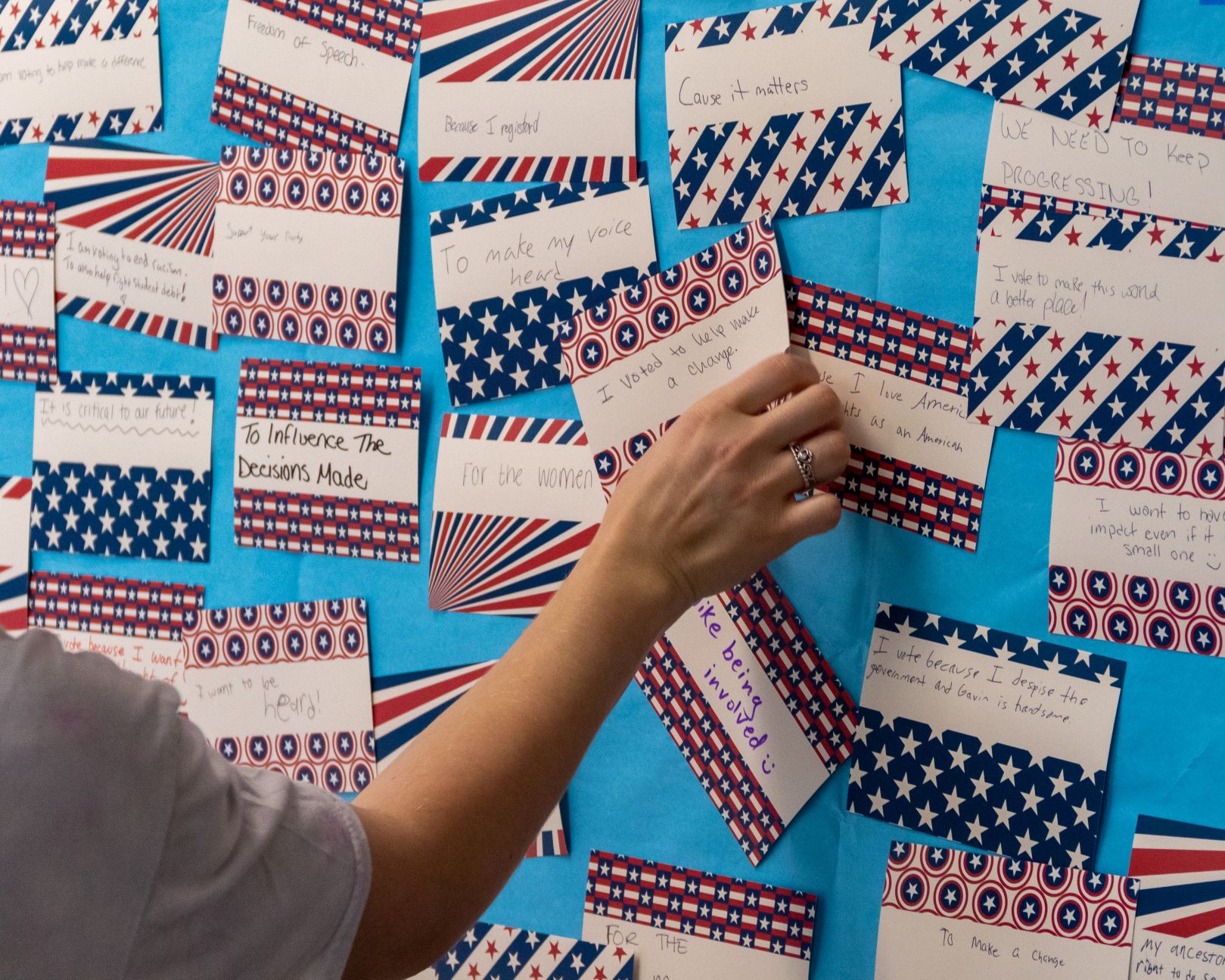 Joseph Nasr, a Computer Science major in the class, thinks it's important for students to "really think about who we're going to vote for, why we are voting for them and the consequences of voting for them." The Toms River resident recently turned 18 and is eager to vote in his first election, which is part of the reason he took this course.
Associate Professor of Political Science and American Politics Claire Abernathy teaches the first-year seminar and explained it's important to have students involved in these efforts because their outreach resonates more with their peers.
"I feel like it's important to get involved, especially as a younger generation," said Isabella Alter, a first-year Health Science major from Barnegat. Through her outreach efforts with the class, she hopes to impress upon others that their opinions matter and all students can have a say in issues that are important to them.
Not only does the class check voter registration status and register students to vote, it raises awareness about the upcoming election and provides the Stockton community with helpful resources and information about voting in New Jersey.
Abernathy was inspired to start teaching this class years ago by a colleague at another institution, feeling it would be a great fit for Stockton.
And it looks like she was right. The time Abernathy and her students dedicate to raising awareness about voter participation shows in the university's high voter numbers.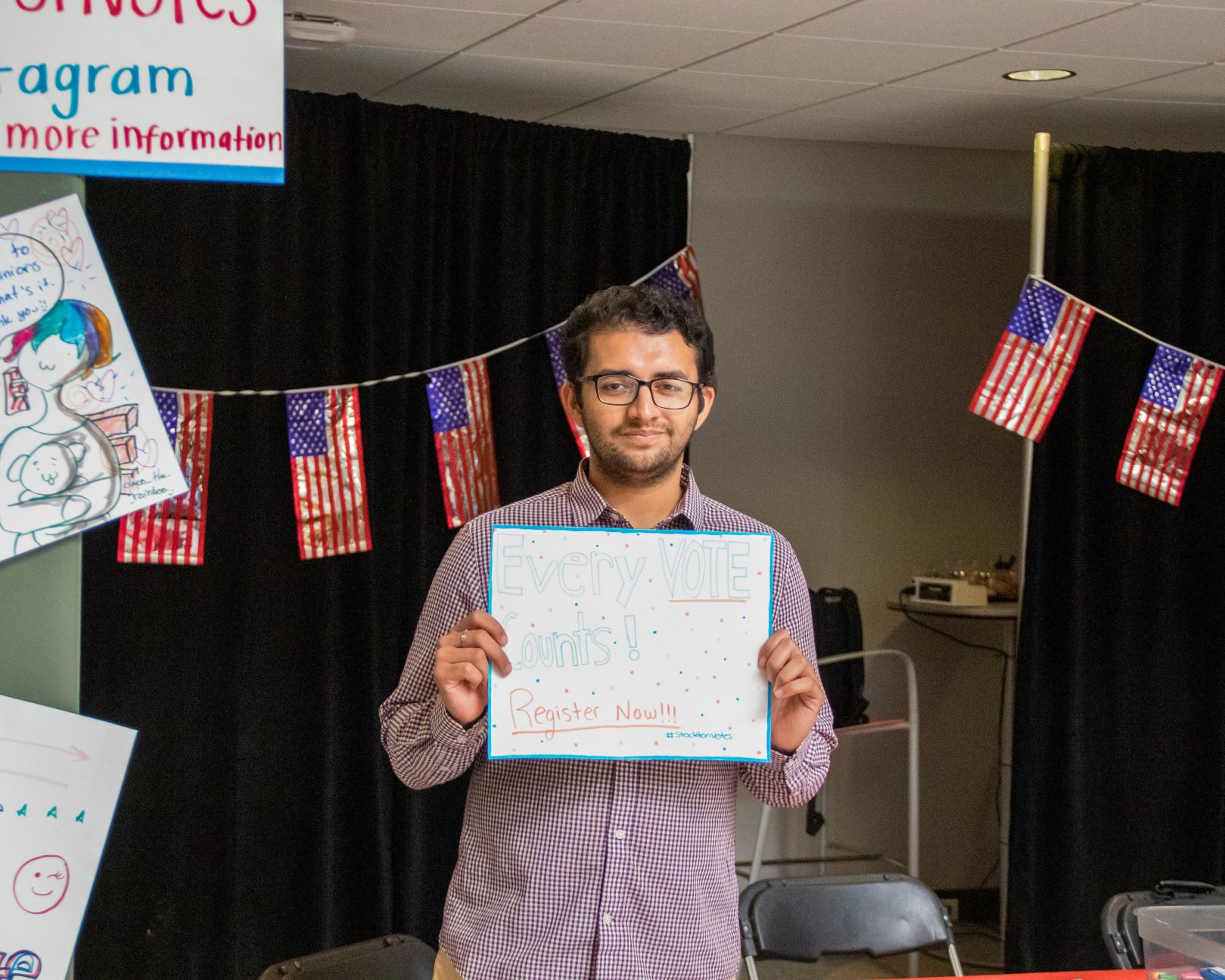 A recent report by the National Study of Learning, Voting and Engagement (NSLVE) on student voting rates shows Stockton is a leader in student voter registration and election participation. In the 2020 election, 86% of all Stockton students were registered to vote, compared with 74% nationally. And of those registered to vote in 2020, 86% of students did vote, up significantly from the 67% of registered students who voted in 2016.
"We always spend a lot of time, especially in the run up to an election, doing voter registration work on campus," Abernathy said. The class will hold get-out-the-vote drives throughout the fall, in addition to running social media campaigns in an effort to encourage more people to participate in elections.
Both Nasr and Alter want their peers to vote in the midterm elections. "The changes you can make through voting are important, so I hope people learn that," Alter said.
Nasr plans on remaining politically engaged in the future as a result of what he's learned so far. "I've come to understand that voting is really important here," he said. "I'm glad I took this class."
The voter registration drive was the first in a series of events the class is planning ahead of the Nov. 8 election. For more events and voter information, visit https://stockton.edu/political-engagement-project and follow Stockton Votes on Instagram.
Reported by Eliza Hunt
Photos by Frankie Martinelli-Noble