Stockton Soil Judging Team Digs into Their Major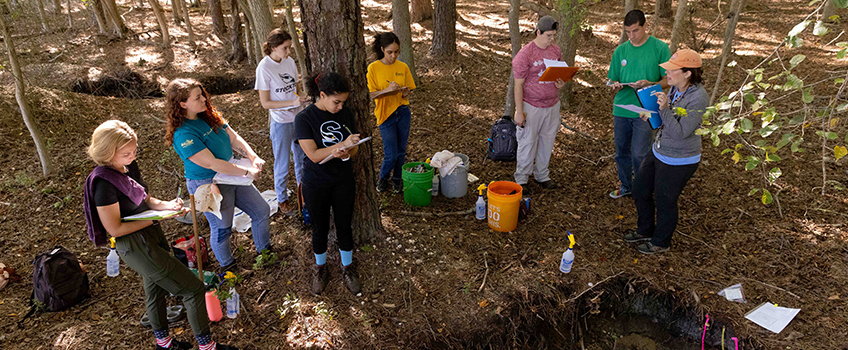 Galloway, N.J. -There's a group of students at Stockton University who aren't afraid to get their hands dirty while digging into their lessons. Last month, the soil judging team competed in the Northeast Regional Collegiate Soil Judging Contest earning Stockton a spot in the top five.
Stockton's team took 5th place in the group portion of the Northeast regional competition held at Bloomsburg University Oct. 11-14.
Zachary Lenzi, a senior Environmental Science major from Egg Harbor City, took 4th place among the individuals out of 57 students.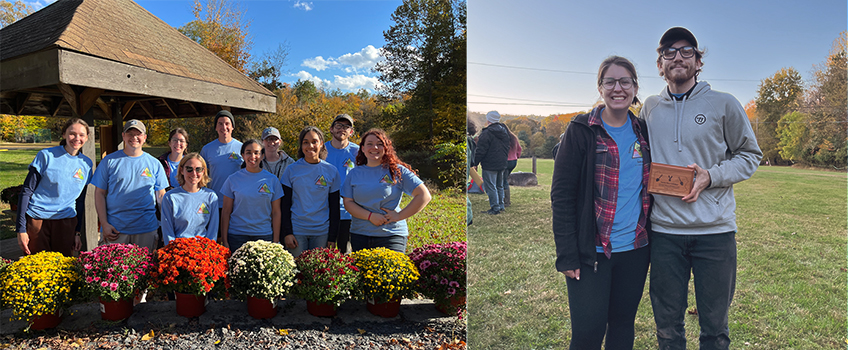 Jessica Hallagan, assistant professor of Environmental Science, teaches soil science and is the coach for the Stockton soil judging team, which is the student group that competes in soil judging contests against other schools. Stockton is the only New Jersey college or university with a competitive team.
The foundation of farming, food security, climate change and other environmental issues is rooted in soil science, and there's an urgency to study this natural resource that faces the threat of running out.
The Value of Soil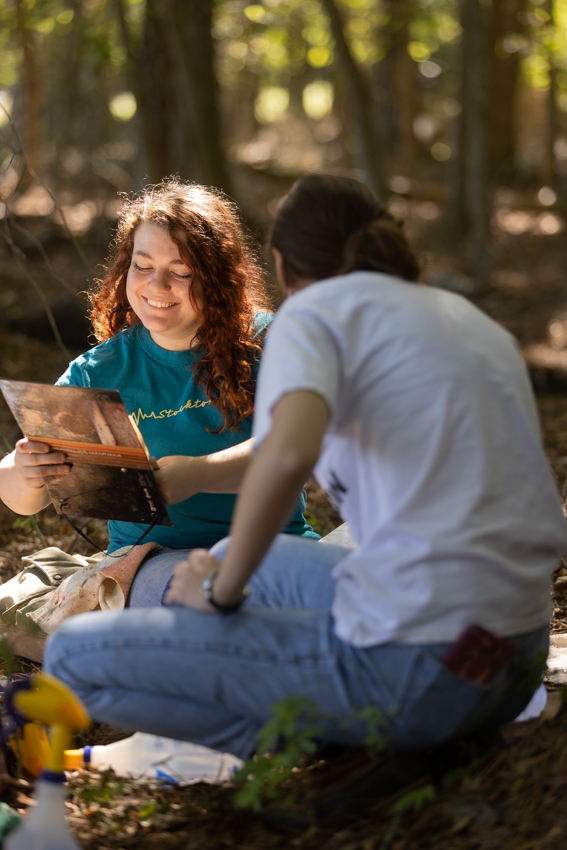 "Soil is really interesting and important to many aspects of life. Without soil we have no way to grow food. It's a building material. It has super important implications everywhere, and people don't pay much attention to it," said Sophia Bradach, a senior Environmental Science major.
Healthy soils hold an ecosystem of microbes that live in a mixture of minerals, organic matter, gas and water. Soils help to prevent floods, recycle nutrients and waste, regulate greenhouse gases, filter water, provide habitat, serve as a medium for plants and support the growth of food crops.
A TIME magazine article reported this year that "an acre of soil in the world is turning into desert every second."
Without any organic content, soil cannot provide the same ecosystem services or support agriculture.
Studying Soil on Campus
The humming of car engines is replaced by birdsong when Hallagan's Field Soil Morphology class makes their way from the Sports Center parking lot into their open-air classroom in the forest.
Students bring muffin pans, spray bottles, trowels and color matching guides to class. Their pant legs are tucked into ankle-high socks, a chigger and tick-proofing technique.
When they reach a backhoe-dug, thigh-deep soil pit in the forest, they're ready to for the day's lesson at one of 10 pits on campus where students study soil.
The two-credit field course teaches students to read and interpret soils to inform land uses and limitations based on the soil's properties and how it formed and prepares students for soil judging competitions.
"They are going to use these skills in a job one day. The soil judging contest is a way to prepare them for their futures. A pedologist or morphologist uses these skills in the field to look at how soils form and to characterize soil properties," explained Hallagan.
Students enter the pits to scoop soil samples from each of the layers into muffin pans. Once they have their samples, they spread out in the forest, shaded by the dense canopy, and begin to record measurements on clipboards.
"They are looking at all the horizons present in the soil profile. If you cut a cross section, the horizons you would see are layers. They are grabbing soil from the pit and putting it into a tin so they can determine the properties like color, texture, structure, consistence, particle size, and more," Hallagan explained.
Like the pages in a textbook, each of the layers in the soil reveals valuable information to the students.
Soil Offers a Peek at the Past
"As the ocean came in and receded throughout millions of years, it slowly deposited quartz sand," said Zachary Lenzi.
At Stockton, we are on beach sand that developed over time as it interacted with organic matter from the environment, he explained.
Lenzi has seen evidence of our submerged past in the Red Bank area where he saw fossil shells in the river banks.
The judging team travels to different regions to compete and witness different soils that formed by other geologic processes.
Competition Introduces Students to New Soil Types
"The contest aspect gives you that competitive rush," said Sophia Bradach, who was on the team last year and plans to get her PhD and become a pedologist.
She was proud to be one of 13 women on last year's team because pedology is still a male-dominated field.
The contest begins at a spot unknown to the contestants. When they arrive to the site in the early morning, they can't see past the reach of the caravan headlights.
During the competition, students are in pits completing score cards that define the soil properties, which they learn and practice right on campus.
Lenzi, who also competed last year, was excited to work in soil pits very different from what he has experienced in New Jersey.
"Going to Pennsylvania, the soil is higher in clays and silts thus completely changing the feel and properties. One of the things that I was most excited to see was the different layers of Glacial Outwash because it's awesome just to imagine how these rocks were deposited thousands of years ago and the ground we stood on was directly related to glacial processes," he said.
The competition expanded Lenzi's soil knowledge, but even more, he bonded with his classmates.
"Being a part of the team gives me a chance to meet people with similar interests and work with them in a fun competition against other schools. Without this specific class, I would have probably had classes with these other students, but never actually gotten to know them," he said.
Finding a Career
"I enjoy being outside, so I wanted to find a career where I can do that," Lenzi said.
He is currently interning with a soil consultant at the Natural Resources Conservation Service under the U.S. Department of Agriculture.
"We work with landowners to help implement soil conservation practices such as cover crops, no till, forest stewardship, invasive plant removal and installing high tunnels that help to extend the growing season by capturing heat and keeping out rainfall," he said.
Aaron Glover, a junior Environmental Science major, signed up for the soil course based on a recommendation from a friend.
"I used to be a computer engineering major when I started in 2014. I grew up by the Delaware River, so the woods and river have always been really important to me. I thought it would be cool to study it and find a career," he explained.
He wasn't sure if he'd like studying soil, but the course has shown him he can combine his interests in engineering, science and the outdoors.
"Soil scientists work with engineers when they are trying to build something. They need to know if it's a good soil to build on. They'll hire a soil scientist to analyze their soil," he said.
Local Research Opportunities
Hallagan's current research projects are focused on soil connections to maple syrup, wine and a mineral called glauconite. Students can gain hands-on experience by assisting with these studies.
At Stockton's sugarbush, she is working to analyze the soil properties associated with the red maple trees where sap is being harvested to produce maple syrup. Lenzi's parents tapped five trees, and he said it was the best syrup he's ever tasted.
Hallagan's vineyard soil project is looking at trace metals to find out if they are taken up by grape vines. Wine from certain regions contains trace metals. "We are trying to see what that looks like in New Jersey," she said.
Glauconite is a green mineral found in the Inner Coastal Plain. "We want to look at the properties of the soil and how glauconite introduces nutrients and trace metals," she said.
Get Involved
If you're interested in a field that will take you outdoors to work towards a more sustainable future, then check out Stockton's soil science classes and judging team.

Story and photos by Susan Allen