Students Resuscitate Stockton EMS Group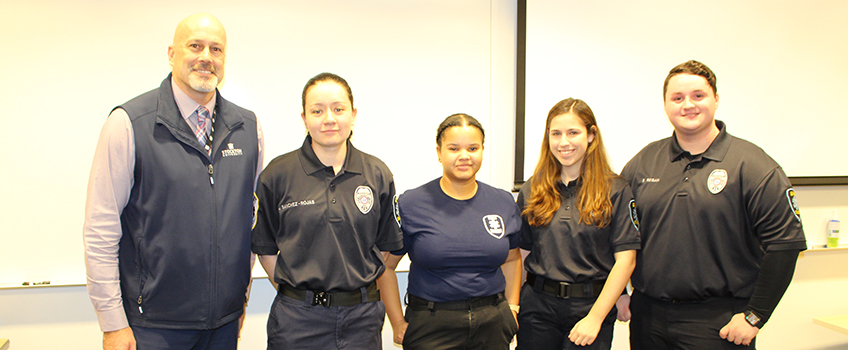 Galloway, N.J. — The COVID-19 pandemic put the Stockton University Emergency Medical Services organization on life support.
But the student-run squad is being resuscitated this fall — thanks to a small group of new recruits.
At the start of 2022, graduate student Geldy Nunez was the organization's only member.
"When we were shut down out of nowhere in spring 2020, we didn't know how to respond," said Nunez, who graduated with a bachelor's degree in Criminal Justice in 2021 and is studying to get her masters in the same subject. "We tried to do training over zoom. But it's just not feasible when you are trying to show how you stop someone from bleeding if you don't have something to train on."
Nunez said it was difficult to see an organization that had provided emergency medical care to Stockton students, faculty and guests since 2011 just dwindle away. But with the help of Albert Handy, the associate director of Campus Public Safety, Nunez has rebuilt the organization to include about 20 students this fall.
"Earlier this year, we determined that this was a program that we wanted to get back up and running because it is an important and helpful public safety service for the university," Handy said.
One of the first students that Nunez, now the group's captain, recruited the group was Sean Regan, a sophomore Nursing major from Manahawkin. Regan was already an emergency medical technician (EMT) when he came to Stockton, and he first heard of the campus EMS four years ago when he toured the school.
Back then the organization had 40 to 50 EMT members working standby on duty crews out of the campus police department in case of an emergency. Crews would also staff more than 20 university events a semester, such as games, club meetings or open houses. Although Galloway Ambulance Squad is the primary responder for medical emergencies, Stockton EMS would often respond to medical calls to initiate care until Galloway EMS could arrive with an ambulance if necessary.
This fall's group hasn't answered calls yet, but Regan, who's now a lieutenant in the EMS, wants to get the group back to that point, possibly even in the spring of 2023.
"My biggest goal is to get the staff back in order, get people trained and have people start working independently as their own EMTs," Regan said. "I want to get people introduced, get people involved and let the students of Stockton know we are back, we exist and we are here to help."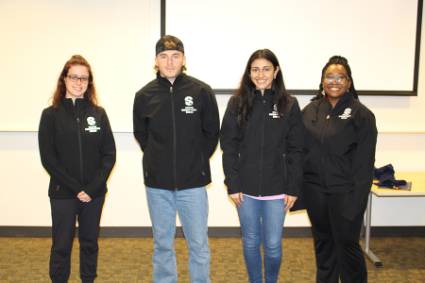 Four of the latest Stockton EMS members were sworn in at the group's December meeting in Galloway. From left, Jordan Roloff, Riley Lafay, Aastha Pandya and Louise Kennedy.
During its December meeting, Stockton EMS swore-in five new members who were presented with uniforms.
"It's a great opportunity for students in the EMT field or who are pursuing another medical-related field here at Stockton," Handy said. "It provides an opportunity to volunteer and serve their campus community, while gaining valuable experience with hands-on patient care and working collaboratively with other public service agencies."
Nunez, who's from Perth Amboy, was an EMT in Edison before coming to Stockton. She said the number of calls they received was very high. But, working with fewer calls at Stockton EMS has given her a different perspective when it comes to patient care.
"In those minutes, you have to make sure that your patient is doing well enough to be transported," she said. "I've learned with Stockton EMS the importance of patient contact and patient care. It's making sure you are asking all the right questions and getting a full story of what's going on prior to them getting to the hospital."
Regan said interested students don't have to have prior EMT training. The club does some training during its monthly meetings, such as radio etiquette and how you respond to a dispatcher. As their numbers grow, Regan hopes to send interested students to EMT school to get certified.
"We are looking for anybody and everybody. It's doesn't matter what your major is or where you are in your degree process," Regan said. "Experience is definitely not something you need. We all start somewhere, right?"
Handy said, while any student can join the EMS club, to serve as an active member of Stockton EMS, you must be a certified EMT or be certified in first aid, CPR and how to use an automated external defibrillator. Members will receive additional training and competency assessments as part of their introduction to the program.
For more information or on how to sign up for Stockton EMS, go to stockton.edu/ems.
— Story and photos by Mark Melhorn