Stockton 7th in Nation for Minority, Hispanic Graduation Rate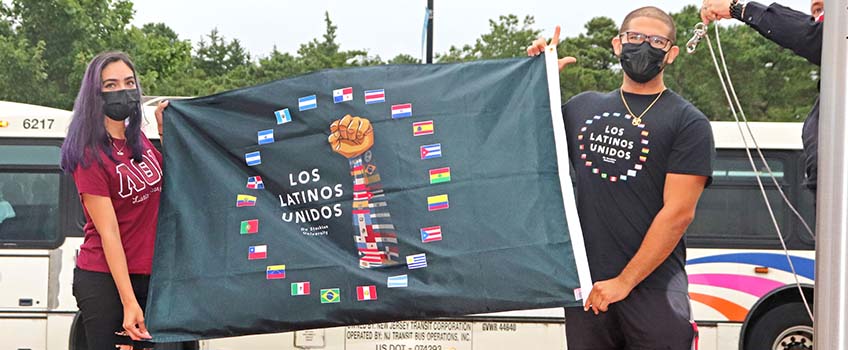 Galloway, N.J. - Stockton University ranks 7th in the nation among public colleges and universities with the highest graduation rates for Hispanic students and overall minority students according to a new report issued by the Chronicle of Higher Education.
The report, "Recruiting and Retaining Students in a Challenging Market," uses federal data on retention and graduation rates and included only institutions with at least 100 eligible Hispanic students. It is based on students who entered in the fall of 2013 and graduated within six years, by 2019.
Stockton's graduation rate for that cohort of Hispanic students was 71.5% and for all minority students was 73.4%. The graduation rate for all students in that class was 77%.
By comparison, the national graduation rate for all full-time students who entered a four-year college or university in 2013 was 63%, and the completion rate for Hispanic students was 59%.
Stockton President Harvey Kesselman said Stockton places a high priority on programs and services that help students succeed in college. Almost half of all students at Stockton are the first in their families to attend college and a third identify as Hispanic/Latino, Black or Asian.
"It's not enough to just enroll students," Kesselman said. "Our goal is always to provide the support and services they need to be successful and graduate. The data show our programs are working."
Among Stockton's programs are the Sankofa Retention Initiative, which provides minority males with support and mentoring, and TogetHER, a program for minority females. An Early Alert system allows faculty members to notify Student Affairs staff if a student is struggling so they can reach out to provide needed support measures. Student Transition Programs outlines a four-year plan to guide students from orientation to graduation. Our T.A.L.O.N.S. (Transition Activity Leaders of New Students) serve as peer mentors for new students.
Student groups, including Los Latinos Unidos, the Unified Black Students Society and the Asian Student Alliance offer peer support and campus-wide opportunities for connection.
Stockton has also initiated new financial aid grant programs such as the Stockton Promise to ensure finances are not a barrier to college attendance and completion. Combined with new state grant programs, these initiatives can cover the full cost of tuition and fees for students with family incomes of $0 to $65,000.
"We recognize the effort and sacrifices our students make to achieve a college degree, and we want them to know we are there to help them every step of the way," Kesselman said. "I am very proud of the commitment of our faculty and staff to ensuring that all students succeed."
# # #
Contact:
Diane D'Amico
Director of News and Media Relations
Galloway, N.J. 08205
Diane.DAmico@stockton.edu
609-652-4593
609-412-8069
stockton.edu/media