In-Person Reunion or Bust: STEMinists Take Over Stockton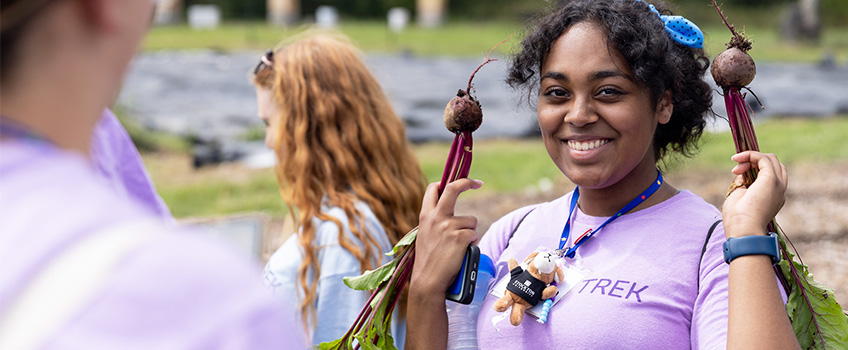 Galloway, N.J. — Did you know that you can make eco-friendly plastic using spoiled milk? Alumni of Tech Trek learned how to do that and more during a week-long reunion hosted by the American Association of University Women (AAUW) and Stockton University. The students were invited back to campus from July 24 to 30 to reminisce about their time at Stockton pre-pandemic and to meet and welcome the new cohort of girls who joined during 2020.
Tech Trek, a week-long empowerment program, selects female students interested in STEM (science, technology, engineering, and mathematics) fields from every county in New Jersey and invites them to campus to network, learn different aspects and careers within STEM, and get lifelong mentors.
Claudine Keenan, dean of the School of Education, collaborated with AAUW Atlantic County branch members to form the program in 2015. Through her work with the AAUW and collaboration with Stockton, Tech Trek expanded from 30 girls from either Atlantic or Cape May counties to 60 from both counties.
"The research that AAUW has done over the years indicates that, in seventh grade, many girls find that they might be the only one who is very interested in STEM, and it's discouraging," Keenan said. "As a seventh grader, you may not want to feel different from anybody. Rather, you want to be with people who are like you. So that's our theory: We bring them all together and they get to meet girls just like them to form a sisterhood."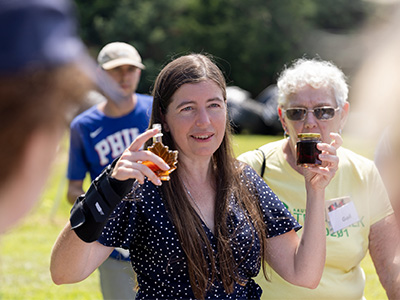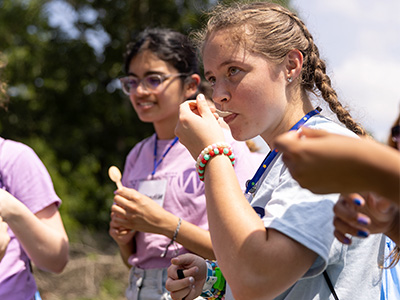 One student from the 2019 cohort, Isabella Shangold of Hazlet, believes the program's mission is empowering and is one of the reasons she attended. As a student at Biotechnology High School, she has STEMinist friends already but believes the program is something all girls should experience.
"I love meeting people who all have similar interests in science," Shangold said. "It was just, really powerful to have an all-female program like this, especially when I was a rising eighth grader."
After two years of virtual events, the program was interested in trying to host in person this year with a new cohort. Due to AAUW guidelines, unfortunately, that was not possible. According to Ann Marchesani, a member of the AAUW, they came up with a compromise: host an in-person program, the STEMinist Camp, for the alumni rather than selecting another virtual cohort.
"We had a split camp: an alumni camp for girls that previously attended in 2018 and 2019 and another camp of girls who were accepted in 2020 and couldn't attend in person," Marchesani said. "Both groups will spend three days on campus and have a changeover day where the first group helps the second with getting acclimated to the campus and checking into their rooms."
For this year's program, the students toured Stockton's campus, including the Unified Science Centers, the John F. Scarpa Health Sciences Building, the Maple Project and the Sustainability Farm. The STEMinists also did a variety of science activities, including making ice cream with liquid nitrogen, building lasers and learning about chemistry.
Helen Kilman of Madison thought the chemistry class was "really fun" and made waiting two years to meet in person worth it.
When we talked to the older alumni, they were saying that the best part of the program was the people, and we totally agree now. You really make lifelong friends here."
"We spoiled milk with vinegar, and we used the curds to make biodegradable plastic. We also used baking soda to measure different reaction levels to things," said Kilman, a member of the 2020 cohort. "Just these few days in person so far have been so much better than the Zoom program."
Ashla Mazza of Ocean City, a member of the 2019 cohort, liked the chemistry class this year as well and said that, while she's interested in Psychology right now, the program does have her considering a career in STEM.
"Some of the classes that we've done like biomedics and chemistry make me kind of want to learn more about forensics and stuff like that," Mazza said. "It's always kind of interested me, but now that I've seen it, I like it a lot and want to get into it."
According to Marchesani, that is the whole point of the program. She knows that programs like Tech Trek can make a considerable difference in the journey of a young girl in STEM.
"The camp is meant to expose girls who have not been exposed to STEM careers," Marchesani said. "Girls have not been necessarily discouraged but not encouraged to go into those fields since they're considered male-dominated. When I was a girl, I was told that I could be a teacher, nurse, or secretary. Other careers, especially in STEM, were never encouraged. We want to tell girls that STEM is a field that they can enter and that it is reachable to them."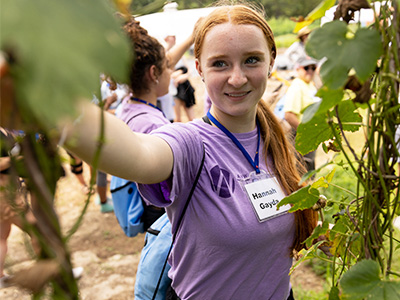 Joeng So Still of Lindenwold was selected for the program in 2019 after her science teacher saw her aptitude and curiosity for STEM. She is now looking at science programs at different colleges and universities, including Stockton.
"I have been considering a career in STEM since I was eight years old, and this program just excelled it even further," Still said. "Stockton right now is on my list, so maybe I'll consider applying. I would want to do a dual degree in Physics and Chemical Engineering so that I could go into Mechanical Engineering and go into robotics."
Even though this year's camp was different from the usual Tech Trek program, the feelings of acceptance and sisterhood were the same. Two students from 2020's cohort, Tasnova Tayeba of Atlantic County and Elena Bonfrisco of Burlington County, have become fast friends. Tayeba and Bonfrisco had only positive things to say about the program and each other.
"The only thing is that I wish we could have roommates," Bonfrisco said. "Like, I know we can't because of COVID, but like, I would have loved to have a roommate like Tasnova. That would've been so much fun!"
"When we talked to the older alumni, they were saying that the best part of the program was the people, and we totally agree now," Tayeba said. "You really make lifelong friends here."
For more photos, visit our Flickr gallery.
-Story by Loukaia Taylor
-Photos by Susan Allen